Have you ever wondered what the wardrobe of one of the most famous women in history, Cleopatra, looked like? She clearly had a passion for jewelry but as far as clothing is concerned, the Egyptian pharaoh wore traditional dresses and tunics, made from fabrics that ranged from linen, cotton, Chinese silk, and denim. Yup, there's no need to double-check it, you read that right: denim. So how did the long-deceased queen, born in 69 B.C., manage to have a pair of jeans in her wardrobe when denim wasn't even invented?
Well, to be fair, she didn't. Cleopatra's wardrobe was most likely impressive but she didn't have denim pants back then. Yet things are more differently now: She has been "resurrected" just recently by Wunderman Thompson Amsterdam and Hong Kong and tech company TG3D Studio to pose for a sustainable fashion future while wearing a custom-made pair of denim pants. But not just any jeans: "Cleopatra's Jeans," as the piece of clothing is known, are sewn with a very important message, addressed to the denim and fashion industry: "Let's work together to find innovative solutions to make textile waste history. Let's make fashion's future waste-free."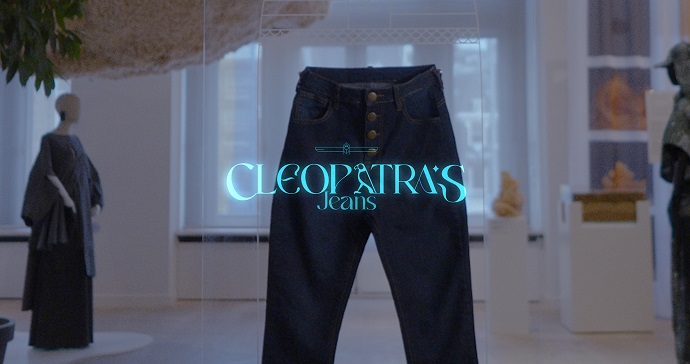 The innovative piece of clothing was presented at a launch event at the Fashion for Good Museum, a place in Amsterdam where sustainable fashion is in the spotlight. While the event unfolded, Mariette Hoitink, of the House of Denim Foundation, and fashion industry leaders of the future from Amsterdam Fashion Institute engaged in conversations about textile waste and what can be implemented as a possible solution to combat this issue.
In search of a more sustainable fashion future, the creatives tapped into ancient history and blended it with 3D scanning technology to design the casual trousers. While they may look like a normal pair of pants, these jeans are specifically tailored to match the Egyptian queen's silhouette. Developed using 3D scanning technology in the designing process, the team has also worked with the Egyptian Coptic community, who was in charge of finding the individuals with the physical characteristics most close to Cleopatra's. With the collected data, TG3D managed to create a 3D body profile of the famous pharaoh. Based on this, a designer meticulously crafted the jeans.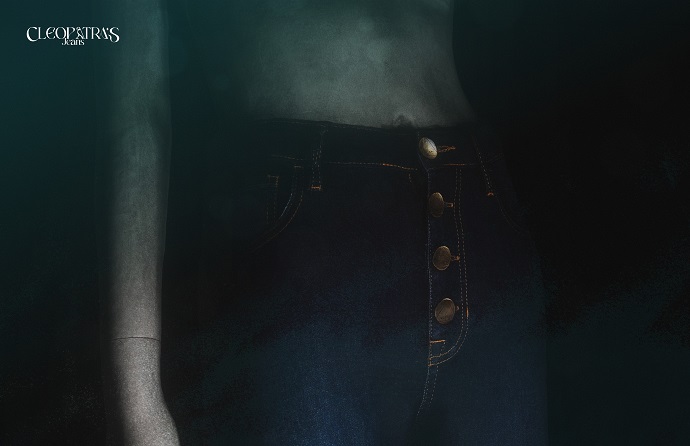 Mariette Hoitink, Founder of House of Denim Foundation, comments: "Fashion has a challenge with waste, we all know that. We should buy less and more consciously. The fashion and denim industries are working hard to address this — but technology will be the crucial factor that makes the difference in the race against waste."
Commenting on the product, Carlos Camacho, Executive Creative Director at Wunderman Thompson Amsterdam, adds: "Using innovation to make a pair of jeans for someone that died thousands of years before jeans were even invented is not only awesome but also shows how body scanning can play a role in making a more sustainable fashion industry."
So why create yet another piece of a garment when people throw an enormous quantity of textiles away? Exactly TG3D's point; According to UNECE (2018), every year, 85% of all textiles are thrown away. A large part is from returned clothing purchases, much of which end up in landfills, leaving huge environmental costs behind. And, as you might have guessed, the same happens when it comes to denim, a fabric that's known as one of the most polluting ones to produce.
One of the reasons this happens is because of badly fitting clothes from online shopping. According to a Wunderman Thompson report, 69% of fashion spending is now online. Many e-commerce buyers over-order, with items that don't fit them perfectly doomed to be returned. A huge part of the items coming back is destroyed, further fueling the fashion industry's wastage problem.
If the clothes we purchase fit us perfectly, the changes for returning them are lower, meaning that this environmental issue will be less severe. And this right here was a good enough reason to inspire the agency and the tech company to work together and bring such a product to life.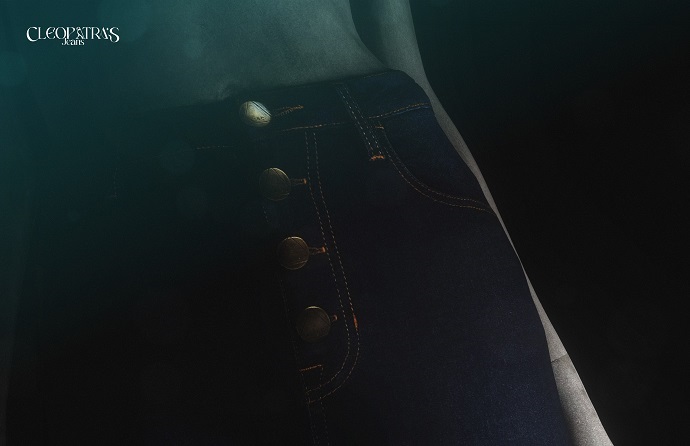 Bas Korsten, Global Chief Creative Officer, Wunderman Thompson, concludes: "As an innovative creative agency, our mission is to bring creativity, technology, and humanity together. And we're interested in creating campaigns or statements that explore the intersection of those three domains. Cleopatra's Jeans is just that: A provocative statement and an inspiring conversation starter — a symbol of how technology can drive us towards a zero-waste future. I'm already looking forward to seeing Napoleon's jeans, Joan of Arc's jeans, and, of course, Mozart's jeans."
These jeans are an invitation for other brands to join a data-driven revolution and discover the impact technology can have in minimizing textile waste. The campaign is supported by a microsite, providing more info about the project and a very interesting, short history lesson (embroidered in some of the jeans' accessories) about one of the most influential women of all time.
Credits:
Client: TG3D Studios
Agency: Wunderman Thompson Amsterdam and Hong Kong
Global CCO: Bas Korsten
Global CCO: Daniel Bonner Global CCO
APAC CCO: Sheung Yan Lo
ECD WT Amsterdam: Carlos Camacho
Head of Art WT Amsterdam: Tunchan Kalkan
Producer: Martijn van Hees
Senior Creative: Jasper Korpershoek
Senior Creative: Khlaus Feldhaus
Web Designer: Nando Correa
Project Manager: Charlotte Lilly
MD WT Hong Kong: Matt Parry
ACD WT Hong Kong: Kiefer McKenzie
Senior Creative WT Hong Kong: Paddy O'Mahoney
Digital Creative WT Hong Kong: Nicole Hedemann
Account Head WT Hong Kong: Sandra Gin
Web Developer: James Yong
Motion Graphic Designer: Tim Arnolds
PR Director: Jessica Hartley
Production HousePost Production: Macarena Films
Sound Studio: Canja Audio Culture
Photographer: Ale Burset