Art enthusiasts planning to visit Dulwich Picture Gallery and admire its collections these days are in for a great surprise: A collection that depicts Florence Welch — the lead vocalist of the indie rock band Florence + the Machine — drawing attention to her interest in the Pre-Raphaelite art. After four years, the artist took it to her Instagram page to let fans know that the band's fifth album, titled "Dance Fever," will have 14 songs, describing it as "A fairytale in 14 songs."
With the new album officially out (launched May 13th, 2022), fans who want to experience this acoustic fairytale as authentically as possible can do this by having a walk through the picturesque gardens of Dulwich Picture Gallery — the place where the BRIT award-winner had a performance five years ago and that is home to the Dance Fever Tapestries as of Friday, May 13th, 2022.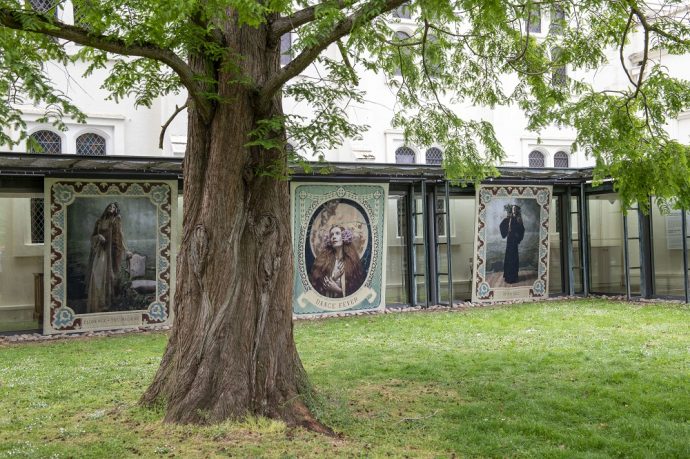 Immortalized by the streaming platform Spotify as an 1800s-style tapestry masterpiece, the exhibition coincides with the art gallery's "Reframed: The Woman in the Window," running until September 4th, 2022. The collection, which is believed to be the world's first tapestry "billboard," celebrates the newly launched album and illustrates not only the artist but also the lyrical inspiration she found in the Pre-Raphaelite art while working on the album during the lockdown.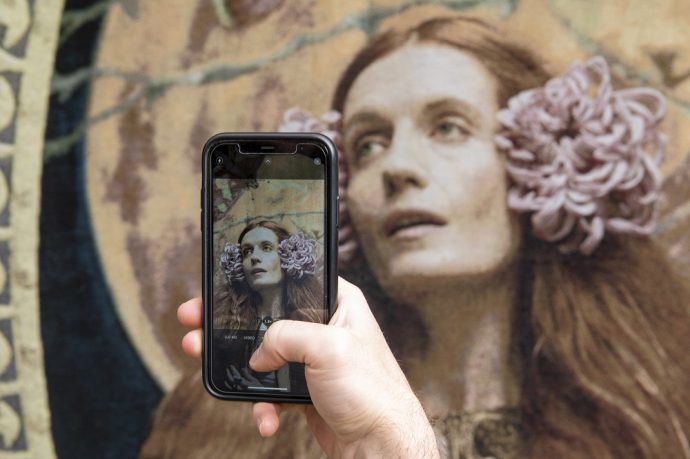 Commenting on the exhibition, Florence Welch, said: "Pre-Raphaelite art has been a musical and artistic inspiration of mine for years, brought to life most recently through the lyrics and album creative in Dance Fever. To be transported back to my favorite era and reimagined in the style of the leading women who inspired Rossetti and Hunt is a dream I never imagined, on top of being hung in one of my most loved galleries in my hometown of South London."
"The Dance Fever Tapestries featuring Florence are a perfect complement to our latest exhibition 'Reframed: The Woman in the Window,' which explores the recurring motif of 'the woman in the window' through history with over 50 works by artists including Rembrandt van Rijn, Dante Gabriel Rossetti, Louise Bourgeois, Kudzanai-Violet Hwami, and Rachel Whiteread. Florence herself is a modern-day representation of Pre-Raphaelite muses like Sir John Everett Millais's Ophelia. Five years on from her exclusive concert here in 2017, we are thrilled to have the Tapestries hanging in our gardens," continues Jennifer Scott, Director at Dulwich Picture Gallery.
Safiya Lambie-Knight, Head of Music, Spotify UK and Ireland, concludes: "Florence's passion for the Pre-Raphaelite era is reflected in the ethereal album artwork for Dance Fever, along with her dream-like, poetic lyrics. Working closely with artists to bring their passions to life, we're incredibly excited to immortalize Florence as a 19th-century tapestry as she celebrates five albums and over 3.7 billion global Spotify streams. Further to the Dance Fever Tapestries, we've collaborated with Florence on an Album Experience on the app, giving fans exclusive content from Florence about her creative process and inspiration. Spotify's enhanced formats allow fans to connect with artists in a deeper, more engaging way, and give artists a way to immerse fans in the inspiration, stories, and creativity behind their art."
The three individual 2×2 meter hand-woven tapestries are available for anyone to be admired at no charge. Renaissance art fans and British rock disciples can go visit the gardens of Dulwich Picture Gallery to feast their eyes with the Dance Fever Tapestries until Friday, May 20th, 2022. While getting close to the artworks, visitors are encouraged to scan a QR code, which will take them to Spotify, where they can unlock the music experience.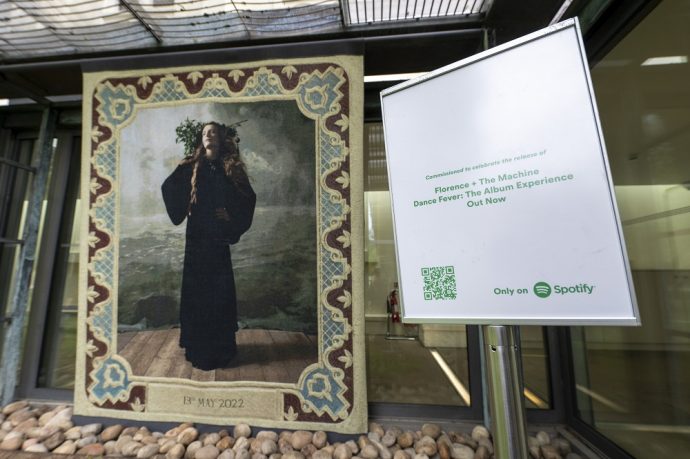 Credits:
Spotify // Dulwich Picture Gallery