The King's Cross Station in London is more than just a mecca for Harry Potter fans; just recently, an orchard's fruitful trees gathered their branches together to promote a healthy diet among Londoners. It seems weird but this is the only plausible explanation for the oasis of freshness that stretched outside the station, where passers-by and commuters were rewarded with delicious and juicy fruits and KIND Snacks bars.
OK, maybe we exaggerated a bit with this orchard — which you have probably figured out on your own once you read about those snack bars growing in a tree. Because, let's be real, what kind of a tree would grow KIND Snacks? Well, it's impossible to see such treats hanging naturally in a tree. But not the same goes for a billboard.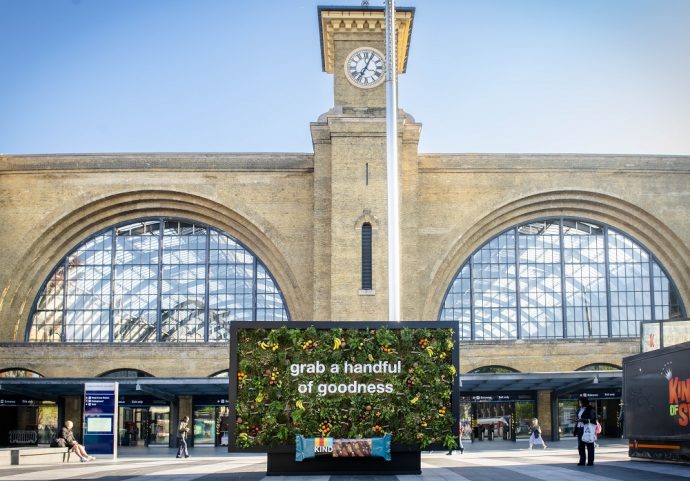 In a recent move to inspire Britons to consume their 5-a-day and a handful of nuts as well, KIND Snacks erected a huge billboard just outside the station, luring Londoners to grab a natural and healthy snack from its "tree" for free. The "Grab and Go" panel was made up entirely of fresh ingredients like pears, bananas, peppers, and KIND bars (among many other delicious treats), all carefully grown to help and encourage citizens to consume the necessary amount of fruit, veggies, and nuts.
The idea of surprising people with such a billboard comes as research shows that most Brits (90%) know they should consume their 5 a day. Surprisingly, only 8% of kids (11 – 18 years old), 27% of adults (19 – 64 years old), and 35% of those 65+ actually include fruits and veggies in their diet.
Furthermore, research conducted by KIND Snacks revealed that just 13% of Brits follow health advice and have their daily dose of nuts. But this only speaks about the country's nutritional deficit as well as about the nation's further education on how to live healthily as 47% of people revealed they would have nuts on their menu if they were assured that these treats are healthy options.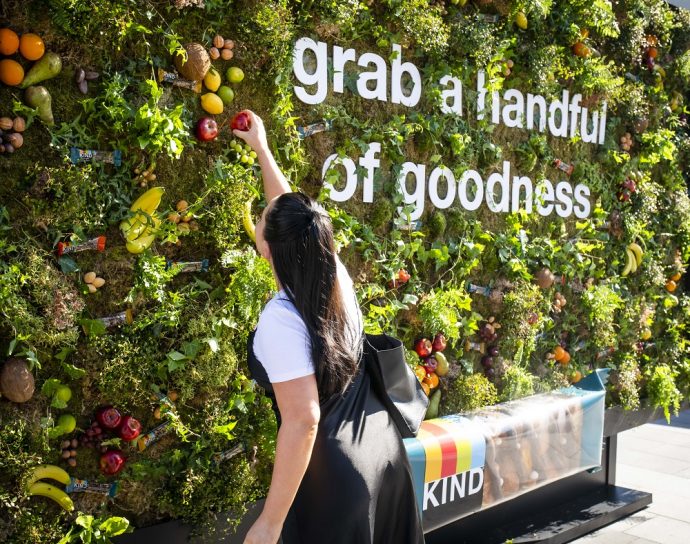 The activation, by award-winning PR and social media agency Frank., was brought to life to show people that nuts should be considered as equally important as fruit and vegetables. KIND Snacks admits that taking your daily dose of nuts might be tricky and, to combat this, the brand suggests Britons to grab their handful of nuts by consuming one of its snack bars — which contain the necessary amount of nuts recommended per day.
Audrey Arbeeny, Head of Marketing at KIND Snacks UK, said: "At KIND we have long been advocating the nutritional benefits of nuts but our research has revealed that the majority of people aren't consuming their recommended daily intake. Our Grab and Go billboard demonstrated in a simple, engaging moment that nuts shouldn't be left by the way-side when it comes to conversations about nutrition. In fact, they should be elevated on a par with other nutritious, whole foods such as fruits and vegetables."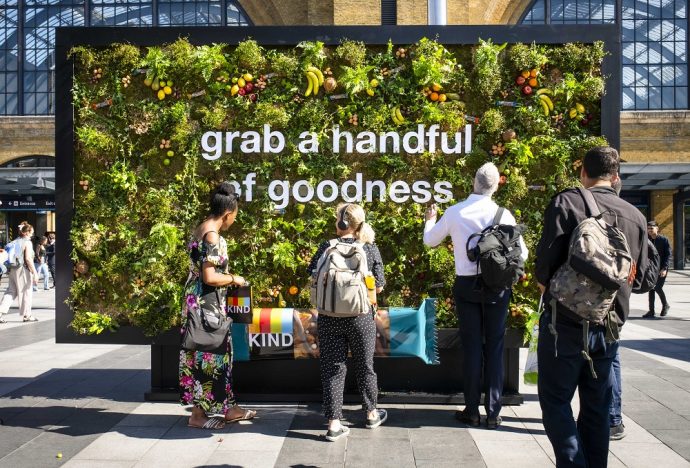 Placed just outside of the station, the billboard stretched over four meters in length and three in height, surprising Londoners with not only a vibrant, green spectacle but with a giant "basket" full of nutritious treats as well. With more than 500 pickable garden-fresh fruit and nutrient-rich KIND bars, thousands of people embraced the kind (pun intended) offer, grabbing the snacks they wanted for free.
"It has been great seeing the reaction to the billboard with thousands of consumers coming up to take away free fresh fruit and KIND bars. Many had no idea about the nutritional value of nuts so it has been a great educational and sampling opportunity combined in one," continues Arbeeny, who also adds that the initiative represents just one part of the brand's wider effort to inspire the nation to enrich their menus with more nutritious food.
So, dear Londoners, you know what they say: One Fruitful Billboard a day keeps the doctor away, right?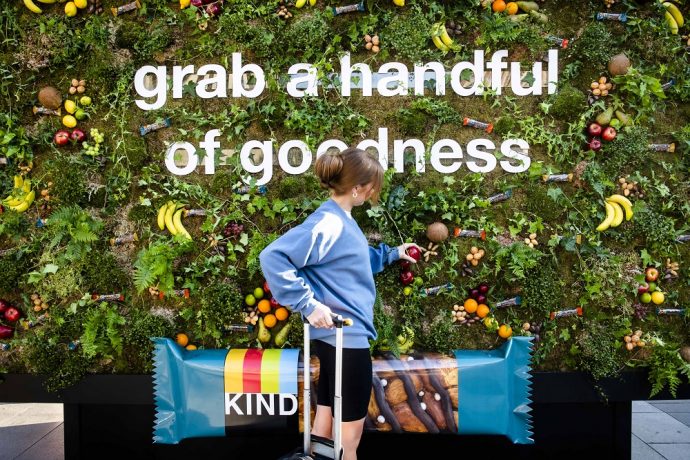 Credits:
Client: KIND Snacks
PR Agency: Frank.