With all the crazy ideas that root inside Rick Sanchez's mind, it is only fair to ask ourselves: What has the mad scientist been up to lately? Well, believe it or not, the main protagonist from the Adult Swim's animated TV series, Rick and Morty, has been working with adidas Football on a multidimensional project, where the brand's new X SPEEDPORTAL soccer boots are in the spotlight. Old habits die hard so, in order to embark on this out-of-this-world journey, Rick manipulates his grandson Morty, literally dragging the 14-year-old into testing this recent idea of his.
The duo's latest escapade is documented by the TBWA\NEBOKO agency and features the two popular characters partnering with the sportswear company and also some famous football players, such as Vivianne Miedema, Mohamed Salah, Karim Benzema, and Lionel Messi. Together, their task is to promote the boots' speedy potential (while also giving the audience an insight into the shoes' genesis).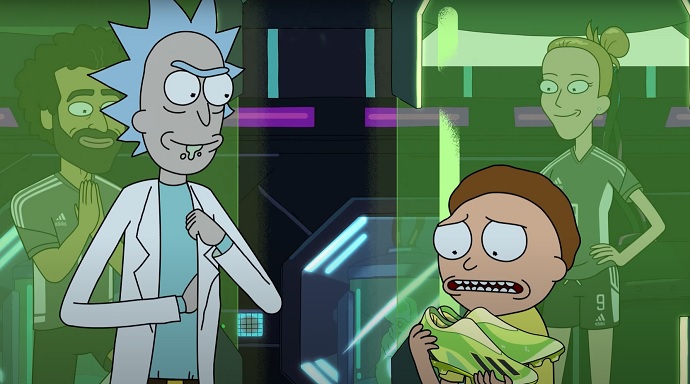 Commenting on the campaign, Toby Castle-Smith, Copywriter at TBWA\NEBOKO, said: "It's one of these campaigns where you throw something at the wall early on, thinking it is going to get a few laughs and fall off, but it sticks. But a few months later (and with the trust and support of our partners at adidas Football) we're on weekly calls with the wonderful people at Adult Swim, and it all starts to come to life."
"Consumers told us two things very clearly when we were building this campaign: One was that football is getting faster, but the other was that they felt there was room for sports brands to reflect the fun in the game. With these things in mind, we were confident that, collectively, this was a real chance to push the limits," adds Gonzalo Calvo, Global Director Brand Communication, Communities & Culture at adidas.
The campaign is ingeniously designed — but not in that mischievous way that characterizes Rick — putting the adidas shoes in an SF context that, surprisingly, makes sense. The initiative's centerpiece is a one-and-a-half-minute-long video created in collaboration with Adult Swim and the show's creators. Similar to other episodes in the series, the plot sees Morty, once again and against his will, playing an important role in helping Rick breathe life into his scientific projects.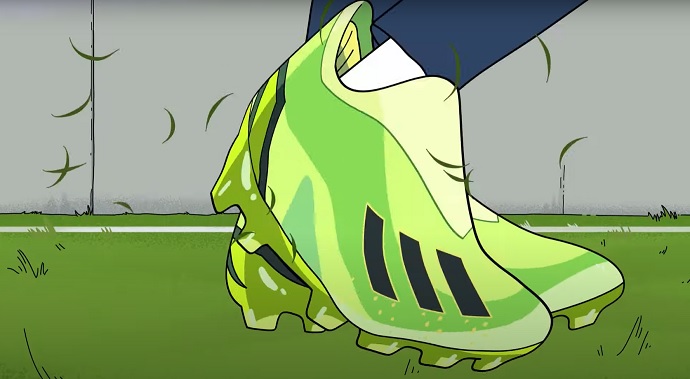 Helped by the animated versions of Mo Salah and Vivianne Miedema, who transfer some of their powers to the X SPEEDPORTAL shoes, Rick successfully creates the boots. Wanting to test the shoes, the scientist uses his portal gun to send Morty to a football pitch, where he has to play his part in the International Unlicensed Cup. Despite having no skills in playing soccer, Morty is named "the best player on Earth," a title he has achieved thanks to the adidas shoes.
"It was always important to us that the narrative weaved throughout the entire campaign," explained Jeremy Pedro, Art Director. "As big fans of cinematic universes, no detail was too small when it came to connecting the dots. Every piece of content serves its own purpose, but when combined tells a much bigger story, from start to finish."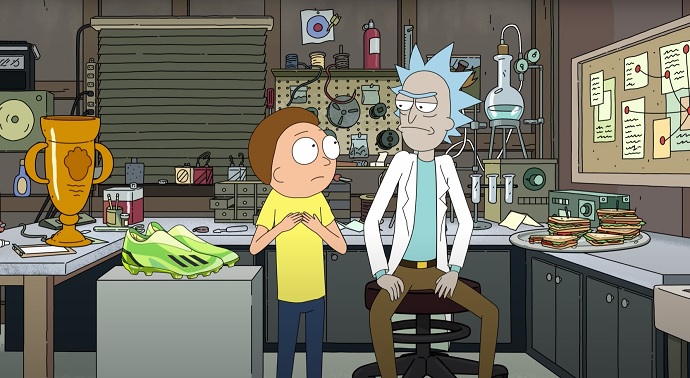 Calvo concludes: "To footballers of all levels, our X franchise has come to be synonymous with speed, but one thing we know is that speed is not what it used to be. It's not so linear and incorporates things like quick thinking and fast reactions. With that in mind, we didn't just want to make another football campaign around speed, in the traditional sense of the word."
The portal, developed by Post Panic, works as a metaphor for multidimensional speed and bridges between every piece of content, be it animation, 3D, or live action. The live-action player videos star Mohamed Salah and Lionel Messi. Launched globally, the adidas Football X SPEEDPORTAL 90-second adventure runs in theaters, on TV (in selected markets), and paid digital.
Credits:
Client: adidas
Head of Global Brand Marketing Football: Matt Davidson
Global Director Brand Communication, Communities & Culture: Gonzalo Calvo
Senior Global Brand Communications Manager Football: Jara Velilla
Manager Brand Communication Football: Nikolai Ehrentraut
Senior Media Producer: Penny Pijnenburg
Senior Producer: James Pinnington
Creative Shoot Producer: Greta Bridekirk
Creative Agency: TBWA\NEBOKO
Rick and Morty Film Production: Adult Swim
Player films Directors: Adeus
Player films Production company: TBWA\NEBOKO
Line production company: 24/7 sports, Sugar Free TV & AprilMay London
VFX: Post Panic
Photographer (Messi & Salah): Carles Carabí
Photographer (Miedema): Olly Burn
Post production key visuals: Loupe&co
Sound studio: Audentity
Editor: Kapsalon
Grading and Online: De Grot
Media agency: MediaCom
Retail agency: Attitude