To promote its Sprint Runner sneakers, fashion house Alexander McQueen launched a beautiful film, focusing on some elements that, apparently, are at opposite ends: Comfort and elegance, two details that award-winning director and visual artist Sophie Muller of PRETTYBIRD played with so much care that she made the combination seem a natural one.
Featuring singer, songwriter, and dancer Mettenarrative, the film takes inspiration from the artist's "fiercely beautiful physicality," sending the audience on a captivating journey where the world of sports moves rhythmically to that of fashion, the public eventually witnessing a gracious dance performance that is as elegant as the sneakers' aesthetics are.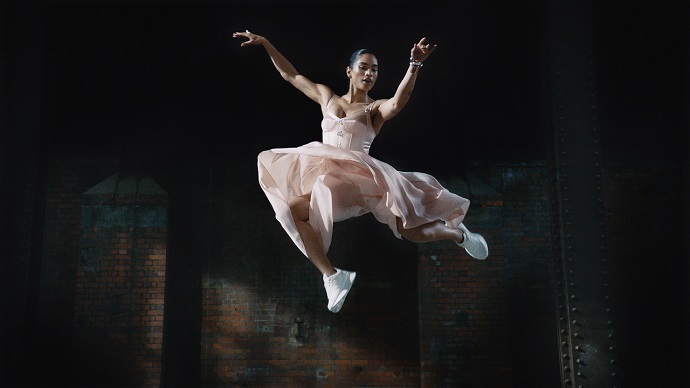 Representing "the ultimate expression of empowerment through clothing," the spot presents the dancer wearing a corset dress accessorized with oversized silver metal hook-and-eye detailing. A vaporous, asymmetric skirt complements her corset, Mette wearing it either in black or tea rose satin. The outfits are paired with the McQueen Sprint Runner in classic white, the element that sets the rhythm for the show that is about to come and that helps the artist push herself to the limits.
Throughout the two-minute-long performance, viewers see the dancer lifting weights and then effortlessly switching to elegant dancing moves, harmoniously synchronizing with the shoes' aesthetics. Besides the video, for which the director used different camera speeds and angles, the campaign includes images, which fluently speak about the fantastic feeling and the dynamic and energetic spirit that will follow anyone wherever the Sprint Runner sneakers will take them.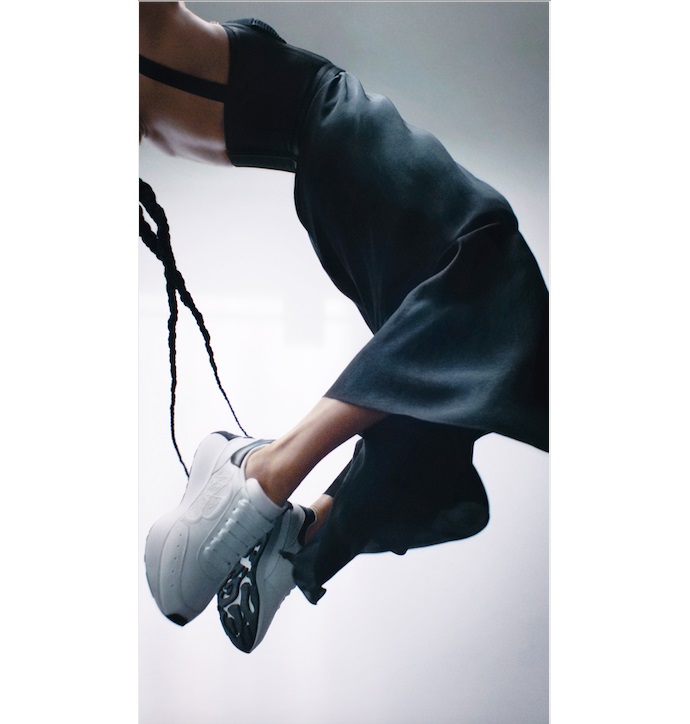 Commissioned by Sarah Burton for Alexander McQueen, the "Sprint Trainer" film represents the second out of three accessories films directed by Muller. Shot at Wapping Power Station, the video came to life thanks to the close collaboration the PRETTYBIRD director had with Mette, using her talent as a skilled performer to develop the film's creative storyline. "The film is about the physicality, rhythm, and emotion of movement. Mettenarrative is incredibly powerful and athletic throughout the film, pushing herself to the limit. Beautiful yet authentic and emotional in her desire for physical perfection," we find out from the press release.
The brand's Sprint Runner shoe was first spotted on the women's Spring / Summer 2022 runway. Available in all white, white with a hint of black around the heel area, or in seasonal colors, the sneakers are finished with an Alexander McQueen signature and all feature the 3D McQueen seal.
Credits:
Client: Alexander McQueen
A film by: Sophie Muller
Featuring: Mettenarrative
Alexander McQueen
Chief Communication & Marketing Officer: Paolo Cigognini
Global Digital Communications Director: Calandra Caldecott
Head of Production: Judith Paternoster
Production: Aliia Galimova
Production Coordinator: Yasmine M'Rabet
Wardrobe: Sid Barton
Design: James Norton
Hair Artist: Ali Pirzadeh
Hair Assistant: Tommy Stayton
Make-up Artist: Bea Sweet
Nails: Marta Nagorska
BTS Photographer: Rowan Greig
Production Company: PRETTYBIRD
Co-Founder UK / Exec Producer: Juliette Larthe
Head of Production: Fiona Bamford-Phillips
Producer: Benji Landman
Production Assistant: Lottie Lindsay-Beavan
1st AD: Clara Paris
2nd AD: Lucia Ritucci
Runner: Hugo Foley
Runner: Josh Haselden
Runner: Peace Ogbuani
Runner: Shaniece Scott
Runner: Naurin Chowdhury
Director of Photography: Joel Honeywell
Focus Puller: Hopi Demattio
Clapper Loader: Kairo Jones
Camera Trainee: James Groves
Steadicam: Josh Brooks
Stills Camera Operator: Jess Pearson
Underwater Camera Operator: Rob Franklin
Grip: Tom Stansfield
Grip: Paul Mammone
PRETTYBIRD UK PR: Lee Sharrock
Video Playback: Von Adams
DIT: Ash Daniyan
Location Manager: Kim Fenton
Location Assistant: Lottie Turner
Gaffer: Tom Nowell
Electrician: Cleo Vogler
Electrician: Andy Gonsalves
Electrician: Gregory Britten
Rigger: Nick Curry
Wires Rigger: Andy Thompson
Generator Operator: Taylor Egan
Generator Operator: Eleanor Waller
Art Director: Nancy Brown
Prop Man: Ed Kellow
Art Department Assistant: Harrison Clark
Art Department Runner: Lili Fletcher
Movement Director: Benjamin Jonson
Stills Camera Operator: Jess Pearson
Medic: Verity Stacey
Cherry Picker Operator: Ian Page Mitchell
Honey Wagon Driver: Martin Dean