Deezer, one of the largest music streaming services in the world, brings artists and fans together with the goal to unlock music's full potential through technology. Faithful to its mission, "the home of music" has recently joined forces with the award-winning agency Buzzman for a poster campaign that brings music enthusiasts closer to some famous singers.
Launched in France, Germany, and Brazil on August 22nd, the campaign is aimed at attracting Gen Z, inviting this young audience to discover the impact music has on elevating moods and perceptions by simply taking a walk outside and scanning the brand's billboards using their own mobile phones. Specially designed to promote its new signature, "The Power of Music," the campaign represents an interactive tool the brand uses to revitalize its image, particularly by communicating with a younger generation of music listeners.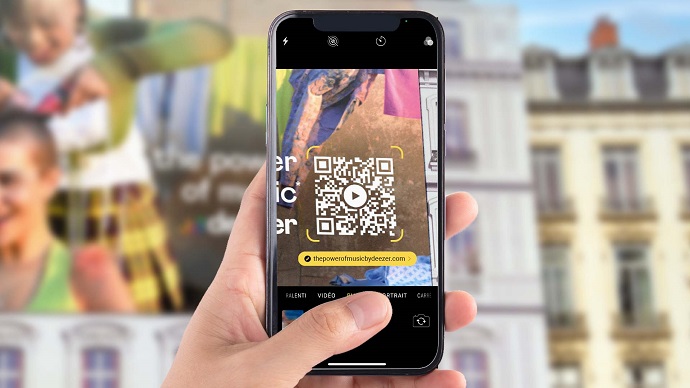 Deezer's 360° marketing campaign is built around the brand's big passion for music, expressing its modern personality through a series of captivating images. Shot by photographer Lou Escobar, the posters showcase various scenarios that Gen Z might find easy to identify with. However, the posters don't tell the full story, having their full meaning hidden in a QR code. After scanning the code, the younger generation is presented with an acoustic experience that will most likely change the way they looked at the visuals in the first place.
"A song has the power to change how you view the world around you. As the home of music, Deezer is the best partner to set the mood in any situation of our users' lives," explains Elsa Batigne, VP Brand Marketing, Deezer. "Working with Buzzman, we have created a disruptive, and engaging campaign, where music makes images come to life. We can't wait for our users to interact and play with the concept, and use the power of music to create their own content."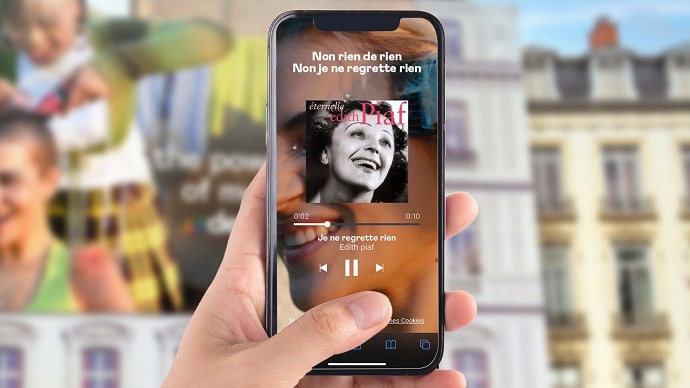 Some artists whose music is embedded in Deezer's billboards are Edith Piaf, Dua Lipa, and local musicians such as Heuss L'enfoiré, Jul, Die Prinzen, and Vitor Kley. The campaign is planned to run in multiple outdoor formats as well as digital activations, social media, and TV in the selected key markets. Besides, the brand is designing a TikTok challenge, inviting internet users to use the power of music to enhance or change a situation.
Credits:
Client: Deezer
CEO: Jeronimo Folgueira Folgueira
CMO: Mark Ody
VP Brand Marketing: Elsa Batigne
Global Brand Manager: Giovanna Varache
Head of Creative Design: Arnaud Roulleau
Head of Market Research: Olga Arsenii
Head of Brand Marketing France: Sandrine Cariven
Head of Brand Marketing Germany: Sofia Oberhoff
Brand Marketing Manager Brazil: Yuri Valdevite
VP Communications: Guy Cunis
Director of Performance Marketing: Shérina Khalidi
Agency: Buzzman
President and Executive Creative Director: Georges Mohammed-Chérif
Vice-President: Thomas Granger
Managing Director: Julien Levilain
Creative Director: Sébastien Partika
Art Director: Raphaël Ghisalberti
Copywriter: Constance Godard
Art Director Assistants: Sarah Narboux & Alexandre Galup
Copywriter Assistant: Alexandre Paillet
Business Director: Laura Quiles
Account Manager: Quentin Seguret
Head of Social Media: Julien Scaglione
Lead Social Media: Quentin Barbaray
Social Media Consultants: Antoine Bouteil & Juliette Batté
Head of PR & Communication: Amélie Juillet
PR & Communication Manager: Paul Renaudineau
PR & Communication Assistants: Margaux Zaniol & Tifanny Boutih
Head of Production: Vanessa Barbel
Producers: Assya Mediouni, May Pham & Charlotte Chadeau
Head of Digital: Christelle Pereira
Digital Producer: Melissa Bourdin
Digital Designer: Garance Bauerndistel
Production: HVH
Photograph: Lou Escobar
Director: Arthur Couvat
Sound Production: Schmooze
Post Production: HVH
Post Production: Janvier