The liberal beliefs of the first Latin American pope, Pope Francis aka the People's Pope, could be interpreted as being enough to annoy almost any conservative person. The current pope accepts forgiveness for women who get abortions, believes that homosexuals should be treated with respect, or that atheists can go to heaven too.
But, if these ideas may upset traditionalist people, imagine how would they react to a pope who is young, charming, seductive and modern-minded, and who happens to smoke, just like Pope Pius XIII.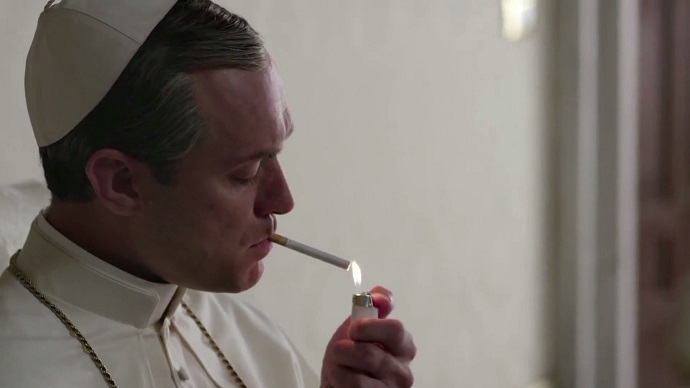 This week's #ThrowBrandThursday takes us back to the release of the new series "The Young Pope" on 24th October 2016 on Canal+. Advertising agency BETC together with IBM – supported by its artificial intelligence super computer IBM Watson – joined digital forces with the French premium cable television channel Canal Plus and released a 'holy' AI robot called AiMEN.
Besides being a nonconformist 'dude' compared to its predecessors, the main character of the series uses the 21st century's technologies, such as artificial intelligence, which is a good opportunity for him to preach the word of God among all Internet users. Also dubbed as the "Papal Artificial Intelligence," the digital platform is Pope Pius' tool to troll internet users with exemplary Bible verses.
After the launch on October 13th, the Watson bot analyses the messages posted on social media portals like Dailymotion, Facebook, Twitter, and YouTube. The AI bot categorizes users' posts according to the 7 deadly sins, and after its careful review it spits out an appropriate verse from the Holy Book.
The AI bot carries in its memory 39,000 Bible verses and browses over 200 million pages of natural language, in order to provide an accurate (and sometimes quite funny) answer. Also, the papal AI is able to analyze the emotional context of posts, especially if they are related to sarcasm or irony. So, AiMEN uses this to his advantage and enlightens us with some great replies.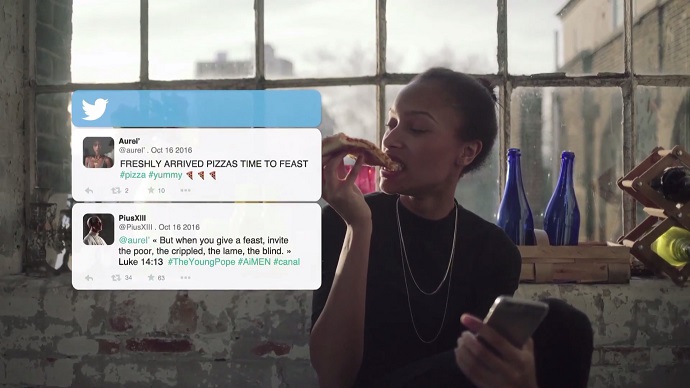 Just discover AiMEN yourselves, and look at the interactions of the papal bot: it analyzed over 4 million posts, published almost 9 thousand responses, and reached over 2,5 million people. In order not to be considered as spam, the intelligent platform sends a maximum of 30,000 messages per day on all social media networks.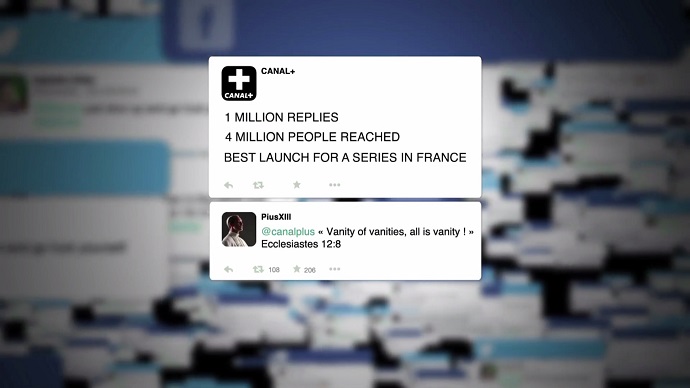 Pope Pius XIII is a fictional character portrayed by Jude Law in the new series "The Young Pope," where he is introduced as the first American pope in history. The new series are produced by Paolo Sorrentino for Sky Atlantic, HBO, and Canal+.
Credits:
Client: Canal+
Agency: BETC
Brand Managers: Audrey Brugere, Jordane De Villaret, Christopher Marchand
Agency Managers: Guillaume Espinet, Elsa Magadoux, Alexis Delwasse, Peter Feurmour
Executive Creative Director: Stephane Xiberras
Creative Directors: Benjamin Le Breton, Arnaud Assouline
Art Director: Julien Vergne
Copywriter: Alexandre Girod
Lead Producer: Bao Tu Ngoc
Assistant Producer: Josselin Bondoin
Lead Producer: Bao Tu Ngoc
Head of Activation Strategy: Julien Leveque
Production Company: Make Me Pulse