So, here's you: 31st October, Halloween evening, getting ready for a walk someplace nice. But as soon as you head out, a bunch of clowns starts stalking you, getting one step too close. Creepy as hell, isn't it? But this isn't your typical American Horror Story scenario. This is as real as it gets. You look over your shoulder and wonder: "What's going on? Am I being chased by a bunch of scary clowns? Why? And what do they want from me?"
To give you a short answer, yes, there is an army of scary jesters right behind you. But don't you panic, because you're not in a horror movie. Actually, in this scenario your part is sponsored Burger King and its marketing effort to promote its delicious Whopper just in time for Halloween. Plus, it just happened to troll McDonald's by using the rival restaurant's mascot, Ronald McDonald, as their campaign's centerpiece. Only a bit creepier.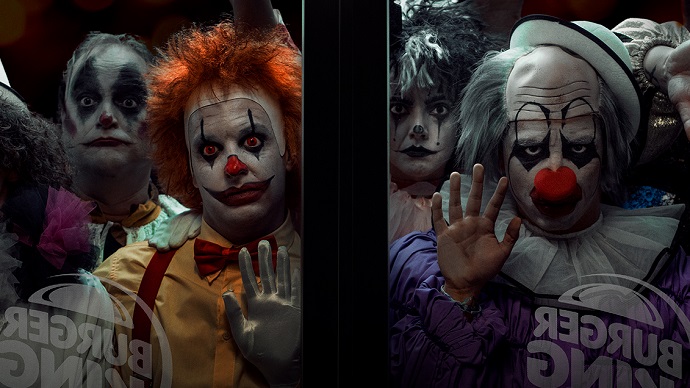 During this week's #ThrowBrandThursday, you get to meet probably one of the most popular and successful campaigns by Burger King, one that became an unforgettable experience for McDonald's as well. And all that, thanks to MullenLowe creative agency, which lent the fast-food chain some of its ideas and created a campaign that even BK's rival had to applaud.
The proud brain behind the #Scaryclownnight, LOLA MullenLowe, launched a short spot to mark the popular spooky time of the year. Spinning around the "Come as a clown, eat like a king" tagline, the agency came up with an idea to creatively bring more consumers to BK restaurants. But only if they came dressed up as a clown would they get a surprise. On the house, of course!
"We don't usually talk about clowns," said Alex Macedo, President, North America, at Burger King. "The Burger King brand is known for welcoming all customers and putting the crown on everyone's head. This Halloween, come like a clown to eat like a king!" added Renato Rossi, Head of Marketing for BK UK, in a press release.
The fast-food chain gave up for free Whopper burgers to customers who showed up at one of its restaurants near Miami, Boston, LA, Austin, or Salt Lake City dressed as a clown on Halloween. We don't know for sure how many clowns showed their faces in BK restaurants. What we do know is that the campaign scooped a lot of awards at prestigious events, was mentioned in more than 1100 articles in 40 countries reaching 2.1 billion of earned impressions, and gathered a total media value of $22.4 million. Pretty huge, right?
This wasn't the first time Burger King is brilliantly teased McDonald's. Remember that campaign when BK trolled McD with a white sheet? The clever stunt took place during Halloween 2016 when a BK restaurant in New York City disguised itself as a McD ghost. But, the fast-food brand didn't stop there and continued the prank by selling burgers in McD cardboards. This is a nice way to troll someone, don't you agree? McD, what about you? You're not even mad, are you?
Credits:
Client: Burger King
Agency: LOLA MullenLowe
Images: Diego Speroni