Rumor has it that no one is tougher than the legendary martial artist and action-movie star, Chuck Norris. But contrary to this belief, there are still certain people—and even things—that might successfully kick the actor's ass. Although it seems hard to believe, there's a list of people who are said to do better than Norris himself. Well, we agree to disagree; whoever wrote this article hasn't met the Toyota's latest car, Tacoma TRD Off-Road.
Wait. What?
Sure, the vehicle isn't people, but according to Saatchi & Saatchi LA agency, the car has the same masterful skills as the famous actor. How is that even possible, you ask? Patience! You'll find all about that within this week's #ThrowBrandThursday column. So, what's going on between the two? Well, nothing much. Except the fact that Tacoma TRD borrowed some of Chuck Norris' superpowers.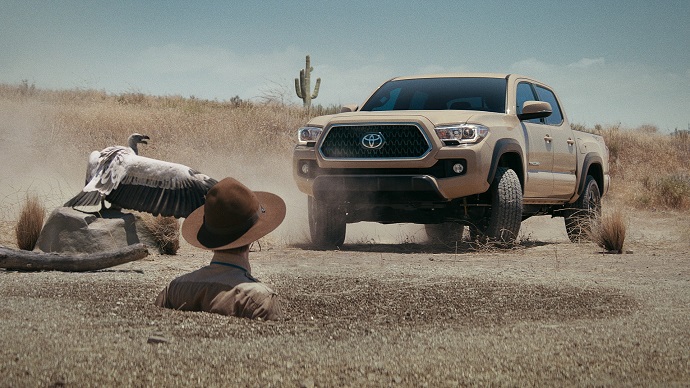 Directed by Andreas Nilsson via Saatchi & Saatchi, the spot titled "Though as Chuck" puts the spotlight on an apparently normal Tacoma car and, obviously, on the legendary actor. Also, everything unfolds naturally: while working on some karate brick breaking, Norris is interrupted by a man who asks the martial artist to sign his Tacoma. But when it comes to Chuck Norris, things tend to get a bit exaggerated. As you might expect, the martial artist's signature is not just a simple autograph. It's a blessing, one that injects the car with the actor's legendary superpowers.
Everything's suddenly about the Tacoma. Equipped with a series of special skills, the car is able to rescue a park ranger from being swallowed by quicksand. Then, the vehicle goes for a little bit of four-wheel dancing at a nightclub. And we haven't even gotten to the things worthy of a superhero: the 'Chuckmobile' saves a man from falling from scaffolding, climbs into a tree to help a kid get his football back, proves that no one can beat it at chess, surfs like a pro, and even does some kung-fu. More nicely put, the car does handle everything just as good as Chuck Norris.
The ad comes as a part of Toyota's "Let's Go Places" campaign, which features three more commercials: "Tag," "So Beautiful," and "The Untameables." Each of the spots is dedicated to a certain Toyota model and portrays the brand's cars in a heroic and amusing way. Also, the campaign marks the first time the company has made a multi-model advertisement.
"This multi-model campaign approach allows Toyota to reach targeted audiences with a variety of products rolled under one over-arching campaign," said Ed Laukes Group Vice President, marketing, Toyota Motor North America. "By showcasing multiple models in a single spot, we can reach the right customer without a lull between individual vehicle campaigns."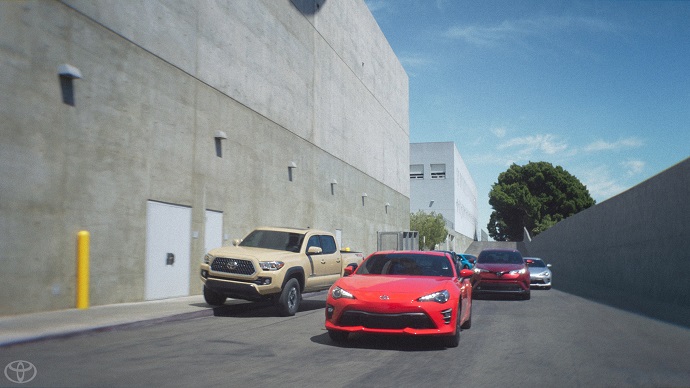 Chuck Norris isn't the only action-movie superstar of the 90s to lend some of his skills to a car. Swedish powerhouse actor Dolph Lundgren did it a few weeks ago when he was spotted Pumping Up the Jam with Volvo excavators. Now that you have seen both of these unusual training sessions, who do you think is a better teacher? Norris or Lundgren? Let us know who deserves the trophy for the 'instructor of the year' by naming the winner in the comment section below.
Credits:
Client: Toyota
Agency: Saatchi & Saatchi LA