Remember when you were a little child and that you (mostly) did was to complain about how awful school is? We feel you, we did the same (also mostly). Day after day, we used to come back from school and all we had to worry about were issues with our classmates, teachers, or a lot of homework. And it's not only us who had it like this. Probably the current generation does the same. Yes, school sucks sometimes. Still, it's better to complain about school than to worry about your husband at such age.
Wait, what? Yes, you read that right. Husband. Unfortunately, there are still many girls in Pakistan who are forced to marry before the age of 18. According to The United Nations Entity for Gender Equality and the Empowerment of Women (UN Women), 3% of girls do not even reach the age of 15 before 'tying the knot'. One would think that this week's #ThrowBrandThursday literally throws us back in the Middle Ages. But it does not. It's just a reminder of the sad reality that unfolds in this day and age's Pakistan. Not a pleasant sight, is it?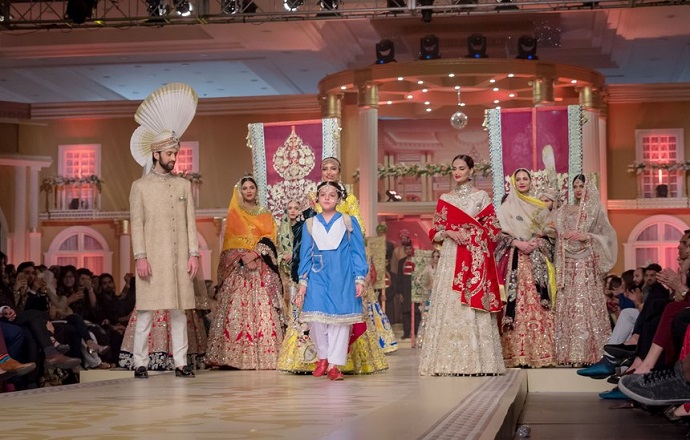 To highlight this shocking issue of child marriages in Pakistan, the NGO co-operated with Ali Xeeshan, a renowned Pakistani clothes designer, and together they reached for BBDO Pakistan's creative help to chip in some of their imagination and come up a fashion item that shall raise awareness about this age-old social issue.
With the HUM Bridal Couture Week just around the corner, the team knew exactly when to make a mark. Although the fashion show was pretty much the same as previous years, the 2017 one did stand out from the previous years thanks to something quite unusual for such a show.
The catwalk offered support to a series of models who wore bridal outfits, one more extravagant than the other. But the pièce de résistance was revealed only during the finale of Pantene Hum Bridal Couture Week 2017. Just look at the Bridal Uniform, a school uniform crafted in such a manner that it resembles a wedding dress. The unusual garment was embroidered with heavy golden motifs and accessorized with a rather simple backpack. As it was worn by a school girl, the outfit made a big impact on the audience, who slowly realized that no child should go through this.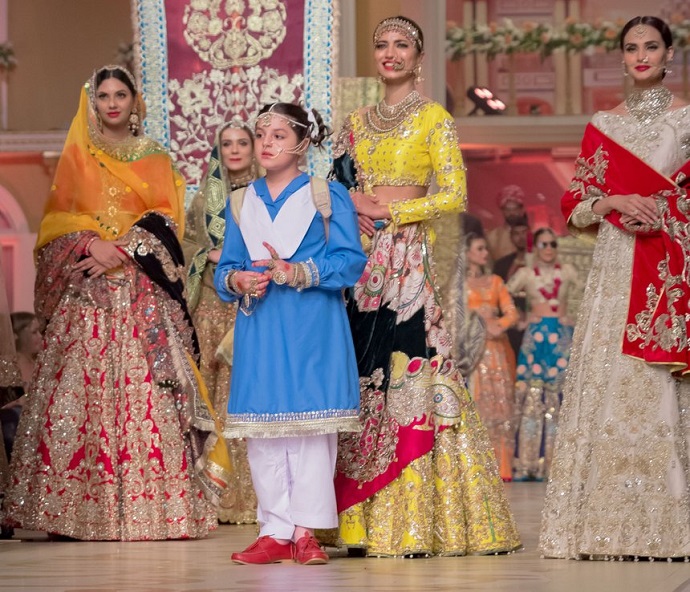 The uniform points out that the child matrimony remains a serious problem in Pakistan. It puts a large number of such marriages under a microscope and suggests that these should not be a reason to celebrate. When a girl is constrained by her family to get married at a young age, she is deprived of her right to a good education. Not to mention that she is often forced to grow up way too early.
"Do not let a little girl trade her school uniform for a bridal outfit," said the designer who also explained that when he was asked to create a bridal dress for a little girl he tried to convince her parents to think twice before marrying her to an older man.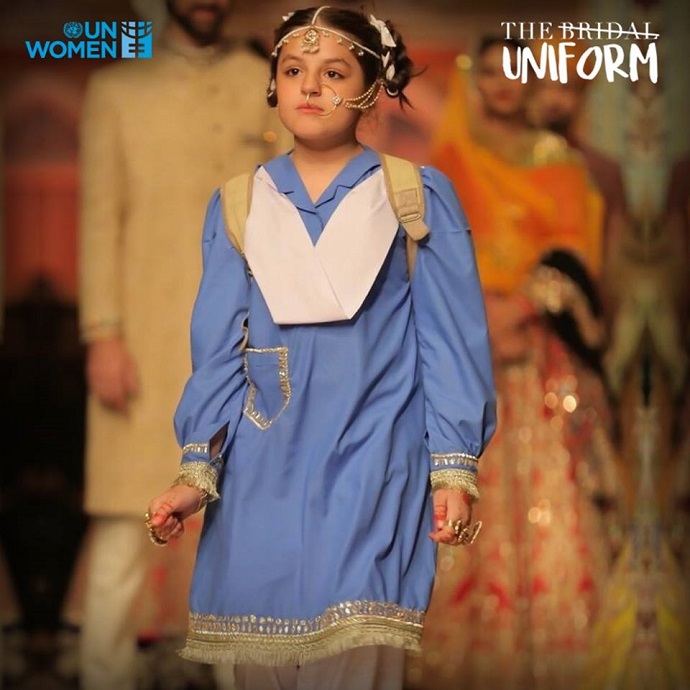 The campaign brought to the agency two trophies at the Cannes Festival 2018. "This is further proof that Pakistan can compete and win on a global level when it comes to creativity in advertising. BBDO is extremely proud to have brought these trophies home, and we hope that this accomplishment will inspire the industry to raise the bar overall," said Ali Rez, Regional Creative Director, BBDO Middle East and Pakistan. The uniform also scooped a Wood Pencil at the D&AD Awards 2018. And that's just the creative side.
As far as the social results of the campaign, the project achieved its purpose. Supported by a website, the campaign was conceived to evoke people's emotions and start acting. Via the online portal, UN Women asked the public to sign a petition to bring the subject onto the Parliament's table. Plus, the audience was asked to donate as much as they like to help a non-governmental organization, Kashf Foundation, end violence against women and stop early child marriages in Pakistan.