You probably are aware of how annoying an earworm can be. It gets stuck in your head and you won't get rid of it for like… hours. Yet, no matter how irritating these songs might be, some people use them to make a good point. Just like 3M company did a while ago when it used catchy tunes to show how good its duct tape really is: as sticky as an earworm. The idea received tremendous success and was highly-applauded at various festivals that celebrate creativity.
Now, our attention moves to another, more mobile player that turned catchy tunes into something memorable. mortierbrigade agency and Bike for Brussels thought that it would be a nice idea to promote safe cycling by "infecting" cyclists' mind with some of the world's most popular songs. And don't you worry: the process doesn't involve the cyclists using their headphones. So, how can one listen to music without actually listening to music? Well, you look around and try to use anything that's out there to get inside people's minds.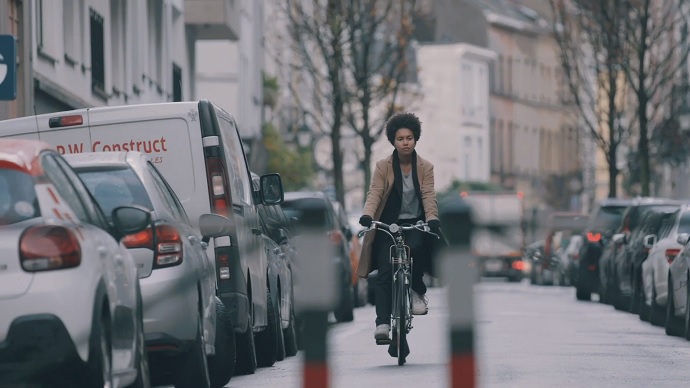 Spotify, radio, and billboards are some great ideas that Bike for Brussels used with ingenuity. By launching an awareness campaign titled "Safety Earworms", the NGO successfully got inside the cyclists' heads, tricking their minds into thinking that they are actually listening to music through their headphones. Bonus, they got to hear the sounds of the environment, like honks, engines, or bicycle bells. Thus, the bikers can be pedaling, enjoying music, and still paying attention to traffic. How cool is that?
The campaign's centerpiece spins around a new radio program that was made in collaboration with local radio station Bruzz. The program—strategically titled "The Earworm of the Day"—gets boosted by other media outlets with the goal of reminding cyclists to pay enough attention to the sounds around them by offering a clever and safe alternative to riding with noise-cancelling headphones.
"We are constantly looking for ways to raise awareness among people in Brussels about good behavior when on the road. With this campaign, we have taken a very annoying phenomenon and turned it into a genuine opportunity. In this way, we are delivering an important message without moralizing or making people feel guilty, but in a positive and creative manner," says Camille Thiry, Spokesperson for Brussels Mobility.
Entire Belgium's capital had a chance to witness this project for ten days: apart from a partnership with Brussels' biggest media outlet Bruzz, which led to the radio broadcasting the catchy songs, the initiative was nicely complemented by various, both new-and-old-age media. The lyrics were posted on posters and featured in karaoke TV commercials and special Spotify playlists. Plus, some of Brussels' famous street musicians took to the streets and played the earworm of the day.
"Travelling on the road requires attention not just to visual signs, but also to sounds," further explains Camille Thiry. "Audio clues, such as the sound of an engine, a car horn or a bicycle bell, help them to anticipate the behavior of other users and avoid potential accidents," she adds. Brussels Mobility points out that the campaign's goal to raise awareness amongst cyclists does not only invite the riders to pay attention to sounds around them but also to adopt a more responsible behavior and cautious approach to listening to music.
Don't you feel like going out for a ride now? Our brains are already 'contaminated' with these tunes. Unfortunately, we don't have a bike here. Well, we'll just walk for a while listening to the songs that 'play' on these posters and in our heads!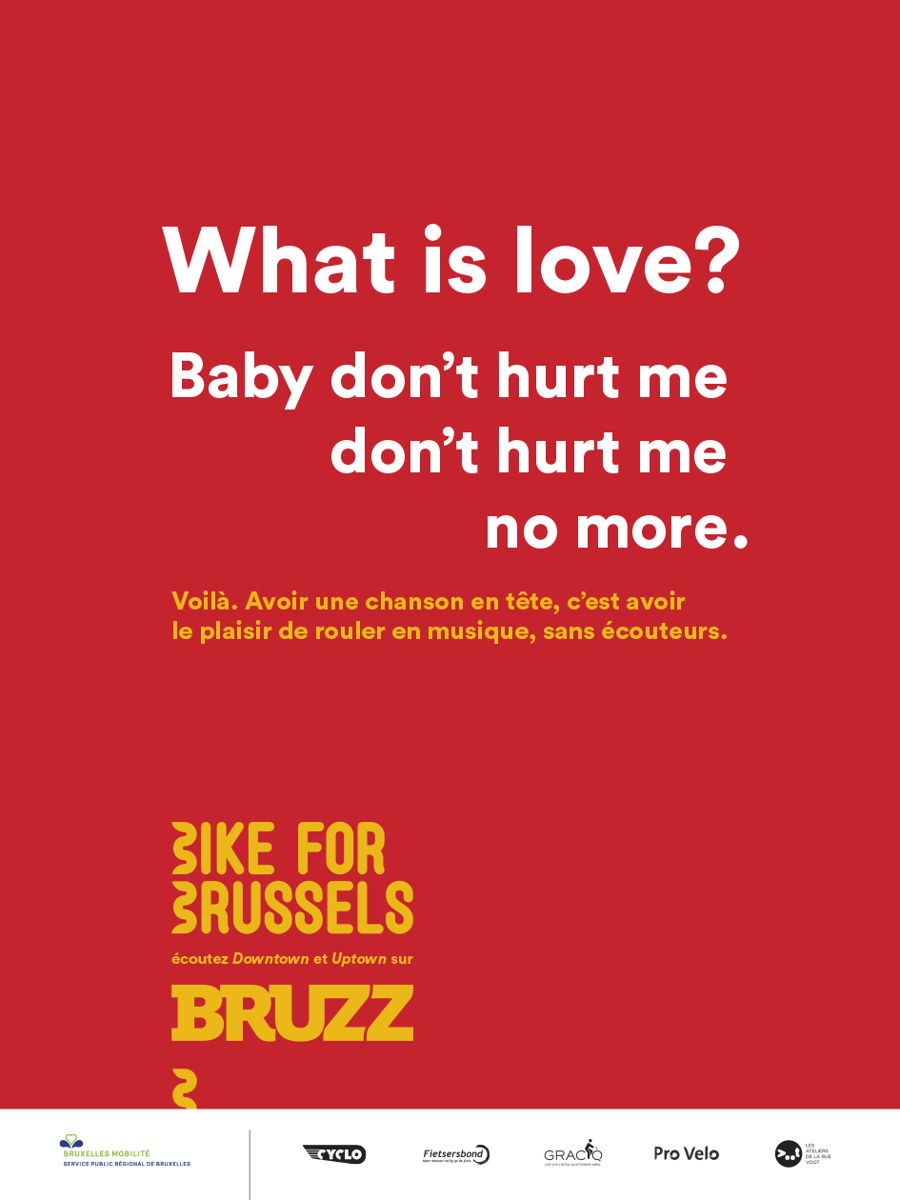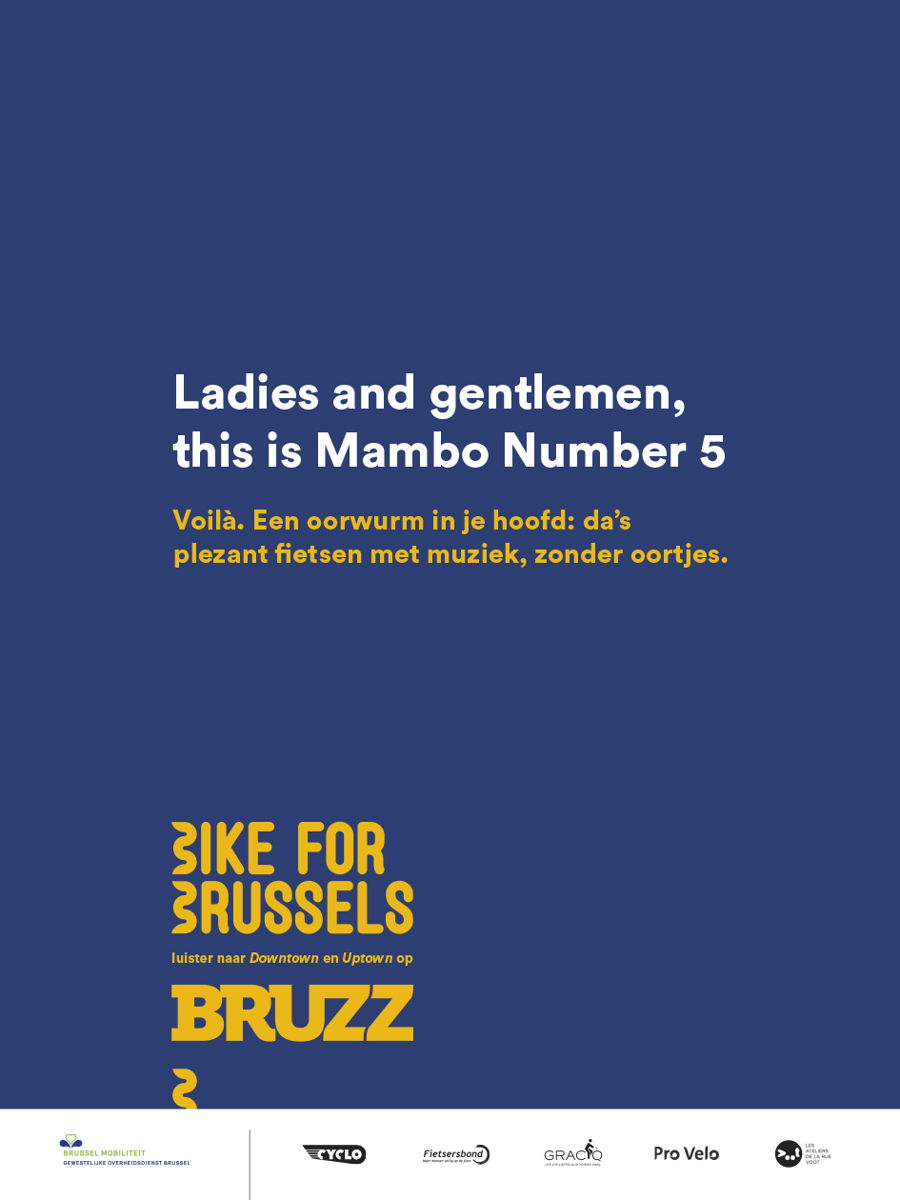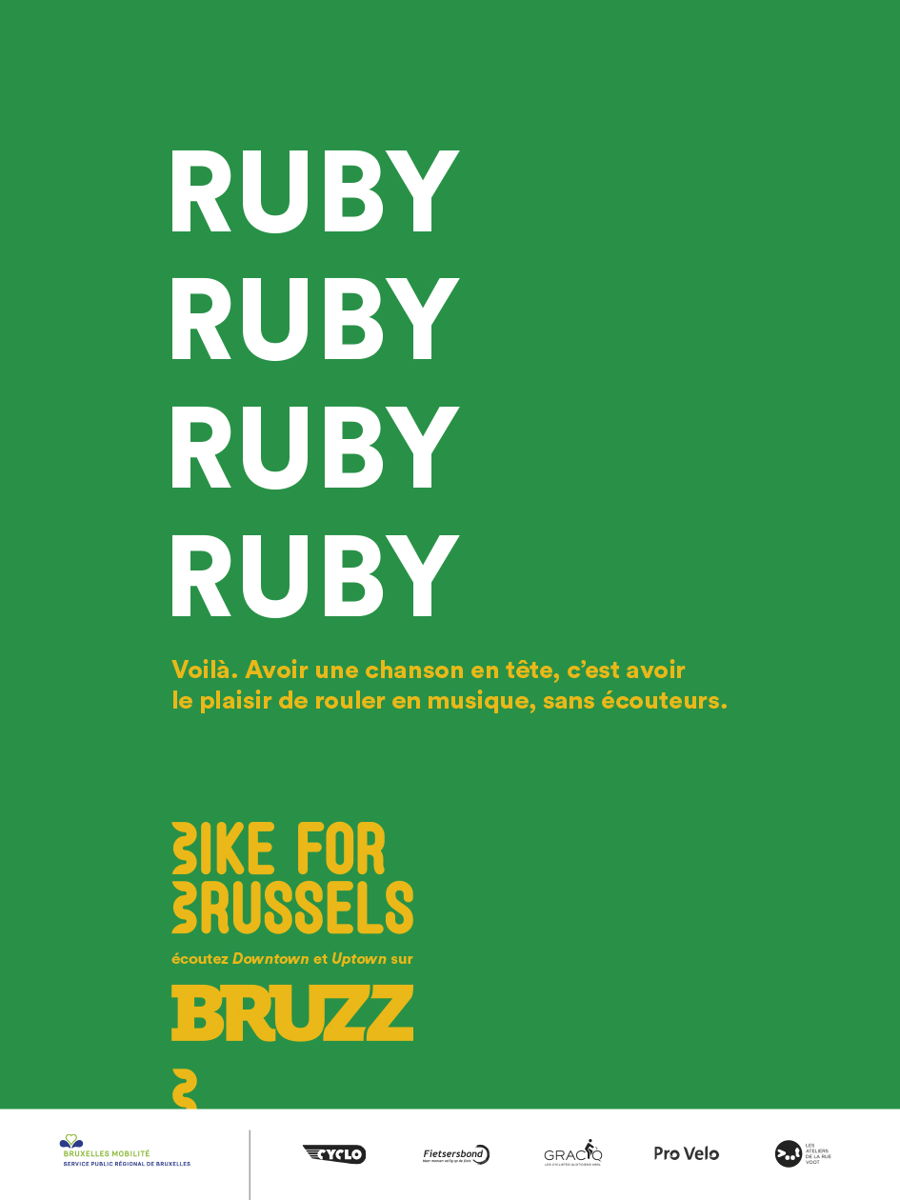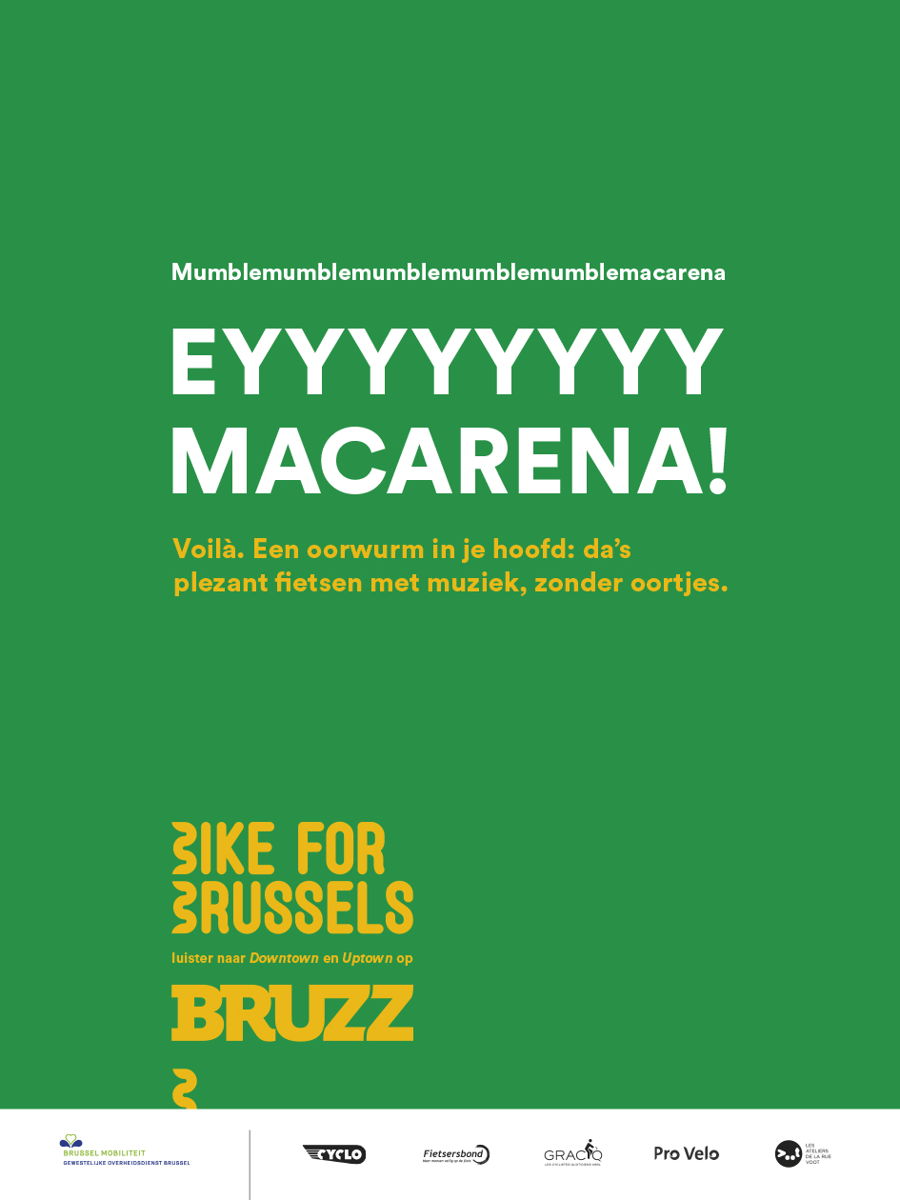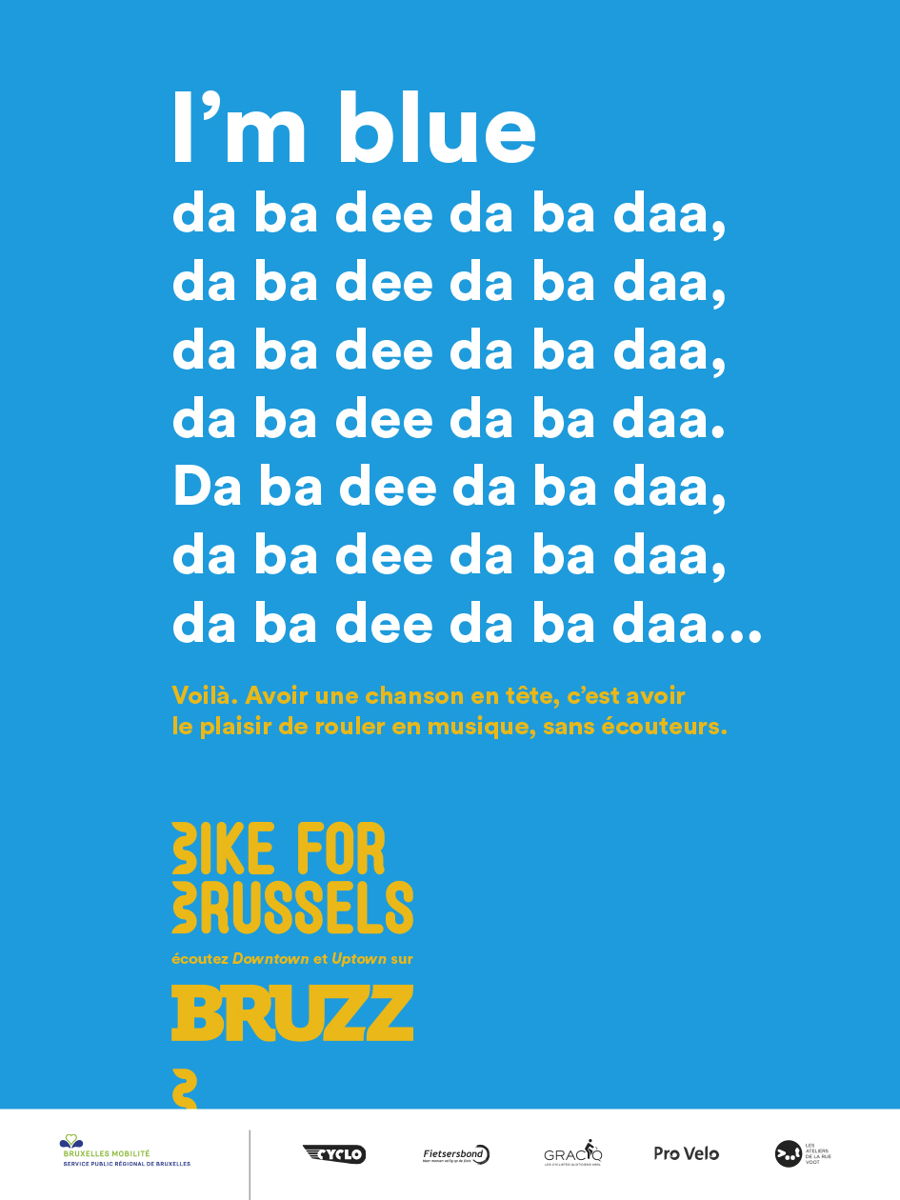 Credits:
Client: Bike for Brussels
Agency: mortierbrigade