TBWA/Paris has supported McDonald's evolution in France. The two boast hundreds of memorable campaigns together, some of which succeeded to influence both the country's culture and history. Most importantly, the initiatives resulted in France becoming McDonald's second most profitable market in the world. Now, it is only fair to say that this is the right way to do good marketing for a client.
Speaking about the "Right Way," have you seen the popular restaurant's latest campaign, also courtesy of the Paris-based agency? You haven't? Then let us introduce the "Directional Campaign – French Fries". Today, it's all about a fine series of print ads that cleverly use the shapes of these delicious fries. Each illustration features a pack of the salty goodies that bend towards a certain direction, making people aware of the closest McDonald's 'joint'.
In their previous cooperation, TBWA/Paris invited us to see what a rainy day does to hunger. It makes you want to cuddle inside the house and watch movies. What's even more important is that it makes one crave the delivery service of a restaurant. So, to promote the McDelivery service, McDonald's worked closely with the creative agency and launched a print campaign that features a series of illustrations of soaked-in-rain Paris. All images were taken by the photographer Robert Baden and speak about the urban side of the fast-food chain, while the visuals suggest how good it is to stay inside on such a damp day, waiting for McDonald's to deliver you their tasty dishes.
Now, let's say that the rainy days have passed. Are you ready to go out to find a McDonald's restaurant? Say no more, because the TBWA/Paris agency has developed a clever way of using the images of French fries to show you the way to the nearest joint. Inspired by minimalism, the emblematic artistic movement of the 21st century, the agency created eight posters, which all feature potatoes swirling in concentric circles to point out to the closest McDonald's location.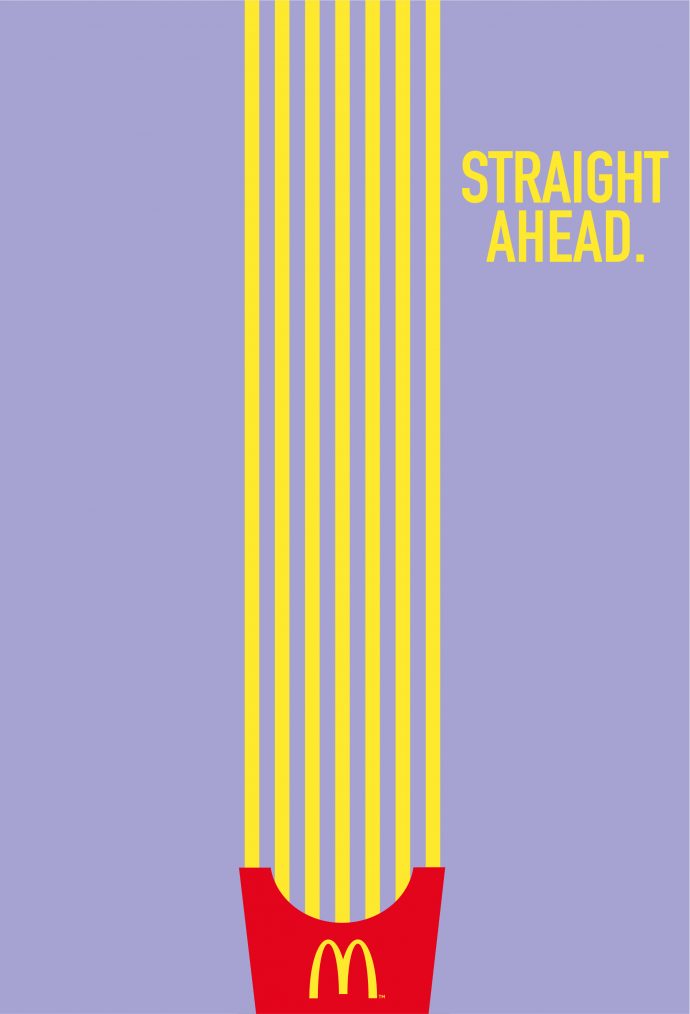 McDonald's France decided to stand out with a directional campaign, showing the brand's direction without using a logo and an arrow. Pictured on a color patch, the French fries show the 'shortest' way to the fast-food restaurant. According to the featured directions, eight colors were proposed to make 64 different combinations. Ready to find the right way? Because we definitely are… To have some French fries!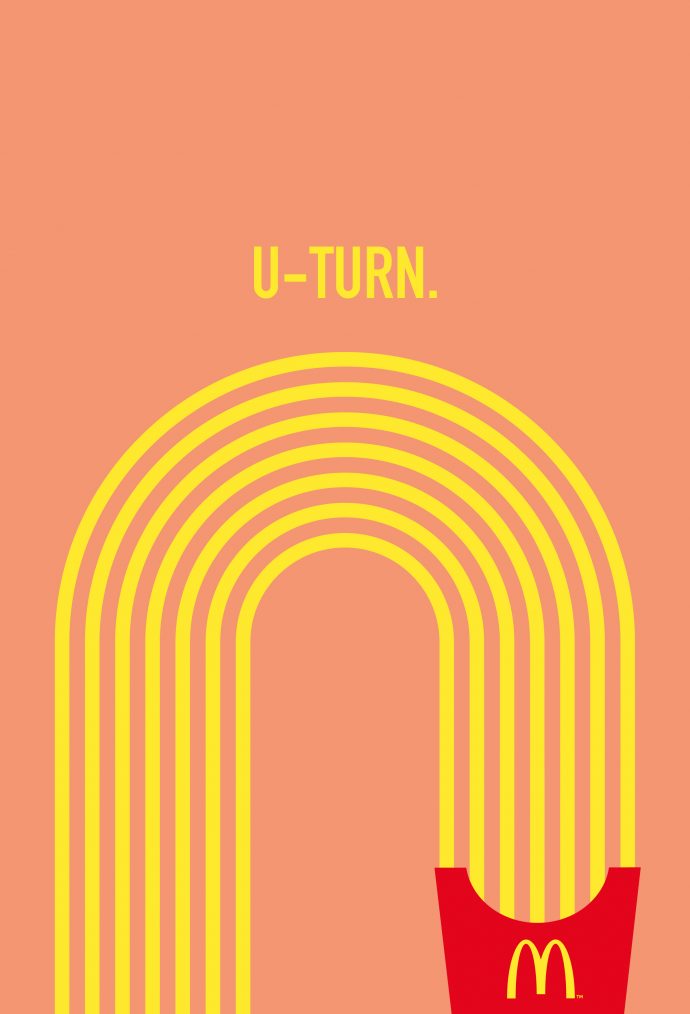 Click to enlarge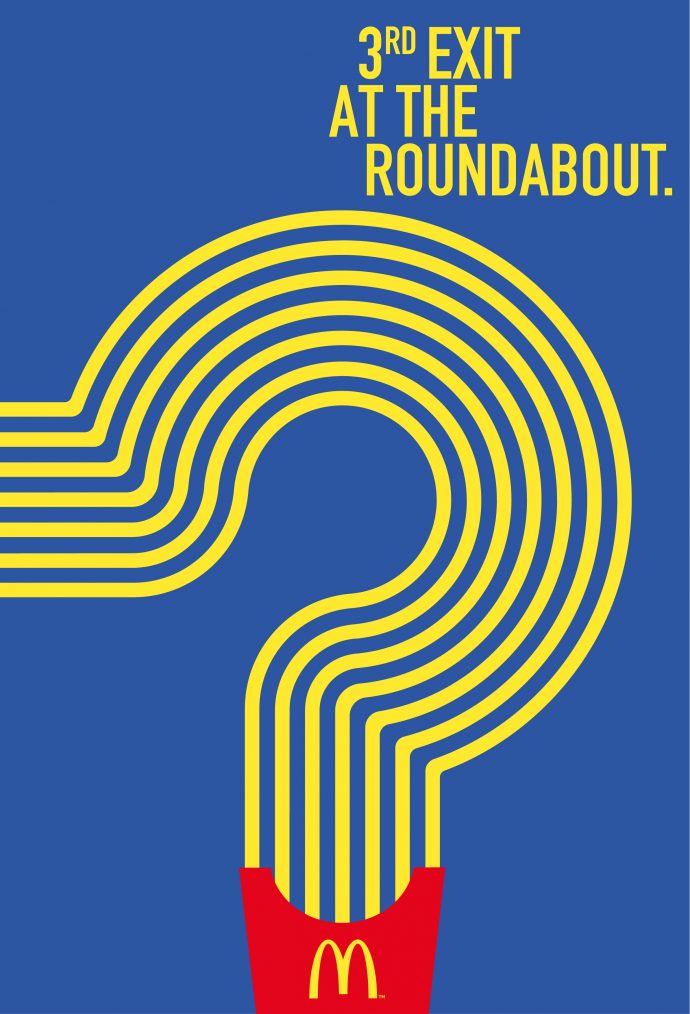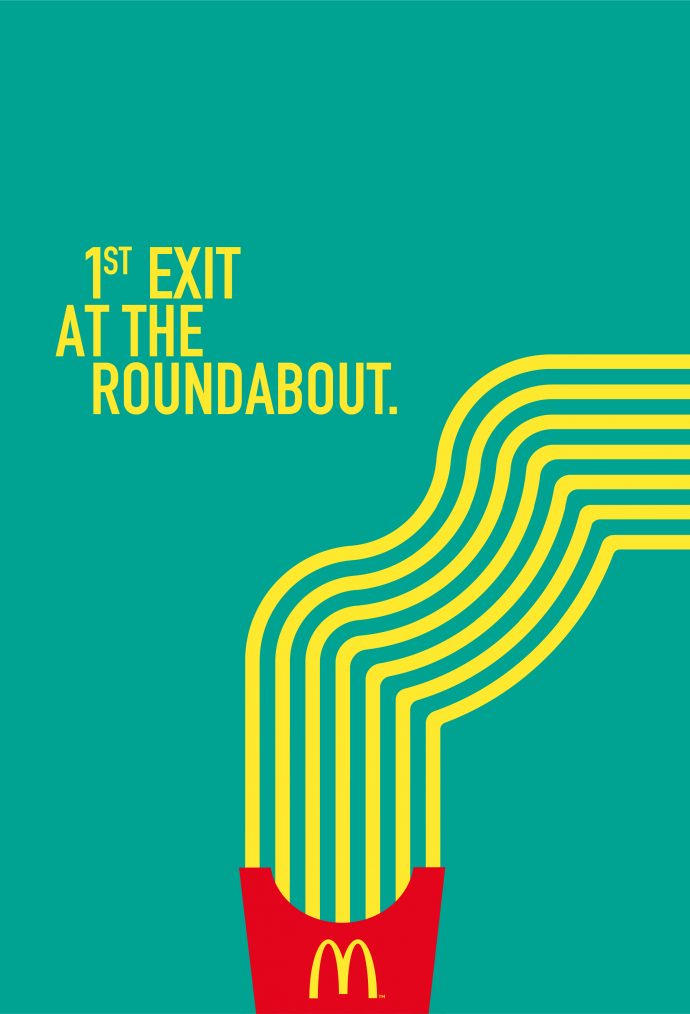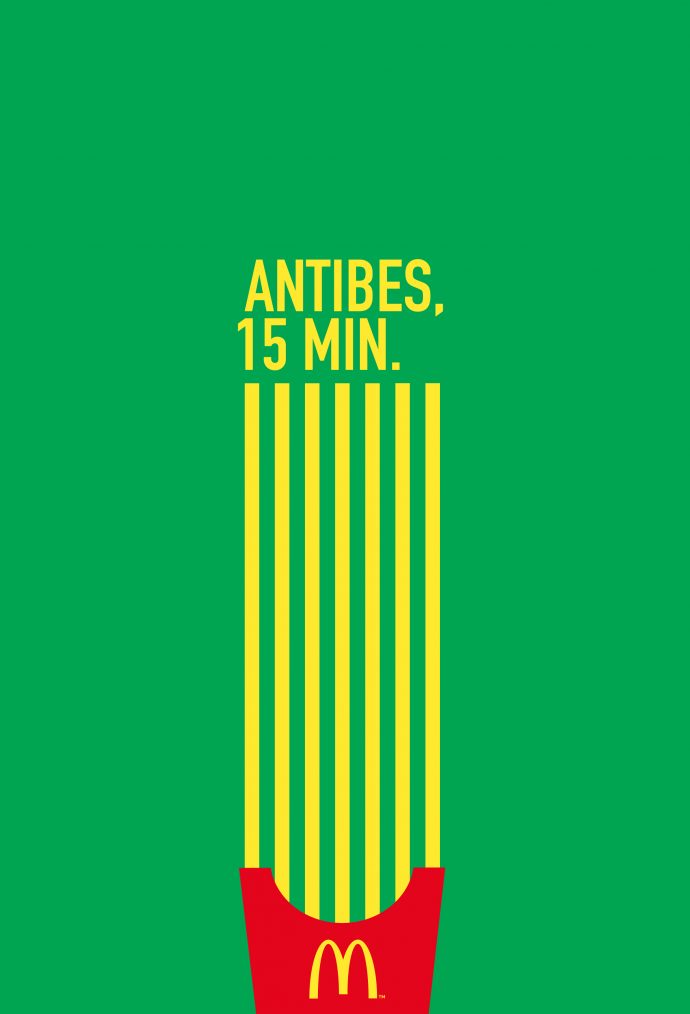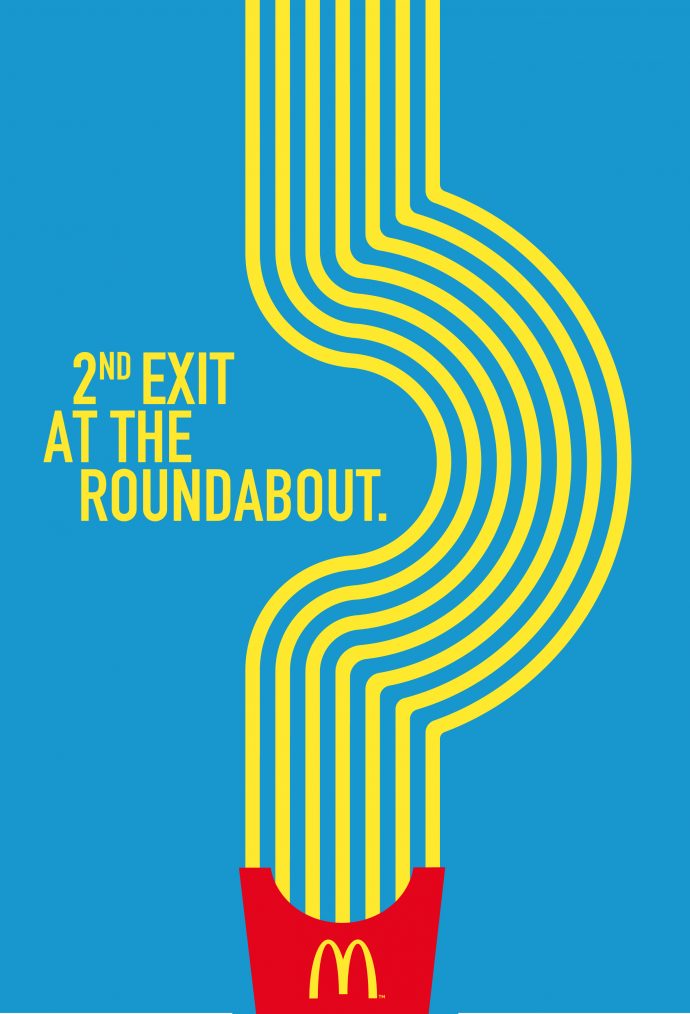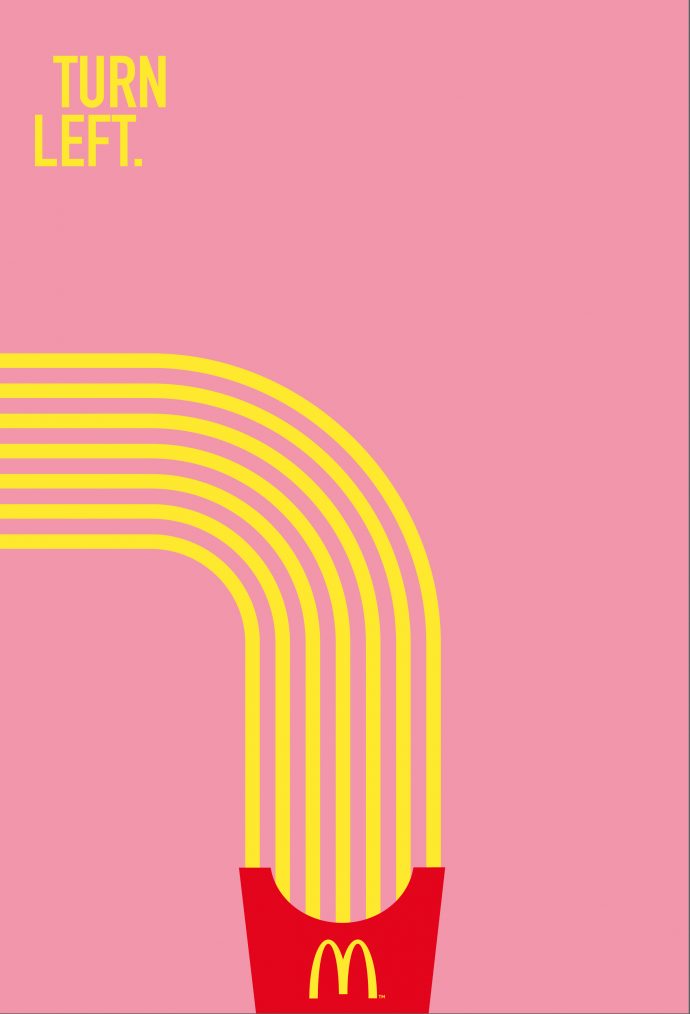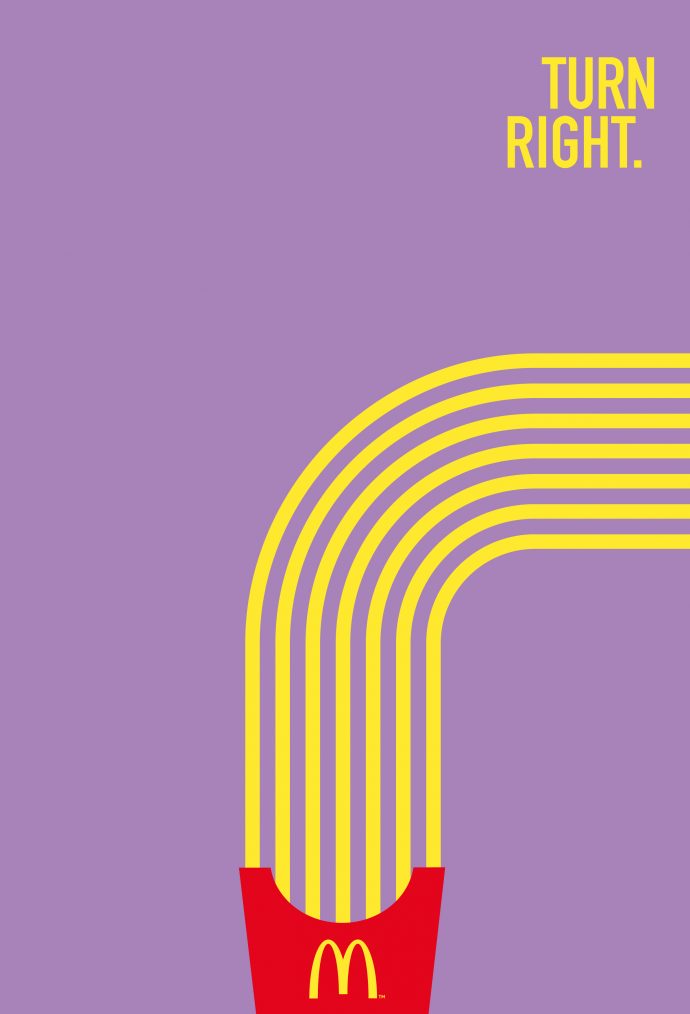 Credits:
Client: McDonald's
Agency: TBWA/Paris
Executive Creative Directors: Benjamin Marchal, Faustin Claverie
Art Directors: Camille Roulant, Emile Chiumino
Account Supervisors: Xavier Royaux, José Jacinto, Benoit Kolb
Agency Account Managers: Jonathan Serog, Julie Montagne, Matthieu Charles