No one can better define the concept of 'competition' than brands. They come up with different branding, advertising, and marketing strategies to reach the customers' hearts. Some of them even troll each other to raise awareness about their products. And this is quite fun to watch.
If brands competing with each other makes you grab some popcorn and enjoy the show, imagine what can happen when two — or more — big entities collaborate to do something good. We're not talking about 'co-branding;' this is a theme that probably our sister site, Brandingmag, will further develop with its contributors so that you can explore the idea in all of its glory. What we are really referring to is a collaboration of big brands not to promote their products but to encourage a good message.
There are plenty of examples of brand collaborations. Most recent one that comes to our mind is some of  Serbia's biggest advertisers: Telekom Serbia, Ahold Delhaize, Halkbank, Bambi, Coca-Cola, Schweppes, Fanta, BMW, Honda, Mini, Tommy Hilfiger, Replay, Diesel, Liu Jo, and Raiffeisen bank, which donated their advertising billboards to the Museum of Contemporary Art Belgrade so that museum-goers could admire the art that's inside the building's walls outside of it. By using a mobile app, users were invited to scan an ad billboard using the camera of the phone. Through the lenses of the camera, the commercials nicely morphed into fabulous works of art.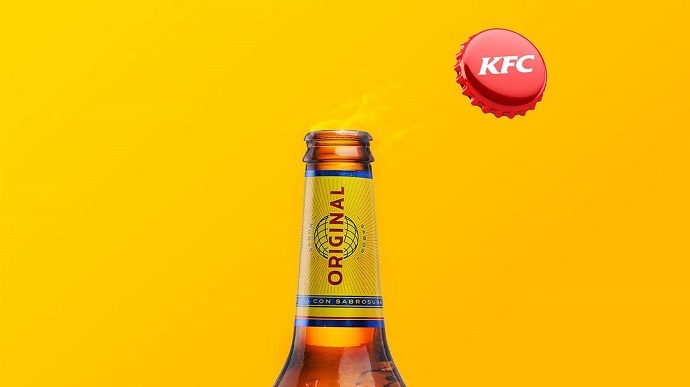 This is a great example of brands promoting culture. Yet, there are companies that join forces to encourage other things. Such as AB InBev's Aguila Beer, Colombia's leading beer brand, which has recently launched 'The Beer Cap Project,' in partnership with some of the world's most recognized brands. And all, to promote responsible drinking.
Basically, Aguila Beer, helped by MullenLowe SSP3 agency, removed the logo from their caps and lent them to food, water, and transport brands. Amongst them, there are UberEats, KFC, Papa Johns, the Hard Rock Café, Uber, and Cabify. Why such brands? For example, food and water are good when drinking alcohol because they help mitigate the effects of the liquors. Brands such as Uber and Cabify were invited to join the initiative so that they help drinking buddies get home safe.
Thor Borresen, Marketing VP for AB InBev Colombia said: "AB InBev are totally committed to leading new initiatives that aim to highlight the responsible consumption of alcohol that truly bring about real societal change. For 'The Beer Cap Project', we wanted to take advantage of Aguila's strength in Colombia to reach leading beer brands around the world and promote a universal message to educate people to consume alcohol responsibly."
Carlos Andrés Rodríguez, Chief Creative Officer at MullenLowe SSP3 continued: "Each year, the beer industry spends billions of dollars to promote responsible drinking, but binge drinking is still a huge problem around the world. Experts have found that consuming water while out, eating and going home earlier are all ways to drink responsibly, so we wanted to do something that has never been done before and remove Aguila's logo from the caps and give this space to other brands."
The campaign was launched in Colombia and is now expanding to the entire world. Through billboards, Aguila Beer is asking some of its competitors, such as Heineken, Miller, Asahi, Guinness, and Pilsner, to join the movement and donate their caps to non-alcoholic partners to help consumers drink responsibly.