If you are reading this as part of your evening reading routine, don't forget to pour yourself some milk…
In the mid-90s, all sorts of beverages boomed in California: juices, fruit drinks, ice teas, coffee drinks, bottled waters, and soft drinks on every shelf. With so many choices out there, who on Earth would think about milk? It's no wonder that milk sales have dropped 6% between 1987 and 1992. Seeing that people don't care much about this drink, the California Milk Processor Board thought that they should do something to both grow sales and also encourage people to consume milk. The Board took care of the problem immediately and hired Goodby Silverstein & Partners agency to help it boost the sales of milk. Oh, but little did they know that this journey of theirs will last for decades…
It was 1993 when the "Got Milk?" campaign was born, an initiative that's still on people's lips and, currently, in Branding.news's pages, within our weekly #ThrowBrandThursday column. It all started as an experiment by Jon Steel, a partner at the San Francisco-based advertising firm Goodby, Silverstein & Partners. As part of the project, he asked the participants to refrain from drinking milk. Slowly, the absence of milk became noticeable so Steel communicated this to his partners, Jeff Goodby and Rich Silverstein. "I don't know, it's about running out of milk," Goodby said. "Why don't we call it 'Got milk?' — with the question mark."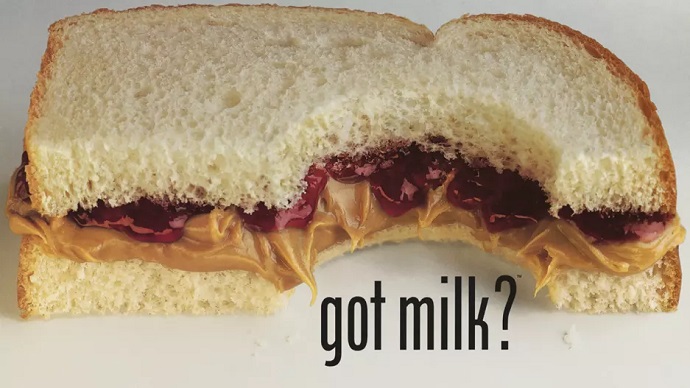 The team at Goodby, Silverstein and Partners wasn't that happy with the tagline, mentioning that it is "grammatically incorrect." "Great taglines are clumsy," says Silverstein. "[Nike's] 'Just Do It' was a dorky line. The fact that 'Got Milk?' made it into the lexicon, well, who would've thought?" Annie Button, a contributor at our sister site, Brandingmag, nicely sums this short-and-to-the-point tagline thing up: "You don't always need a complex slogan or message to achieve excellent results. Sometimes, coming up with a simple message that resonates with everyone is the best approach."
The creatives imagined all sorts of ideas for commercials in which people would run out of milk. And just like that, instead of selling a product to consumers, they found a way to sell the lack of it.
The first fruits of the Got Milk? project arrived in 1993, with the "Aaron Burr" commercial, directed by Michael Bay, a recent film graduate of the Art Center College of Design at that time. The spot features a student who loses $10,000 because he can't get the words out of his mouth and answer to a radio trivia contest. This happened because his mouth was dry from the peanut-butter sandwich and there was no milk to wash it down. The ad was named as one of the best ten commercials of all time by a USA Today poll in 2002. Starting then, the spot has been featured in books about advertising.
Then, "Heaven" followed, a commercial in which we see that the lack of milk makes the difference between hell and heaven. Actually, the action of this video is quite similar to what Goodby, Silverstein, and Steel did to their colleagues at the agency. To confirm their findings — that the lack of milk changes people's behavior — the team emptied the cartons of milk in the company's refrigerator and installed a hidden camera within. They discovered that the employees were frustrated because they were deprived of milk. As frustrated as our hero is in this one-minute-long video.
Two years later, in 1995, the Milk Processor Education Program (MilkPEP), the national arm of milk processors, came up with its own campaign, courtesy of agency Bozell. The agency created what we know today as the "Milk Mustache" campaign, and it first started with a print ad that featured the famous Naomi Campbell proudly wearing a milk mustache. Originally, it carried the line, "MILK — What a surprise!", and then transitioned to "MILK — Where's your mustache?". Soon enough, the slogan "Got Milk?" was licensed to the MilkPEP, basically killing two birds with one stone. In 2014, MilkPEP retired "Got Milk?" and replaced it with its current tagline, "Milk Life." Despite this, the California Milk Processor continues to use it.
Other celebrities have joined the initiative: Britney Spears, Beyoncé, Rihanna, Serena Williams, and Venus Williams, are just a few of them. Even Whoopi Goldberg posed for the campaign, even though she is lactose intolerant: "I really wanted to do it, but I was told you had to be a milk drinker, so I couldn't do it the first time around," she says. Luckily, the milk producers launched an ad for lactose-free milk, giving the comedian an opportunity to be part of the ad. But the campaign went beyond the physical world and even conquered characters that we love: The Simpsons, Batman, Mario, and The Powerpuff Girls were also there to promote milk consumption.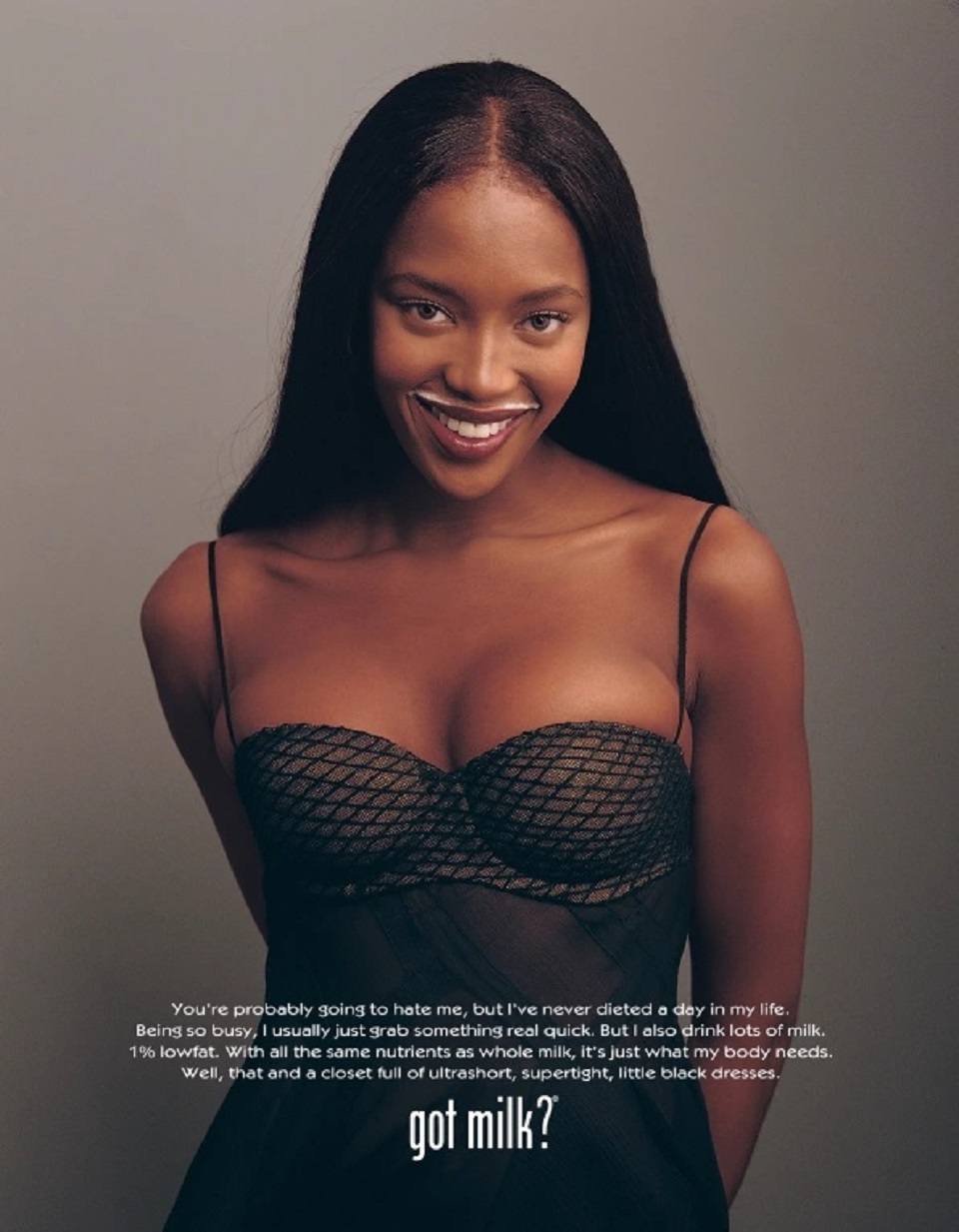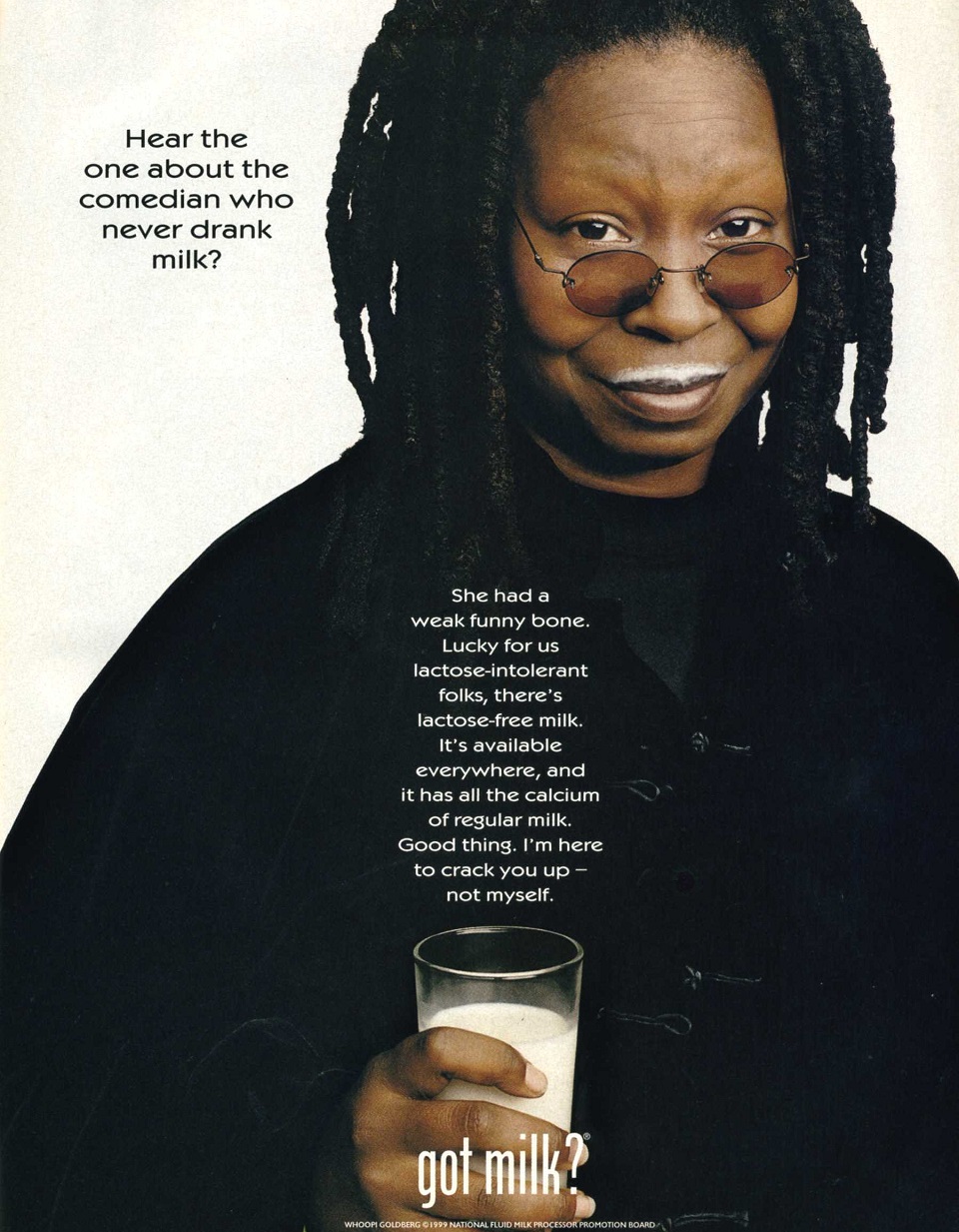 In December 2017, the CMPB announced that they are consolidating the advertising efforts to a new agency: GALLEGOS United. As a goodbye message, Jeff Goodby said: "We are so happy to have been with 'Got Milk?' since day one. It is certainly some of the best work this agency has ever done, and I could not be prouder of the people who have worked on this campaign for 25 years — many of whom have gone on to be the leaders of our industry. The challenges facing milk are different now, and we wish them all luck and success." And so, they did.
Their first advertising effort is marked by "You Can Always Count on Milk," a $16-million-dollar, statewide advertising initiative that addressed millennial families throughout California. The campaign featured three spots that nicely illustrate that no matter what average kids go thorough daily, milk will be something they can always count on.
In 2019, GALLEGOS United launched the "Know the Facts" campaign, which was specially designed to make people learn the real facts about milk and know how to avoid misinformation. At the center of the campaign stands a video directed by JJ Sedelmaier, who is also behind some of the most famous Schoolhouse Rock! episodes. The animated adventure takes viewers to an epic journey to find the truth about milk.
Yet, there's no point in knowing the facts about milk if there's no milk, isn't it? Many families living in California strongly rely on free school-provided meals, but because of the COVID-19 situation, things don't look the same anymore, and therefore, they don't have access to nutritious food during these unprecedented times. GALLEGOS United collaborated with the Dairy Council of California to quickly mobilize a response effort to provide families with easy-to-find information on where to access free meals. This leads us to the agency's latest "Got Milk?" initiative, for which the creatives worked with Los Angeles Lakers forward, Kyle Kuzma, and beauty queen, model, mom, and Univision TV personality, Alejandra Espinoza. With their help, the agency produced two social PSAs to reach both Hispanic and General Market audiences throughout California.
We, at Branding.news, have asked James Kulp, Executive Director, GALLEGOS United, to say a few words about the campaign that has become the holy grail of the 1990s: "'Got Milk?' is one of the most iconic brands out there today. What started as a campaign built around a sense of deprivation — what to do when you're out of milk? — evolved into a national 'Milk Mustache' campaign that pulled together celebrity fans of milk to help promote its benefits via arguably one of the most memorable print/poster campaigns ever, and has continued to live on with messaging dispelling the many myths out there as well as very recent campaigns designed to support families in California during this COVID-19 crisis — helping to get the word out on school feeding programs available while schools are out as well as with free bedtime short stories available on gotmilk.com for parents to share with their kids while sheltering at home."
Credits:
Client: California Milk Processor Board
Agencies: Goodby Silverstein & Partners, GALLEGOS United
Images: Jessica LaVoie, Group ISD