After three months of waiting, we are finally allowed to get back to normal, as many countries around the world have eased their lockdown restrictions. Staying inside the house for so long hasn't been too easy. Luckily, brands were there to help us make this period of time more bearable. Take Heinz Brasil, for example, a brand that succeeded in making the #StayAtHome process more tolerable via creativity.
In partnership with ad agency Africa, the company launched the #MakingArtWithHeinz (#FazendoArteComHeinz in Portuguese) campaign, inviting its followers to draw the burger of their dreams. Heinz offered them the canvas onto which they could draw their ideas, asking participants to post their results on social media and add the #FazendoArteComHeinz hashtag.
The results were really surprising. But it didn't end here. The most original illustrations were picked by Heinz, which invited renowned chefs from the best burger places in town to bring those burgers to life. The authors whose creations came to life received their burgers at home, accompanied by a bottle of Heinz ketchup, of course.
Sure, only the images that were close to reality were chosen. Think about it, how could Heinz have brought to life illustrations like this: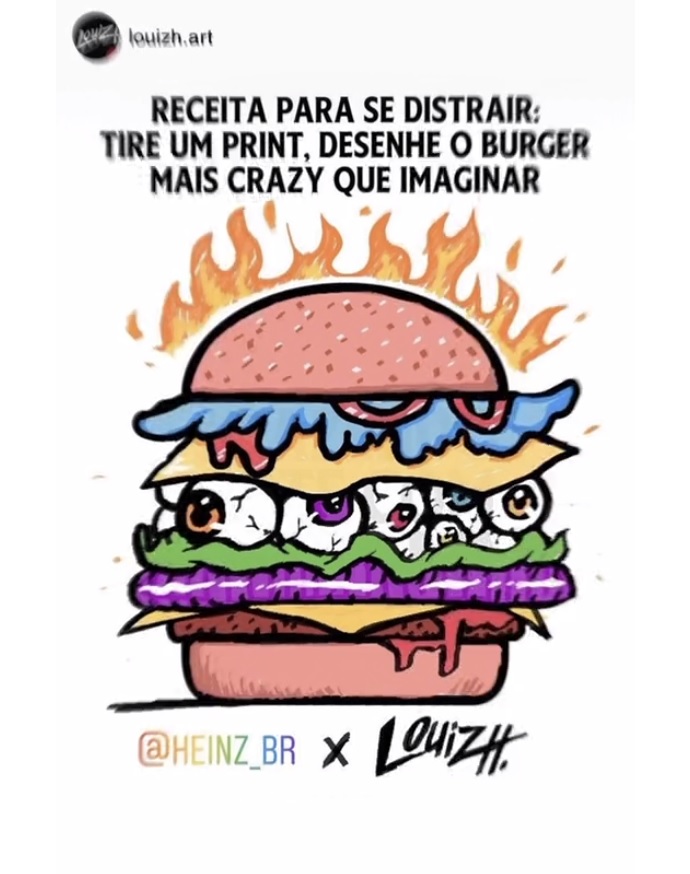 This isn't the first time the two partners use Instagram to reach consumers. Three years ago, the duo linked to the phenomenon of 'food porn' and launched a delicious campaign titled "Irresistible Posts," through which the brand offered tasty treats to social media users who followed the posts that focused on burgers made exclusively by chef Santi Roig.
Clearly, both campaigns stimulate creative people's appetite for both food and imagination. But there's another initiative that addresses poor people, those who have been intensely affected by the current pandemic. COVID-19 turned some of us into panic buyers, but it also left some of us hungry. Such a crisis didn't leave Heinz indifferent, and so, the brand decided to donate its key ingredients to Gastromotiva, an NGO that exists to improve the conditions and wellbeing of Brazil's poorest citizens through gastronomy education and work opportunities.
In the South American country, a bottle of Heinz Ketchup includes six 100% natural ingredients, such as tomato, sugar, vinegar, salt, onion, and natural flavors. These donations helped the NGO prepare some delicious dishes for people who live in underprivileged conditions.
Credits:
Client: Heinz Brasil
Agency: Africa