First of all, click here, so the visual experience you are about to unlock to be as intimate as possible. This way, you get to connect your body, mind, and spirit to an adventure that millions of people have felt in 1985, during the Live Aid. No matter how much Queen fans would like to see their favorite band on stage, this is (almost) impossible. Although Adam Lambert is quite good, replacing the flamboyant Freddie Mercury is impossible. So, do as we say; Play some Queen in the background and watch the band perform live on… envelopes.
The 'event' is organized by Royal Mail and follows the band's most popular and iconic album covers and some of the members' live performances. At the center of the experience, gloriously stands the iconic photograph taken by Johnny Dewe Mathews. All of these famous illustrations can be admired through the British postal service and courier company's latest stamp collection.
Royal Mail guarantees to "blow your mind" with these stamps, which were born to honor Queen's musical legacy. Thirteen stamps are set to be issued as an ode to the rock legends. The stamps can be pre-order now and are delivered worldwide. To be honest, we don't have much patience until July 9, when they will go on general sale. We made our plans: We will add to card our favorite stamps now and on that morning all we will have to do is just "confirm the order." Simples, right?

The stamps are divided as follows: Eight are dedicated to Queen albums: Queen II, 1974; Sheer Heart Attack, 1974; A Night at the Opera, 1975; News of the World, 1977; The Game, 1980; Greatest Hits, 1981; The Works, 1984; and Innuendo, 1991. The next four celebrate Queen's on-stage performing: Freddie Mercury at Wembley Stadium, 1986; Roger Taylor at Hyde Park, 1976; John Deacon at Hammersmith Odeon, 1975; and Brian May in Budapest, 1986. The last one displays the group in a Primrose Hill studio.
Roger Taylor was flattered by this initiative and said: "Wow…….stamps featuring our albums! What an honor. We must be really part of the furniture now! Thanks, Royal Mail for stamping on us! In gratitude."
Brian May kindly continued: "It's hard to put into words what I feel when looking at these beautiful stamps.  Since we four precocious boys started out on our quest 50 years ago, our lives have been devoted to making our impossible dream come true.  Sometimes it's strange to wake up and realize the position in which we are now held – we have become a national institution! And nothing brings this home more than this incredible tribute from Royal Mail. It's particularly poignant to look at this collection of images now – now that we are all in a world dominated by a coronavirus, in which none of this could have happened.  I just know that I feel an overwhelming desire to own one of these sets!  Somehow it will be a way of persuading myself that it really DID all happen!"
Fortunately, based on Freddie's famous quote "I'm not gonna be a star, I'm gonna be a legend," we can suppose that he would be very proud of this initiative. He deserves such tributes that literally take the rock star to the skies!
Philip Parker, Royal Mail, said: "With their truly original, theatrical sound, and effortless ability to mix musical styles, Queen are rock royalty. We pay tribute to one of the most loved bands of all time with these stunning stamps," which are priced £16.00 (GBP).
Check out the album covers, stamp by stamp!
Queen II, 1973, gave the band their first top ten hit, 'Seven Seas of Rhye.'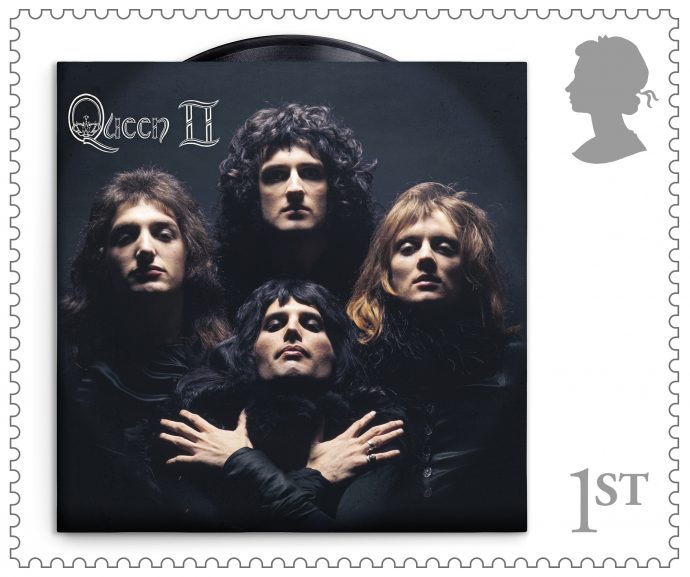 Sheer Heart Attack, 1974, featured the single 'Killer Queen' which was their first global hit and they made their first Top of the Pops appearance.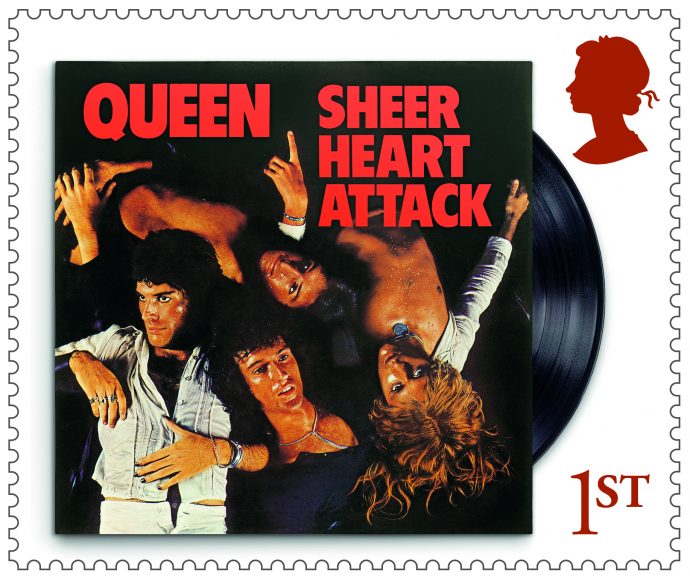 A Night at the Opera, 1975, was their first number one album and featured the ground-breaking song 'Bohemian Rhapsody' which, in the era of digital music, has become the most-streamed song from the 20th century.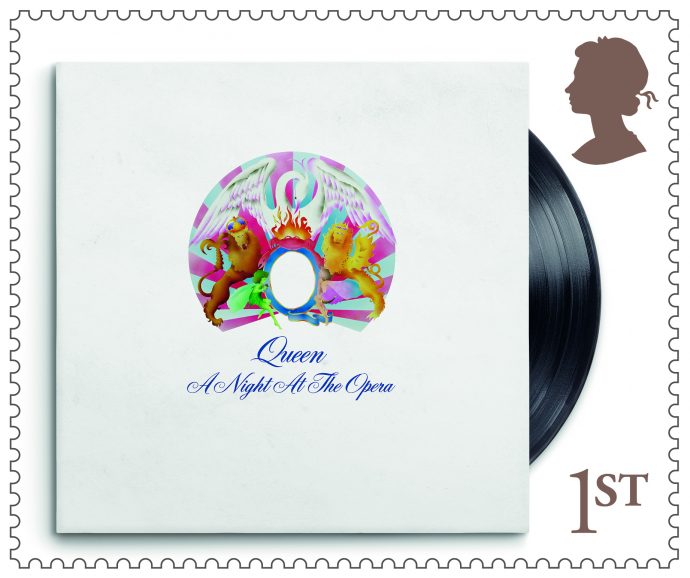 New of the World, 1977, featured two stadium-filling anthems 'We Will Rock You' and 'We Are the Champions.'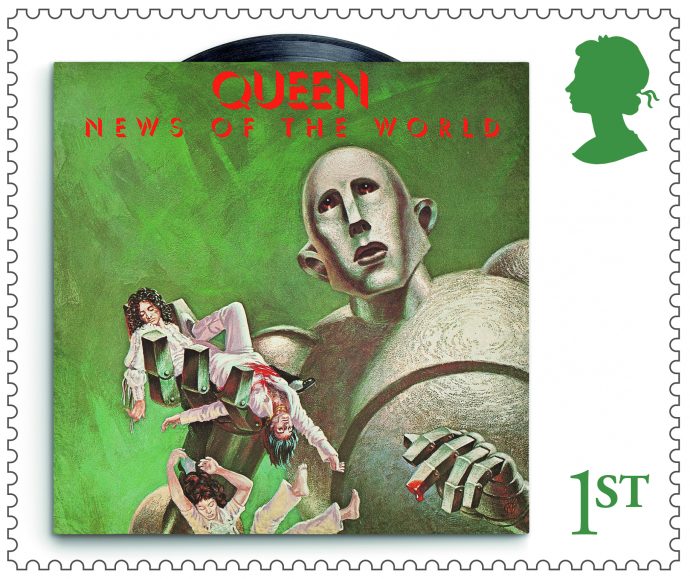 The Game, 1980, included their hit 'Another One Bites the Dust' which drew in new audiences.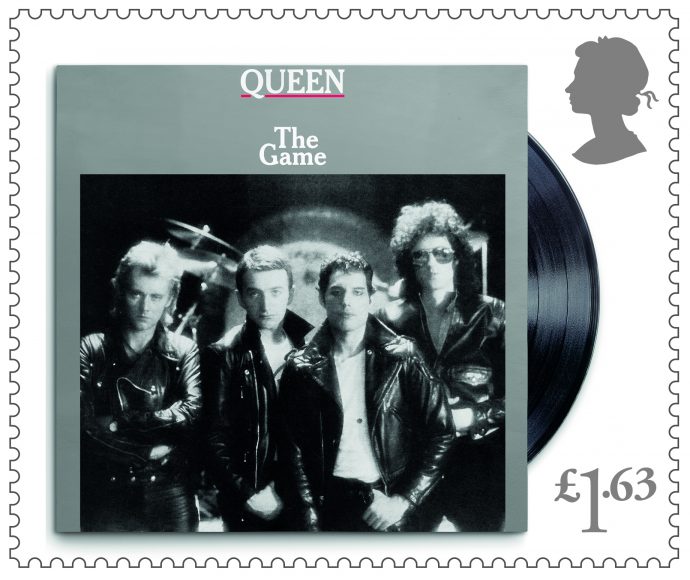 Greatest Hits, 1981, is the biggest selling album in the UK of all time.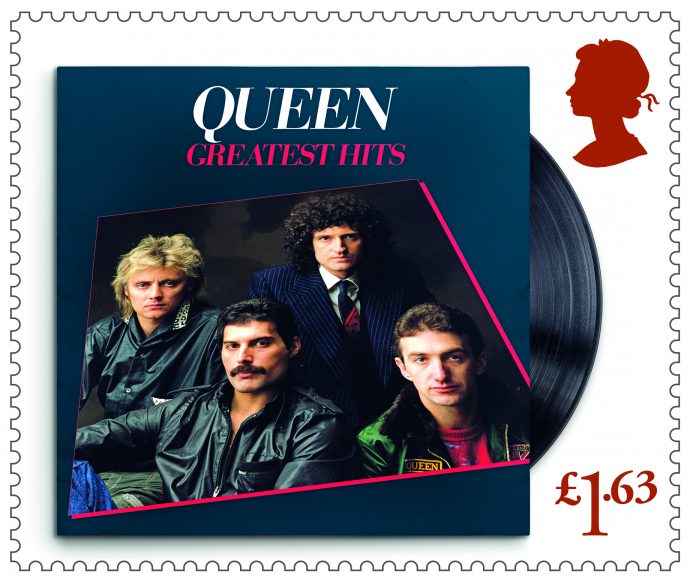 The Works, 1984, featured hit singles including their love letter to the old-fashioned wireless, 'Radio Ga Ga.'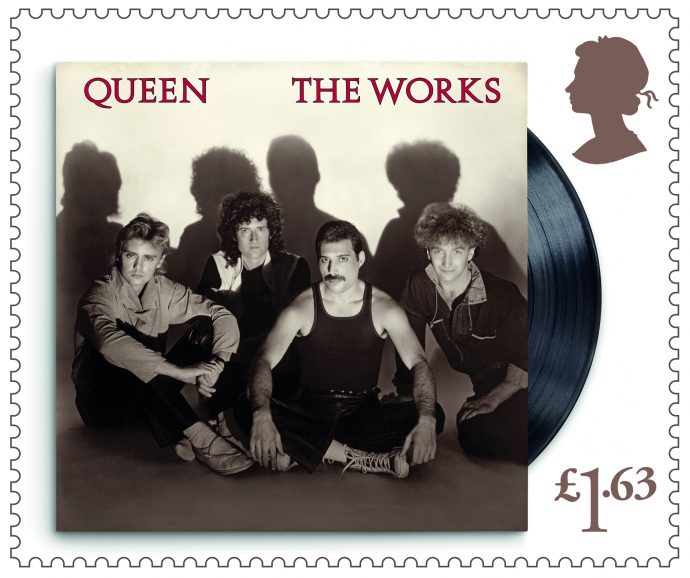 Innuendo, 1991, was the final Queen album to be released in Mercury's lifetime, and featured the poignant 'These Are the Days of Our Lives.'
Few bands rise to the level of Queen (honestly, Freddie had an unmatched talent). The rock band dominated the music charts four decades in a row, leaving behind a musical legacy that inspires musicians even today.
The year 2021 hosts the 50th anniversary of the band, propelling the Queen band to the top three music groups that have a dedicated stamp issue, being the successors of The Beatles (2007) and Pink Floyd (2016).