Until modern constructions started to develop, the stone was used as a tool to mark the birth of a building. It was usually placed in a corner, hence the term "cornerstone." But throughout history, the word started to be used in a metaphorical way, people referring to these bricks as something that allows us to taste liberty and faith. On the other hand, some cornerstones have been witnesses to some religious rituals that included sacrifices. Indeed, these bricks saw both good and bad, but what matters most is that they symbolize the "<seeds> from which buildings would germinate and rise."
We've seen how important this brick of concrete is through a campaign imagined by Bruketa&Žinić&Grey creative agency for CHR Eko-projekt. To promote the Nikola project, the duo looked carefully at its cornerstone and saw its true potential, which was not being a simple concrete box. Rather, it is a book that reveals its contents only when someone pours water on its covers. This is a very ingenious way to speak about the roots of something, in this case, an urban project. But it works just as well in other cases, to celebrate an anniversary, for example. And if something lasted for a century and a half, it means that, indeed, its cornerstone is extremely solid.
In 2019, Staropramen brewery turned 150. Of course, it is not one of the oldest breweries in the world, but still, some artists believed that a celebration was in order. The event was marked by many interesting and original projects, but one initiative attracted our attention in particular: The Staropramen Multimedia Book, or as the Cocoon creatives refer to, The Brick, the theme for this week's #ThrowBrandThursday column.
Staropramen beer is highly appreciated, both in the Czech Republic and globally. "Staropramen is the second best-selling Czech beer brand in the world, and we are number one in many European markets. In recent years, foreign sales have been growing significantly, and last year, they grew by about 5 percent," Pivovary Staropramen CEO, Petr Kovařík, said. In addition to fame, the brewery also enjoys the admiration of customers, who identify with the brand and know its values. To celebrate their loyalty, the company decided that 2019 was the best time to show everyone where its roots are.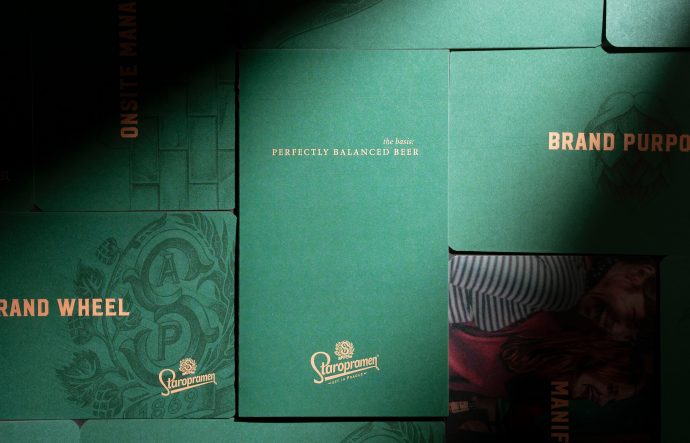 The brewery approached Cocoon Prague with a simple task, that of creating something that shall speak to people in an interactive way. "We had to apply our skills on multiple levels working with physical objects, printed materials, and the digital tablet, video-making, all of which were custom-made, designed, and programmed exclusively for the creation of the Multimedia Book," said the team behind the project.
It was a real challenge, the artists say, as they had to blend the Staropramen history with modern motifs. They drew inspiration from the brewery's building situated in the Prague Smíchov area. This turned out to be quite handy, as the topic was about building a brand: Back then, now, and in the future. And so, the story's leitmotif was born: Building and architecture.

The book makes itself stand out thanks to its covers, which are a faithful replica of a usual brick. Once the piece is "broken," people will find inside it a series of materials inspired by Staropramen, all covered in green velvet, thus highlighting the premium quality of the object. Some brochures and cards invite guests on a tour of the brewery, while a tablet offers visual content. "Stretching the connection further, we fused the architectural drawings, sketches, notes, and blueprints with the elements of editorial design, as well as with illustrations, app programming, video postproduction, copywriting, UX/UI, and more," the creatives add.
The project required weeks of hard work in order to see the light of the day. The artists at the Prague-based agency mastered this project with precision, similar to the Staropramen experts, who carefully and meticulously craft their beer.
Even though the campaign is over, no one stops you from admiring it now. Still, if you want your experience to be as pleasant as possible, don't forget to pour yourself a pint of Staropramen beer to keep you company as long as you browse these pages which abound in history.
Credits:
Client: Staropramen
Agency: Cocoon
Creative Director: Karolína Bělohlávková
Head of Project Management: Ana Maselli
Account Manager: Çigdem Çevrim
Design Director: Martynas Birškys
Copywriting: Tereza Hendry
Brick Design Concept: Martynas Birškys, Filip Streit
APP & Printed Media Graphics: Anna Belousova, Marino Plecas, Marcin Szewczyk
Illustrations: Anna Belousova
Motion graphics Storyboard: Marino Plecas
Motion graphics Art Direction: Sasha Sharavarau
Animations: Old&Rich Production
DTP, Artwork: Robert Špecián
APP UX Testing: Çigdem Çevrim
APP Developers: Pria
Printed Assets Production: Butterfly Services s.r.o
Case Study Photography: José Sabino
Hidden Archives Production: Silencio FX