[Read in Morgan Freeman's voice]
If we continue to stick to this destructive behavior of ours we have towards the environment, we'll soon discover that either the ocean went away, either we will witness the rise of a new species. Nature is speaking to us and it says that it doesn't need people. It's the other way around, we need Mother Nature if we want to thrive as a species. But if nature's sound — dubbed by Julia Roberts — didn't convince you, maybe the voice of the new living organisms will: Plastics, narrated by Morgan Freeman himself!
Soon enough, the ocean will host more plastic than fish. And we're not talking about "Wasteland," the world's newest country 100% made of plastic. No, this time, we're referring to teeny-tiny particles that are far more dangerous than the big ones. In just a few decades, these man-made microorganisms will be swimming in every corner of the ocean, suffocating every natural species that is below water.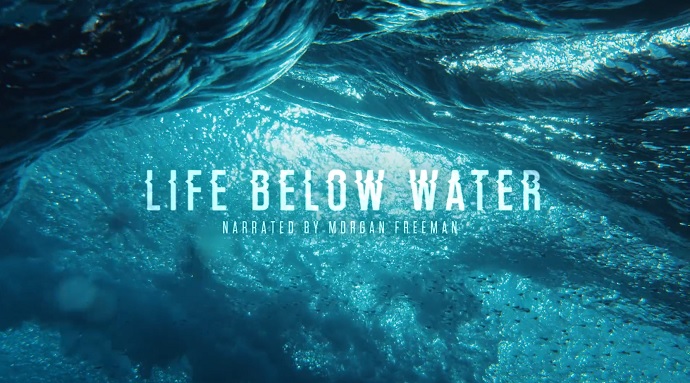 Uh, life below water… What's going on there? YouTube, Google, Tribeca Enterprises, and The United Nations try to answer this question. By reaching out for Goodby Silverstein & Partners' help, they contacted the American actor, asking him to narrate how a day passes by in the life of the species that live in the oceans' crystal-clear waters. The underwater story is visible through a video. The tale is already dramatic by definition but the actor's audio contribution accentuates this tragic situation that the creatures below go through daily even more.
"Life Below Water: The Arrival of a New Species" is shot in a docu-style manner and doubles as a fortune-teller, offering a sneak peek into the oceans' future. Directed by Brian Schulz, the film opens with Freeman describing the characteristics of the new "fascinating" species: They have no brains, no teeth, and no nervous system. Surprisingly, they don't need these features, as they are capable to live on their own for thousands of years. And even though they look quite different from the other creatures in the sea, they are doing their best to simply fit in. They even organize themselves in schools, synchronizing their moves to form a dance. Others fall in love with the natural beings. And they even hunt.
But the most threatening ones are the microplastics. These "meat-eaters" can't be seen with the naked eye but they can kill up to one million fish every year. "Not bad for a predator with no teeth," says Freeman.
"Ocean pollution has an impact on the food we eat, the air we breathe, land, and wildlife across the globe, and our overall health and wellness. Not to mention the wide range of social and economic burdens that will grow steadily as the problem gets worse. Every part of our life is affected by the health of our oceans, so ignoring the problem will prove more detrimental than we can imagine," said Kate Baynham, Associate Creative Director at GS&P.
Keeping the oceans clean is the 14th goal of the UN. There are 17 in total and you can find them under the name #GlobalGoals, a program through which the organization aims to educate people on some of the world's most burning issues they agreed on five years ago. Let's help them "mark as complete" this task. As the direct consumers of plastics, it is up to us if this species' evolution reaches its peak, be it in 30 years or 100 years. By adopting an eco-friendly behavior, we can keep our oceans' waters free of plastics forever.
Credits:
YouTube, Google, Tribeca Enterprises, and The United Nations
Agency: Goodby Silverstein & Partners
Creative Co-Chairmen: Jeff Goodby & Rich Silverstein
Chief Creative Officer: Margaret Johnson
Associate Creative Directors: Hanna Wittmark & Kate Baynham
Art Director: Eleanor Rask
Copywriter: Trevor Joplin
Design Director: Ryan Self
Designer: Benny Gold
Account Services: Leslie Barrett & Emily Bollier
Brand Strategy: Bonnie Wan & Darien Ahn
Communication Strategy: Christine Chen & Jacob Sperla
Head of Broadcast Production: Leila Gage
Director of Business Affairs: Judy Ybarra