Despite working as much as their male counterparts, many Brazilian ladies didn't know that they were paid less. Things changed once AzMina, a small feminist NGO, decided to draw their attention to this matter. Together with creative agency J. Walter Thompson Brasil, the magazine launched the #MaisQue70 (#MoreThan70, in English) campaign, for which the duo invited famous local artists to join the cause and let the ladies in the workforce know about the gender pay gap.
During this week's #ThrowBrandThursday, we turn our attention to this project from 2017 which brought the agency many international awards. The project is built around the idea that singing can be a form of protest. But, at the same time, not singing can also be seen as an act of expressing dissatisfaction. If women earn, on average, only 70% of what men earn, why would females in the music industry sing their songs entirely? Why not just 70% and let the world wonder what the leftover 30% means?
The Sao-Paolo-based agency invited three of the biggest Brazilian singers, asking them to donate 30% of their songs to this cause. Daniela Mercury, Tiê, and Valesca Popozuda, who are representatives of feminist causes, joined the campaign, interrupting their YouTube performances at exactly 70% to make room to a message of protest: "This song has reached 70% of its broadcast time. The same percentage women earn compared to men." It continues with an invitation to close the gender pay gap.
But the protest got bigger than YouTube and reached Spotify, radio channels, and was adopted as an awareness campaign by MTV. The initiative was launched to mark International Women's Day and ran throughout the whole month. Artists stopped singing and people started talking: Some of them talk about it even today, as some of the materials are still available on the internet.
It took the agency around three weeks to work on the campaign, but it surely made history. It scooped four awards at Cannes Lions, a Gold and a Silver at Clio Awards. "At the end of the festival season, we garnered more than 30 awards internationally for this campaign alone. It was one of the most awarded campaigns in the agency that year," said Renata Leão, the Creative Director behind the campaign.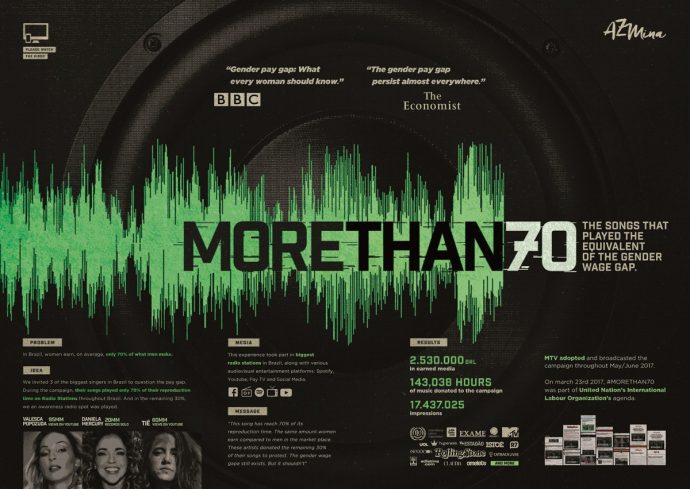 Leão also said that this campaign was very important to her: "First of all, it was such a rush, at the time, to be able to work for such an open-minded client, such as AzMina. They were collaborative, encouraging, enlightening, and always expected the wildest ideas from us. Working for them was like a dream job after a dream job. They eventually became the star client in the agency. As a creative director, I have to say it was quite fulfilling. Secondly, because I had such a great team of creatives giving their souls to make the idea come to life. Both Gabriela Marcatto (Art Director) and Breno Ferreira (Copywriter) have had quite a head start in their careers because of #MoreThan70, which makes me so proud and happy for them. And lastly, because this campaign brought us so much joy, recognition from our peers, from the industry — and especially — from the feminist movement. We actually created an advertising campaign that didn't seem like advertising at all. We were — most of the time — just having the times of our lives."
Other artists — painters, to be more specific — have also expressed their feelings regarding the gender pay inequality. Given that female painters are paid 47.6% less than male artists at auctions, some Emirati women decided to fill their canvases with paint but leaving 47.6% empty. The artists in both campaigns did not let this issue affect their amazing talent, which you can admire even today: Listen to the songs of Daniela Mercury, Tiê, and Valesca Popozuda and check out the half-made illustrations.
Credits:
Client: AzMina
Agency: J.Walter Thompson Brasil
Creative Director: Renata Leão
Creatives: Gabriella Marcatto & Breno Ferreira
Film Production: Marcos Prado
Sound Production: Satélite Studio