A few years ago, Rang-tan fought to raise awareness of the devastating effects palm oil production has on the environment. Now, its "brother," Jag-wah, takes the spotlight, highlighting industrial meat production's consequences. Created for Greenpeace by agency Mother London, the campaign features a short animation produced by four-time Oscar-nominated Cartoon Saloon, having Jag-wah as the protagonist, a jaguar that once lived in Brazil's diverse forests and that is now displaced.
"There's a Monster in my Kitchen" focuses on the deforestation happening across South America, a sad truth that is brought to life by the confused jaguar. Because of what is happening to its habitat, the animal ends up in a kid's kitchen, who happens to go downstairs for a midnight snack. The encounter is terrifying at first, the audience seeing the young boy asking himself a series of questions about what the monster in the kitchen is doing in his house. "Perhaps this beast is here to feast. But on what? Or on…who?", the child wonders fearfully. But as the jaguar approaches and comes to light, we also find out the real reason behind his unexpected visit: "There's a monster in my forest and I don't know what to do."
By the end of the story, we find out what is happening to the animal's habitat and what we can do to stop "these deadly monsters so our planet can renew." Narrated by Brazilian actor Wagner Moura, the animation ends up with a message asking people to sign a petition but not before saying that industrial meat is the biggest cause of deforestation.
John Sauven, Executive Director of Greenpeace UK, commented: "Meat is at the heart of much of South America's habitat destruction. Our relentless desire for meat on ever-increasing industrial scales is having lasting consequences for the health of our planet and ourselves. If we protect nature, nature will help protect us. Everyone can make a difference. But it is the retailers and suppliers of meat who can have the most dramatic impact by cleaning up their supply chains."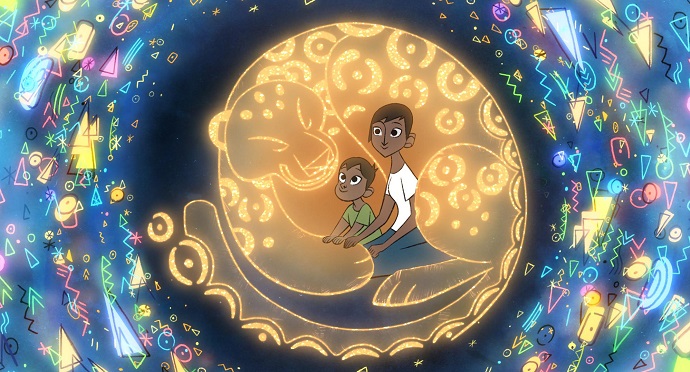 Anna Jones, Head of Forests at Greenpeace UK, said: "This film shows powerfully just why our future depends on eating less meat and dairy. Scientists are telling us that in fewer than 20 years the Amazon could collapse. This is being driven by the actions of industrial-scale meat companies."
If you find it hard to give up meat, then we have a challenge for you: How about replacing meat with something else only one day a week (for starters)? Just make sure that you have the "Darwin Challenge" app installed on your phone when you decide to sign up for a meatless day so you can keep track of your progress, success, and impact on the environment. Once you see the rewards, maybe you can think about transforming this into a habit.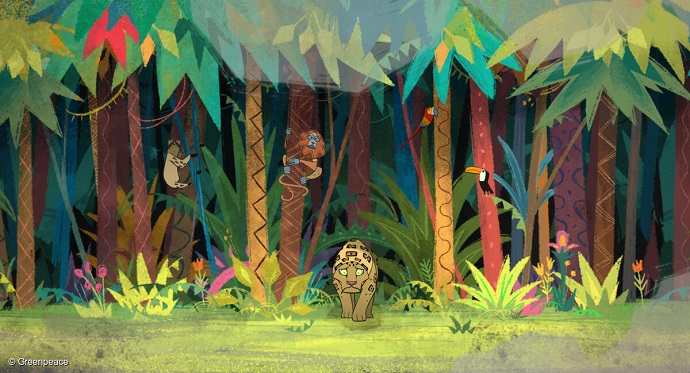 Ana Balarin, Partner at Mother, added: "The impact of industrial meat production in South America is so vast and challenging to visualize that we chose to bring it to life through a human story, which makes the issue more relevant to our audience's lives and offers them tangible action for positive change."
There was another approach, used by Serviceplan Campaign X for ROBIN WOOD NGO, on this matter that is equally interesting. Using the claim that "Every Serving Comes with a Price," the agency developed a series of prints, presenting some delicious steaks. But at a closer look, one can actually see that these dishes are actual representations of the damage forests are going through due to cattle farming and soya plantations.
Credits:
Client: Greenpeace UK
Agency: Mother London
Strategy: Mother
Animation: Cartoon Saloon
Directors: Tomm Moore and Fabian Erlinghäuser
Coordination: Nicole Storck
Art Direction: Maria Pareja
Storyboards: Iker Madigan
Design: Maria Pareja and Federico Pirovano
Backgrounds: Maria Pareja and Ludo Gavillet
Animation: Emmanuel Asquier Brassart, Laurent Kircher, and Fabian Erlinghauser
Clean Animation: Herbie Cans, Darragh Herlihy, Marie Post Riggelsen, Alice Guzzo, Fraser Thomson, and Gaia Ruggenini
Ink & Paint: Cal Mcloughlin and Helena Melin
Compositing: Serge Ume, Morgan Fontana, and Benjamin Zurstassen
Edit: Alan Slattery at Cartoon Saloon
Post: Coffee & TV
Sound: 750mph
Score composer: Bruno Coulais
Score performed by: Bulgarian Symphony Orchestra
VO: Wagner Moura