About a month ago, Robin Redbreast was born, a carefully crafted wood bird that captures the essence and personality of Redbreast Irish Whiskey. The brand's character was imagined by The Public House and Jelly London, helping the world's most awarded Single Pot Still Irish Whiskey define its spirit. "First referenced in 1912, the Robin Redbreast symbol has been at the core of Redbreast's reputation ever since," Laura Hanratty, Head of Prestige and Specialty Brands at Irish Distillers, said.
In addition to presenting the bird to the world, the Dublin-based agency worked closely with Pangolin PR and launched the "Project Wingman" partnership, for which Redbreast teamed up with Birdlife International in an effort to keep the common birds common.
The first initiative under this partnership is defined by a social and digital campaign, built around a limited-edition Redbreast bottle. So far so good, only that this one doesn't come in an ordinary packaging: It doubles as a cozy place where flying "passers-by" can dine.
The packaging was developed in partnership with the agency Nude. Under their "magic," the casing transforms into a beautiful bird feeder. The bottle can be purchased on the brand's website for €60 (£50) of which €15 will be donated to Birdlife International to help the company reach its goal, that of helping its feathery fellows. Only 2000 such bottles were created. The brand put up for sale 500 such bottles with the next batch planned to be sold on December 7th.
Designed alongside the NGO, the casket bottle of the Redbreast 12 is made of copper and once the whiskey is taken out, one can fill the cage with bird seeds and hang it from a branch. "So, there's something for your shelf, and something for your garden," says the brand on its page.
"The bottle design and ingenuity were very inspiring, so we wanted to help out with a campaign that kept pace. Once we started looking at this bottle from a bird's POV, we saw that there was the ultimate win-win situation: A bottle for you, and a bistro for the birds," notes Jarrod Banadyga, Creative Director, The Public House. "Doing a bit of good while sipping an incredible whiskey has never been easier."
Hanratty added: "After much anticipation, we are extremely excited to launch the beautifully crafted whiskey casing that has been specially designed to double up as a bird feeder. As always, The Public House were there to ensure that this beautiful piece was showcased and more importantly that our mission was clearly communicated to the consumer."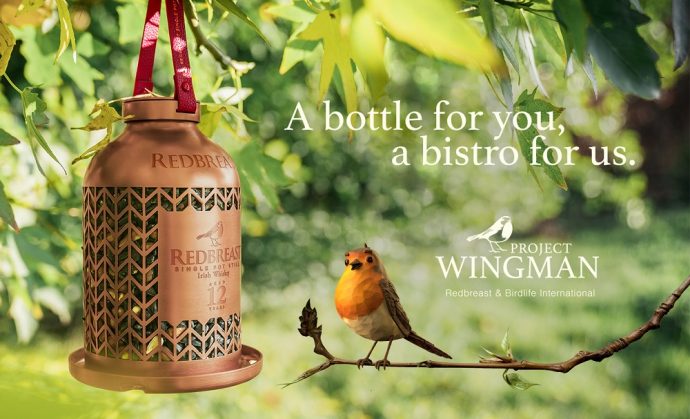 The company's efforts are aimed at habitat protection, education, and monitoring for chaffinch, starling, barn swallow, wren, and the blue tit. These are widespread species and are not under threat currently. Yet, with this initiative, the company thinks ahead, preventing such beings from becoming endangered.
McDonald's Sweden had a similar initiative, only its guests were bees. Responsible for their decline are industrial agriculture, parasites, climate change, and the fact that they don't have a place to rest. That's why some McD restaurants transformed their regular billboards into bee hotels so that these flying guests can have a place to call "home."
Redbreast's campaign's centerpiece is a short video in which we see its spokesbird suggesting that fans can be owners of a new fancy little restaurant, perfect for Robin or other garden birds too.  Just keep an eye on the Eurasian wren, Robin concludes.
Credits:
Client: Redbreast Irish Whiskey
Marketing Director, Global, Irish Distillers Brendan Buckley
Head of Prestige & Speciality Whiskeys, Irish Distillers: Laura Hanratty
Marketing Manager, Irish Distillers: Kate McCarthy
Brand Manager, Irish Distillers: Ciaran O'Donovan
Digital Content Executive, Irish Distillers: Francis McConnell
Agency: The Public House
Creative Director: Jarrod Banadyga
Art Director: Eimear O'Sullivan & Rudy Godfrey
Copywriter: Jarrod Banadyga, Barry Taylor
Designer: Cian Booth
Producer: Steve Battle
Director/Animator: Neil Stubbings
Account Manager: Meg Dalglish
Group Account Director: Grainne Kehoe
Business Director: Catrióna Campbell
Production Company: Jelly London
Pangolin
Business Director: Will Cookson
Account Manager: Emma Lomas
Account Director: Guy Marturano