Tattoos have been around us for ages and even Ötzi the Iceman, Europe's oldest known natural human mummy, had 61 of them. Despite being considered an act of rebellion at some point in history, tattoos have become very popular in recent years, and are now seen as a form of art and self-expression. For some, the main purpose of art is to make a statement, influence, and even challenge other people's imagination. Translated into the tattoo world, if your ink makes a statement, that makes you the canvas, the tattooist the artist, and the result of this combination a piece of art, right?
Given their popularity, it is hard not to recognize the artistic value of such pieces of art. In 2015, the Virginia Museum of Fine Arts displayed a photographic exhibition organized by the Japanese American National Museum, which focused on traditional Japanese tattoos and their influence on modern tattoo practices.
Tattoos aren't objects of art that can be framed or put in a glass. These are different than the rest of the arts, as tattoos go with the owner. They don't stay with the artist. But that doesn't mean that such pieces of art aren't worthy of a museum exhibition, right? In fact, to integrate tattoos into the art world, MTL Tattoo studio, which has been providing high-quality tattoos and piercing since 1997, decided that such artists' work should be applauded. Creative agency DentsuMB — formerly known as DentsuBos — gave a helping hand to the tattooers, implementing the #ThePermanentCollection campaign, which we are going to focus on during our weekly #ThrowBrandThursday column.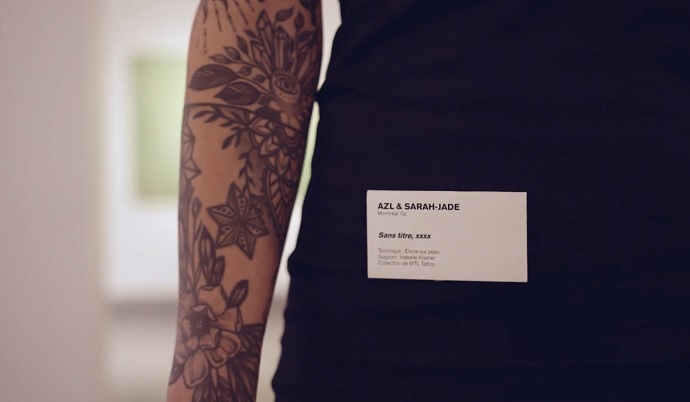 25% of Canadians own a tattoo so if they consider this form of visual expression as a form of art, why doesn't the art world give the recognition these artists deserve? To promote the idea that these inked illustrations and the artists behind them deserve to be admired, a group of tattooed Canadians went to "visit" some museums in Montreal. Yet they weren't normal guests in a gallery, as they ended up posing without permission in front of museum-goers.
Each model left their tattooed area visible and next to it, a placard similar to those usually found accompanying a work of art was added, giving details about the technique used in creating it and the collection that's part of, for example. Once MTL Tattoo hijacked museums, the studio wanted to do the same on social media, so it invited tattoo enthusiasts to join the initiative by photographing their tattoos and posting them on social media using the #ThePermanentCollection hashtag and adding a location tag to any museum. "Take your place in the Permanent Collection," concludes the video that supports the campaign.
This isn't the first time when MTL Tattoo works with dentsuMB: A few years back, they came up with the "Ink your Promise" campaign, an initiative that was released two weeks before the Canadian Federal Election. The project addressed candidates, challenging them to ink their promises on their skin. The video became viral in Canada and it was broadcast beyond its borders.
Credits:
Client: MTL Tattoo
Agency: DentsuMB