Instead of using healing kits and potions, Fortnite players are currently invited to regain life points by simply consuming delicious, healthy food. This "rule" applies to those playing the popular game using Carrefour's "Healthy Map," a virtual place that the brand uses as a platform to communicate with young people and encourage them to eat healthier.
Created in partnership with agency Publicis Conseil, the retailer hopes to unite a new target group of consumers around the food transition, aiming at strengthening the relationship with them. After all, Carrefour has been the destination for gamers so, now, it's time for the brand to return the favor and give something back to them. And a Fortnite experience sounds just right, as the Epic Games game is one of the most popular video games in the world.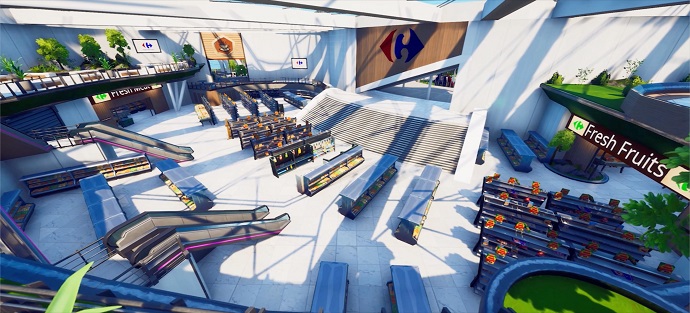 The map, for which the Paris-based agency joined forces with MakaMakes and its Beyond team, carries players to the "Carrefour of Tomorrow," a place that's all about responsibility and environmentalism. Upon playing on Carrefour's map, users will find a supermarket with an electric recharging station and trucks running on biomethane, a responsible fishing zone, fields of organic fruit and fresh vegetables, and also a farm respecting animal welfare.
The map is created within the creative mode and allows gamers to play as they did so far. What's different is that they have to eat fruits, vegetables, or fish to heal themselves. "To eat 5 fruits and vegetables a day, it's this way," says Carrefour, directing users to find The Healthy Map by entering the following code: 6671-9497-0398.
Characters from comics, TV series or other video games are included within the Fortnite world and now, brands are also stepping into this virtual universe to engage with their audiences in an interactive way. A similar initiative was taken by Milka last spring, creating a map in Fortnite for both parents and children to play while in lockdown, spending some quality time while going on a "Virtual Egg Hunt."
So, following things in their traditional order, first comes the meal and then the dessert. Now that your batteries are fully charged, we bet there's some room left for playing some video games, right?
Credits:
Client: Carrefour
Marketing Department France & Group: Nathalie Jacquier, Beryl Fleur, Sylvia Felix, Théo Comet
Agency: Publicis Conseil
Account Team: Marie Wallet, Pascale Beyssier, Andréa Bastianelli
Creative Team: Marco Venturelli, Jean-François Goize, Edgar Heusch, Morgan Carrio
Strategic Team: Christophe Defaye, Lydia Tamarat
Social Media Team: Gautier Rennes, Shems Chqoubi
Influence: CTZAR
Account Team: Camille Olivier, Marie-Charlotte Mathieu, Mayssam Kaado