As the countdown for the most wonderful time of the year has begun, brands have started rolling out their Xmas-themed ads, trying to feast the audience's eyes with their creative Christmassy stories. For example, John Lewis' spot reminds us of the priceless moments the first Christmas brought us through a magical story in which a boy helps a space traveler experience the holiday for the first time.
Among the habits adopted by people throughout this season are decorating the tree and the house, eating delicious food, watching themed movies, and gifts — which John Lewis has beautifully captured in its ad. But let's focus on the latter ritual: Gifts, one of the things that can trigger our happiness. Interestingly, they have the power to make us feel good, with a thoughtful present helping not only the recipient but also their family and friends experience feelings of real joy.
Actually, this is the idea that stands at TK Maxx's campaign's core. Designed with the help of Wieden+Kennedy and following the theme of taking "Christmas to the Maxx," the new spot captures the spirit of making this year's festive season feel extra special, regardless of what this may mean for each of us.
Directed by Raine Allen-Miller, the advert's hero is a teenage boy, Laurie, who has to perform a Christmas concert on a stage in his local town hall. After a Christmas that was celebrated differently last year, the public is eager to see the locals showcasing their talents. The first one to open the show? Laurie! With so many eyeballs on him, the boy feels a bit anxious, beginning his performance on the wrong foot. Yet things take a rock turn as soon as he notices the designer boots that he was given by his parents as an early Christmas present. We won't reveal how Laurie's performance goes but clearly, you won't see him playing "The Nutcracker."
Deborah Dolce, Group Director at TK Maxx, says: "We want to celebrate what we hope will be a Christmas of joyful optimism — with community, family, and fun at its heart. This charming ad is an upbeat, colorful, and super-shiny reminder that when you find the right gift for someone, and it's special to them, the impact and happiness you might create know no bounds."
Holly Hunter and Miriam Pick, Creatives at Wieden+Kennedy London, continue: "This is the year to come back with a bang! We're proud and honored to have made such a fun Christmas campaign for TK Maxx and to have collaborated organ-style with the absolute icons of rock music — Aerosmith! Time to grab your fanciest footwear and walk this way into Christmas 2021!"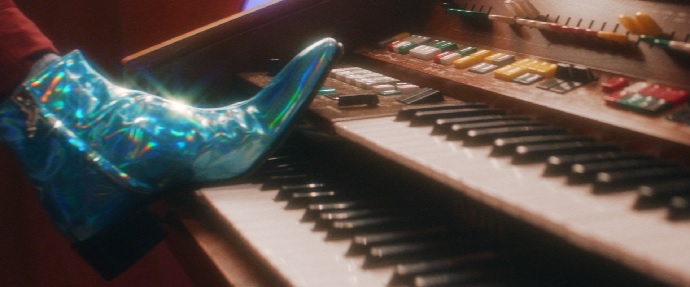 The video was shot in Orpington, England, being the brand's biggest festive campaign to date and can be found in shorter versions as well: 20, 30, and 60 seconds for TV and two minutes for online. Aside from being broadcasted by some European markets for the first time, the TV ad is also supported with print, digital, social and PR, plus a pan-European partnership with TikTok, which enables the public to be part of the #TKMaxxTalentShow.
Moreover, the ad's protagonist, Laurie, lends his support to TK Maxx's Christmas charitable initiative — Dance, Donate, Nominate — where people are invited to copy the boy performing a specially choreographed dance routine. The audience can then share their attempts and challenge friends or family members to join and do the same while donating to charity. Activated through Facebook and Instagram, the raised money will be matched by the brand by up to half a million pounds, helping disabled and disadvantaged kids and young people across the UK, Ireland, Germany, and Poland.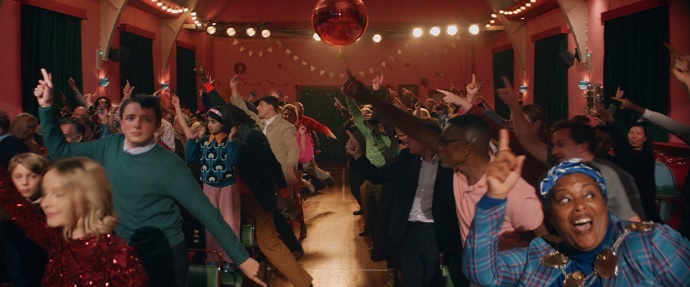 Credits:
Client: TK Maxx
Agency: Wieden+Kennedy London
Executive Creative Director: Susan Hoffman
Creative Directors: Cal Al-Jorani and Hollie Walker
Design Director: Phil Rosieur
Lead Creatives London: Holly Hunter, Miriam Pick
Head of Production: James Guy
Producer: Iona Patterson
Planning Director: Michael Hines
Planner: Lara Janani
Comms Planning Director: Anjali Patel
Group Account Director: Matt Owen
Account Director: Tom Campbell
Account Manager: Emily Gower
Account Assistant: Paullomi Khamar
Business Affairs: Alex Coomer
Motion Graphics: Jon Harris
TV Production
Director: Raine Allen-Miller
Production Company: Somesuch
Director of Photography: Olan Collardy
Line Producer: James Waters
Managing Director: Seth Wilson
Casting: Kharmel Cochrane
Editor: Elise Butt
Edit Assistant: Joshua Mannox
Edit Producer: Noreen Khan
Edit House: Trim
VFX Company: Untold Studios
Exec Producer: Tom Igglesden
VFX Producer: Ella Glazer
VFX Production Assistant: Helena Almeida
VFX Lead: Tom Moreland
Colourist: Jack McGinity @Cheat
Sound Company: 750mph
Sound Designer: Sam Ashwell, Marcin Pawlik
Head of Production: Martin Critchley
Music Company: Mr Pape
Music Supervisor/Producer: Paul Brown
Track: Walk This Way – Aerosmith (organ instrumental)