There's no point in denying that bathrooms and books go hand in hand. The bathroom reading behavior is still widespread even today but it's a bit different from what one might expect. Instead of entertaining themselves with a book or a magazine while doing their business, the youth of today rely on their smartphones to keep themselves busy while sitting on the toilet.
Before smart devices became popular, books had a special place in our lives, particularly in our bathrooms. Despite being a common practice for the past few decades, this ritual of ours might change as in the digital age we live in, smartphones are invading our restrooms. In fact, a study discovered that 90% of millennials confessed they use their mobiles when using the toilet for either texting, gaming, or social media amongst other activities.
According to one of the world's largest audiobook and e-book streaming services, Storytel, "this 'classic' reading is in sharp decline." So, in an attempt to draw consumers' attention and make them rediscover the joy of reading, the world's first public toilets specially equipped to treat their occupants with audiobooks took shape.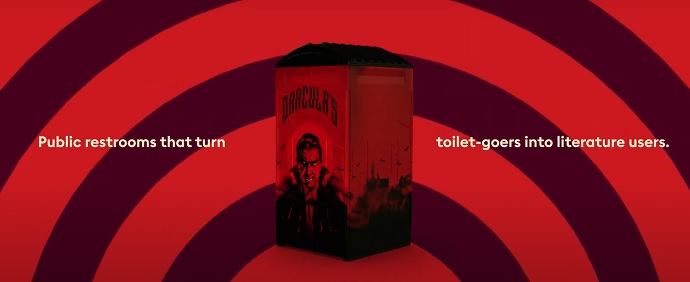 Rather than fighting this problem, the company found a clever way to turn this type of behavior into a business opportunity and thus "help literature reclaim its place." During this week's #ThrowBrandThursday column, we invite you to discover "Looterature," the brainchild of Storytel and Geometry Singapore (which joined VMLY&R to form a new company called VMLY&R COMMERCE) that helped toilet-goers immerse themselves into wonderful classic stories when using the facilities.
Upon going to the toilet, users of Looterature were surprised to find themselves in the middle of classic stories such as Alice's Adventures in Wonderland or Moby Dick. Carrying book-inspired designs, each stall was equipped with motion-activated speakers, which allowed the audiobooks to play and keep the occupants entertained. The journey into the heart of one of these novels concluded with a code, which enabled users to take the audio adventure back to their bathrooms, with a 30-day free trial.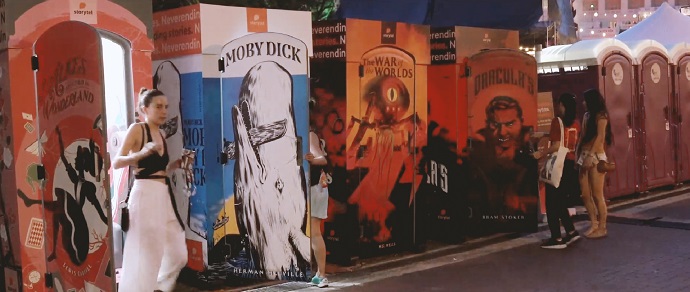 Speaking about this idea, Jorge Thauby of Geometry Singapore, said: "In line with Geometry's ambition to reimagine commerce, Looterature is an exemplary model of delivering effective ideas with a clear business return. By hijacking a usual restroom, we were able to create an entirely new and unexpected experience in which the restroom is turned into a personal reading room while allowing Storytel to reach out to new consumers. Equally important is that we have introduced a new 'reading' culture that is relevant and relatable in today's digital world. This is how we at Geometry connect consumer insights to strategic and creative execution across the full consumer journey."
The original public restrooms can be used at outdoor events and were first launched for 8,000 people at Garden Beats, Singapore's biggest art festival, where Looterature was well received.
Credits:
Client: Storytel
Agency: Geometry Singapore
Executive Creative Director: Jorge Thauby
ACD: Julian Gutierrez
Senior Art Director: Andres Lopez
Illustrators: Andres Lopez, Kimberly Ang, Rocky Leaw
Account Management: Shirley Tay, Sheena Ong, Sarah Almodiel, Phuc Nguyen
Post-production: Geometry Malaysia and PixelPost
Videographer: Claudio Chock