Are some of our traditions threatened to die because of the restrictions to stop the spread of the novel coronavirus? Is there something we can do to help keep them alive and still be safe? As there are many people who care about their rituals, some brands have come up with solutions that can prevent the spread of germs at (future) social gatherings. For example, parties can be saved by Dr. Lemon and its idea of enabling attendees to easily identify their drinks via a Can Finder system, while Betty Crocker suggests a safer alternative to blowing out candles on birthdays cakes. But what about other holidays, such as Ramadan or the Eids?
As the border between Malaysia and Singapore was closed during Ramadan, McDonald's found a clever way to bring people closer and celebrate together. The campaign saw families being "gathered" at the same table even in such circumstances, in which some members couldn't actually travel to their homes.
The end of Ramadan is marked by Eid al-Fitr, which means the "Feast of Breaking the Fast." Two months later, Eid al-Adha takes place, also known as the "Feast of the Sacrifice," which Muslims celebrate through prayers at the mosque. In Pakistan, the corona cases were on the rise during this year's celebrations, so helping worshippers say their prayers in safe conditions was something of major importance.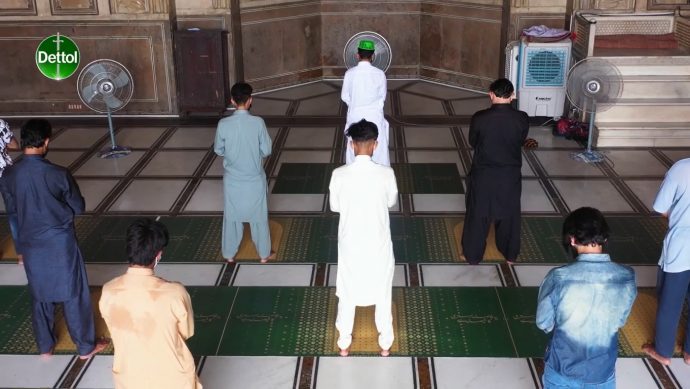 For their protection, Reckitt's brand of cleaning products and disinfectants, Dettol, introduced a prayer rug specially designed to provide a safer way for Muslims to pray. During this week's #ThrowBrandThursday, we are reminding you of Impact BBDO and BBDO Pakistan's work for Dettol, the "Social Distancing Prayer Mat," created to promote social distancing amongst worshippers and help them stay safe in times of COVID-19.
Compared to traditional praying mats (the janamaz), which have sizes that vary between 75 cm and 120 cm, Dettol's rug comes with a width of 200 cm, allowing people to keep praying while maintaining a safe social distance. Decorated using traditional Islamic geometric patterns, including a mihrab design — a visual element that's representative of these rugs — the mat also features the "This distance, is a decision for betterment" message, thus reinforcing the idea that people should stick to following the government's SOPs in order to stay safe.
Dettol has been "protecting health for over 80 years." Designed in line with its purpose, the campaign helps the brand show that people don't necessarily have to compromise on their traditions if they have the right tools to stay healthy at their disposal.
Credits:
Client: Dettol Pakistan
Agency: Impact BBDO // BBDO Pakistan