Inner worries, inner fears… How can we make you disappear? Dealing with any inner issues makes us feel somehow different, gradually damaging our self-esteem. But why should we let these struggles torment us when "Nobody is Normal?" Every year, thousands of teenagers turn to counsel service Childline (part of NSPCC) to help take their burdens off their chest, with counseling sessions soaring amid the lockdown restrictions.
In response to children who struggle with their body image, sexuality, gender health, or mental health, the charity has launched the "Nobody is Normal" campaign, aiming to make teens understand there are others who feel the same way. Speaking to kids in a friendly way, the charity implemented the initiative to let them know that they don't have to deal with their emotions alone.
Developed with the team at The Gate, in collaboration with Blink Productions and Rowdy Films, the campaign's centerpiece is a stop-motion animation placing Childline as a confidant young people can turn to whenever they feel swamped by not fitting in what are supposed to be "normal" standards. Via this week's #ThrowBrandThrusday, we invite you to discover the charity's film, set to reveal the feelings of relief that embrace us when finding out that "being normal" is just a silly norm.
The short story walks us through the story of a monster — which is the embodiment of the fears and insecurities that hide within us. It follows the life of such a creature, which dresses up in a human-skin suit, a "perfect" choice for its school time, where it must blend in and look like the rest of the "normal" teens. At the school dance though, the protagonist finds out by accident that there are other ones who are disguised as "humans" too and decides to embrace his inner "creature" by not hiding it anymore.
Speaking about the campaign, Grania Hyde-Smith, Marketing Lead, Childline, said: "At Childline, we often hear from young people who feel like they are different. This can be for a number of reasons including bullying, abuse, and mental health issues but sometimes, young people just don't feel comfortable in their own skin. The Gate have done a brilliant job of bringing this story to life in a captivating animation, which shows young people that we're all different and there's no such thing as 'being normal'."
Lucas Peon, ECD, The Gate, added: "Working alongside Childline to help young people feel better in their own skin energized all of us at the agency, as well as our partners. It's a campaign that speaks to children in a way that is natural to them. To walk through the usual walls these types of messages face, we needed an emotional story that intrigued people enough to pay attention, and moved them enough to make them reflect and change their perspective."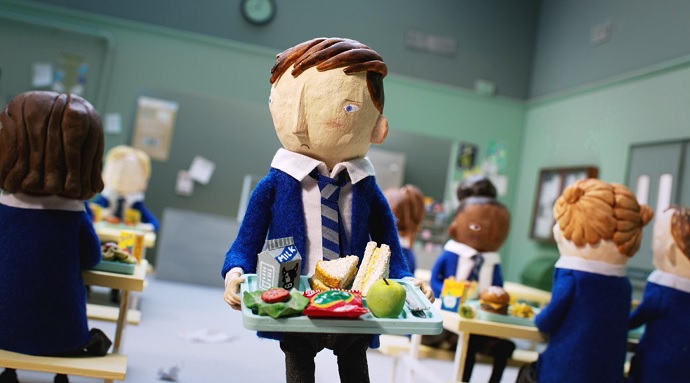 The campaign's soundtrack is set to Radiohead's classic song "Creep" and features no dialogue — truth is, there's no need for such thing, according to Regan Fraser, Senior Art Director, McCann West, and judge at the D&AD Awards 2021 — where the agency scooped one Yellow Pencil and two Graphite Pencils. "The amount of charm and emotion instilled into this film is enormous. Paired with the perfect song, this story is told without any need for dialogue. So easily relatable, this speaks to how we've all felt at one time or another," Fraser said.
"Nobody is Normal" drew the attention of other prestigious shows as well, being appreciated at CLIO Awards, Creative Circle Awards, One Show Awards, Epica Awards, and at Cannes Lions among others. The spot was brought to life thanks to John Osborne, Rickie Marsden, and Sam Whatley under the supervision of Peon and was directed by Catherine Prowse at Blink. The team invested around six months in creating the spot. You can get a view of the "Behind-the-Scenes" video by hitting play on the film below.
Credits:
Client: Childline
Agency: The Gate
Chief Creative Officer: Lucas Peon
Creatives: John Osborne, Rickie Marsden, Sam Whatley
Agency producer: Susie Innes
Account director: Sam Dempsey
Strategy Lead: Kit Altin
Media agency: OMD
Director: Catherine Prowse
Production Company: Rowdy and Blink
Rowdy Producer: Daisy Garside
Blink Producer: Joe Byrne
Director of Photography and Colour Grader: George Warren
Animators: Tim Allen and Tobias Fouracre
Puppet Builder: Adeena Grubb
2D Animator and Compositor: Tom Fisher
Rig Removal: Ieuan Lewis
BTS: Joe Eckworth
Art Department Runners: Feiyang Yin and Stella Chapman
Shot at Clapham Road Studios
Sound:
Major Tom: Jake Wheeler
Grand Central: Gary Turnbull, Molly Butcher
Music companies: Beggars, Warner Chappell, Concord
Soundtrack: Radiohead