Peru has faced one of the longest quarantine periods globally. With the borders closed and given that the authorities implemented a series of restrictions in order to keep the population safe, the number of tourists has dropped significantly in the city of Cusco, in both 2020 and 2021. With not many visitors around, the local artisans' lives changed, as much of their financial situation depends on the marketing of the products they craft. But "to whom are [they] going to sell if there is no tourism?" a local artist wonders.
Wanting to help the community recover financially, Cusqueña, the country's flagship beer brand, teamed up with Publicis Worldwide Peru with the aim to find a way to attract tourists even in times when social distancing became the new normal. During this week's #ThrowBrandThursday column, we are bringing to your attention Cusqueña's "The Impossible Hug" campaign, a two-part statue for which the company tapped into the impossible to show Peruvians that they have the brewery's support.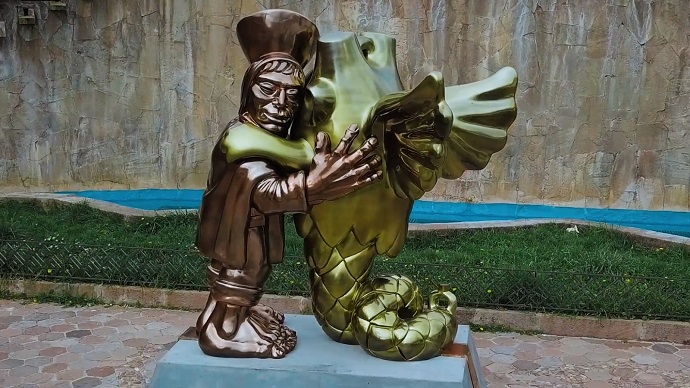 Aimed at raising funds for the artisans, the sculpture was launched also to promote the brand's new Doble Malta variety — a beer made from the impossible blend of two premium ingredients. With roots in Cusco, Cusqueña felt it was only natural to give a helping hand to the place that witnessed its birth.
"We couldn't just make a commercial launch and turn our backs on the city where Cerveza Cusqueña was born. Peru had one of the earliest and longest quarantines in the world. When the pandemic began, the closure of external and internal borders, and all the restrictions that the Government took, added to the political instability that was experienced due to the vacancy of the president, they caused tourist activity to come to a complete standstill throughout 2020 and almost all of 2021," explained Nelson Fragoso, General Manager / Chief Creative Officer, Publicis Worldwide Peru.
The sculpture is the result of the work of two artists: Rafael Lanfranco from Lima — an artist who mixes Andean elements with contemporary pieces; and Edi Mérida — a sculptor from Cusco who inherited the talent from the Mérida family, one of the most important artisan families in the city. Despite being separated by thousands of miles, the artists injected Peruvians' will to hug each other in times of distancing into The Impossible Hug sculpture.
The piece of art was initially placed in the Plaza de San Blas — one of Cusco's main squares and an emblematic neighborhood for Cusco artisans — and then permanently installed at Mirador Taray. Both artists gave away the copyright of the sculpture with the intention of supporting as much as possible the artisan community of San Blas. Thus, almost 50 artists joined the project, reproducing the statue on a free scale. "The Impossible Hug" replicas were then actioned in the local art circuit with the beer brand further helping the artisans sell their handcrafted pieces through its channels.
Credits:
Client: Cusqueña
AB InBev – Head of Marketing: Alvaro De Luna
AB InBev – Global & Local Premium Brands Director: Diego Devoto
AB InBev – Brand Manager: Eduardo Miró Quesada
AB InBev – Brand Manager: Kiara Kottke
AB InBev – Lead: Micaela Rodriguez
Del Mate Producciones – Production: Rafael Acuña
Agency: Publicis Worldwide Peru
Publicis Groupe – Regional Creative Chairman: Fernando Bellotti
Publicis Worldwide Peru – Chief Creative Officer / General Manager: Nelson Fragoso
Publicis Worldwide Peru – General Account Director: Katherine Carrillo
Publicis Worldwide Peru – Executive Creative Director: Celso Zelaya
Publicis Worldwide Peru – Creative Director / Art Director: Luigi Rissi
Publicis Worldwide Peru – Creative Director /Copywriter: Daniel Biasevich
Publicis Worldwide Peru – Art Director: Tony Cruz
Publicis Worldwide Peru – Art Director: Juanito Julca
Publicis Worldwide Peru – Production Manager: Raquel Becerra
Publicis Worldwide Peru – Agency Producer: Jean Marcell Loro
Publicis Worldwide Peru – Account Executive: Esneyder Minaño
Freelance – Artist: Rafael Lanfranco
Freelance – Artist: Edi Mérida
Zumba – Audio Post Production: Rodrigo Malnati