In addition to offering premium wines, Enosophia winery — a Croatian wine brand that resulted from the growth and development of its predecessor, the Feravino company — is also the author of other wine-related exceptional activities. The brand creates tourist experiences that give visitors and wine enthusiasts a chance to explore Slavonian wine through tastings and gastronomic offers.
Simultaneously, fueled by its ambition to make a positive impact on the surroundings, Enosophia keeps preserving the locals' traditions and also the environment. Last but not least, the winery wants to address a category of new wine lovers.
For the latter adventure, the brand had to find a way to speak fluently to younger consumers, all while also staying relevant to other categories of wine connoisseurs. Enosophia describes itself as a brand dedicated to "those who look for experience in wine." And after stumbling upon Bruketa&Zinic&Grey agency's work for Enosophia — whose label design was enriched with some digital ingredients — we got the feeling that when the winery made this statement, it literally meant it!
Enosophia creates drinks that can be enjoyed through all of our senses. And during this week's #ThrowBrandThursday column, consumers will come to learn that the acoustic and visual factors play an important role in taking delight in one of the brand's grape drinks. Launched under the Enosophia brand, the products that were scheduled to provide consumers the full experience are the Grasevina TRS No. 5 and the Rosé Matarouge, both of which come with an ultra-modern label.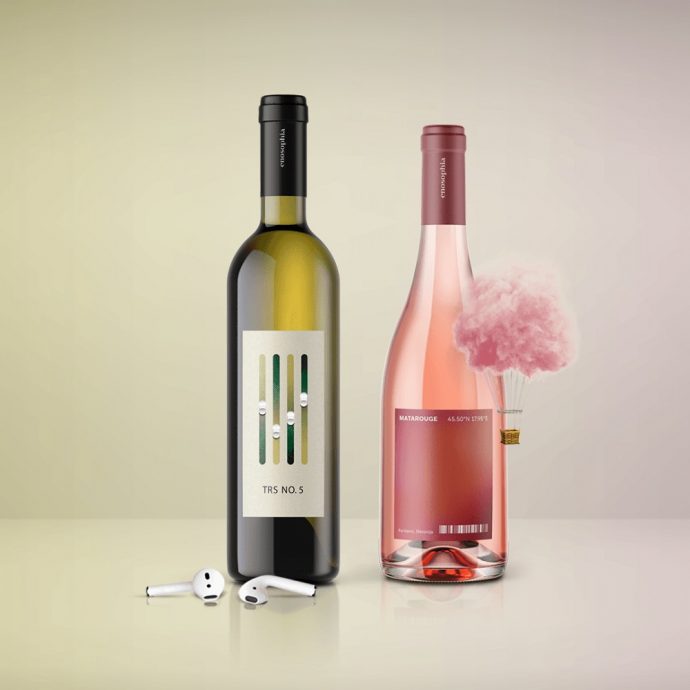 By breathing digital life into the packaging, the technology-infused label allows consumers to interact with the winery in a new and memorable way. To embark on this extraordinary journey, users need their mobile phone, the brand's bottle labels, and a key — which is actually a mobile app.
There's no denying in admitting that the experience would have probably been a more genuine one with an actual glass of the brand's rosé by our side — but it's not wine o'clock nor do we have such a bottle at hand. Still, we gave it a shot and scanned the labels from the images accompanying the initiative. The result? We were nicely surprised to see that we can get a taste (a virtual one, obviously) of what Enosophia wines are like.
While the TRS No. 5 wine label unlocks a harmonious sound specially created to enhance the taste of the wine, the Matarouge tag is the ticket consumers need to digitally travel around the globe, allowing them to learn more about the world's most famous rosé regions.
The wines are in line with the brand strategy and were produced to educate young consumers in particular. Plus, according to the agency, the Graševina TRS No. 5 and the Rosé Matarouge are the very first wines in Croatia that wear an interactive label.
Credits:
Client: Enosophia
CEO: Ivan Maricic (Osilovac d.d.)
Marketing Director: Igor Busljeta (Nexe d.d.)
Head Oenologist: Martin Kovacevic
Head of Viticulture-Wine Production: Lucija Kuzir
Marketing and PR: Jenette Simic
Digital Marketing Specialist: Tena Abicic (Nexe d.d.)
Agency: Bruketa&Zinic&Grey
Chief Creative Officer: Nikola Zinic
Creative Director: Davor Bruketa
Art Director: Andrea Knapic
Art Director: Nenad Gavrilovic
Project Lead: Petra Persic Blazicko
Account Manager: Dina Borosic
Production Manager: Vesna Durasin
Head of Digital Strategy and Creative: Iva Bolta
Copywriter: Martina Tupek
Copywriter: Vanja Cinic
Copywriter: Ivan Golubic
Social Media Manager: Mia Matijevic
Digital Designer: Iva Marenic
Head of DTP/Pre-press: Radovan Radicevic
Videoanimator: Tvrtko Karacic
Strategist: Zeljka Zrnic
Design partner: Krunoslav Franetic and NJI3
AR mobile app: Delta Reality
Music: Pocket Palma
Photographer: Domagoj Kunic