Meet Ralph, an adult rabbit who is no space bunny. In fact, his job is that of being a tester, a profession that has been running in his family for generations. His daddy, mom, brothers, sisters, and kids have all been testers, so "dedicated" to their career that they died doing their work. This is the fate that Ralph will have as well, to die for the humans. But "it's OK," we find out from the animal, "this makes us rabbits happy." Although his words say that sacrificing for humans is totally worth it, his body language and injuries tell a different story; one that we are going to explore during this week's #ThrowBrandThursday column.
Ralph is the spokes-bunny the Humane Society International (HSI) has recruited to help the charity tackle the cruel treatment thousands of innocent animals are experiencing in many laboratories around the world. Subjected to animal testing, Ralph was conceived to represent and give voice to these other animals that, sadly, don't have any other choice than to do their job as testers. And all in legal terms, as there are many countries where this practice is still accepted.
The injured bunny is the main protagonist of the "Save Ralph" stop-motion animation film, developed to support HSI in its global campaign to raise awareness about cosmetic animal testing and ban this cruel practice. Officially launched on April 6th, 2021, the short video features a cast including Oscar-winner Taika Waititi, Ricky Gervais, Zac Efron, Olivia Munn, Pom Klementieff, and Tricia Helfer. Written and directed by Spencer Susser, produced by Jeff Vespa and production company AllDayEveryDay, and the Arch Model studio of puppet-maker Andy Gent, the four-minute-long video documents a day in the life of Ralph and his experiences as a tester in a lab.
Jeffrey Flocken, Humane Society International's President, said: "'Save Ralph' is a wake-up call that animals are still suffering for cosmetics, and now is the time for us to come together to ban it globally. Today we have an abundance of reliable, animal-free approaches for product safety assurance, so there's no excuse for making animals like Ralph suffer to test cosmetics or their ingredients."
The animation showcases Ralph — brought to life by Taika Waititi — walking his interviewer — voiced by Ricky Gervais — through his daily routine. Shot in the style of a documentary, the video opens with Ralph sitting on a couch, visibly in pain because of his job. Despite feeling miserable, he doesn't complain much about his personal suffering nor does he blame the humans for being in agony.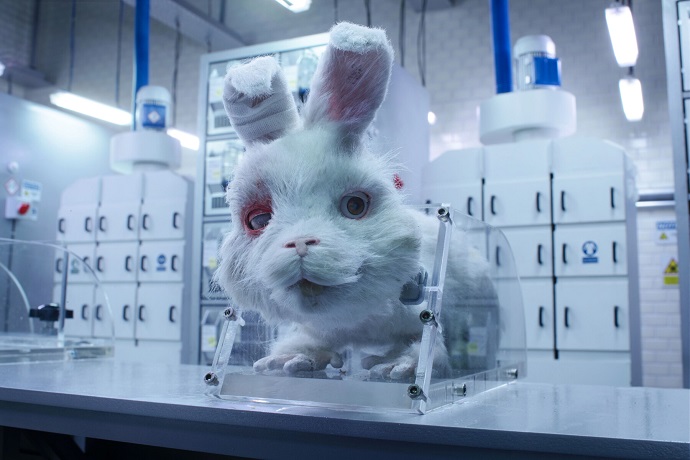 While Ralph is just a fictitious being, his experiences are inspired by reality. For example, the Draize test, which ruined the bunny's eyesight, is still used in some countries. Unfortunately, such experiments are not the only tests animals have to endure in the name of humans' beauty.
"Animals in cosmetic testing labs don't have a choice and it's our responsibility to do something about it. When the opportunity came up to create a new campaign for Humane Society International, I felt that stop motion was the perfect way to deliver the message. When you see the horrifying reality of the way animals are treated, you can't help but look away. What I was hoping to do with this film was create something that delivers a message without being too heavy-handed. I hope that audiences fall in love with Ralph and want to fight for him and other animals like him, so we can ban animal testing once and for all," commented Susser.
In bringing the protagonist to life, the team worked for over four months, with five weeks dedicated to covering Ralph in fur. Puppet maker Gent spent six to eight weeks building the sets, while the production stretched for 50 days. "We've worked on this for months and months and months," explained Gent, noting that narrating stories using animation allows creatives to "tell very complicated, very challenging stories and bring them to life in a non-threatening way that helps to educate people."
The spot was also launched in other languages, with other celebrities lending their voices to Ralph and the other rabbits. 16 countries received attention in particular, including Brazil, Canada, Chile, Mexico, South Africa, and 10 Southeast Asian nations. Ralph encouraged millions of people to join HSI in its mission to ban cosmetic testing on animals. This collective effort positively echoed within the borders of Mexico, which acted against the practice, thus becoming the first North American country to ban animal testing.
The campaign captured the attention of the industry, which awarded the #SaveRalph initiative with three Yellow Pencils at D&AD Awards, was crowned as the best Public Service & Activism (Branded) video in the 26th Annual Webby Awards, and won Grand Prix for Good at Cannes Lions Festival.
Credits: