Depending on who you ask, hair has a different meaning: From a medical point of view, hair offers protection for the head. Socially, hair is something we use to express ourselves, our personality, and boosts our confidence. A good hair day is visible from afar, right? However, for an LGBTQ-adoptive family, hair means opportunity, a chance to communicate with loved ones, build stronger relationships with them, and a reason to create precious memories. In a word, hair is family.
"LGBTQ+ couples are seven times more likely to adopt than non-LGBTQ+ couples, and they are also more likely to adopt children who have the most difficulty finding forever homes," said Denise Brogan-Kator, CEO (Interim) and Chief Policy Officer at Family Equality, an organization that works on advancing legal and lived equality for LGBTQ+ families. Family Equality is also the great partner Pantene turned to for its Family is #BeautifuLGBTQ series, an emotional initiative that supports families of the community and champions the beautiful times that form around the hair ritual and the role hair plays in connecting and bringing family members together.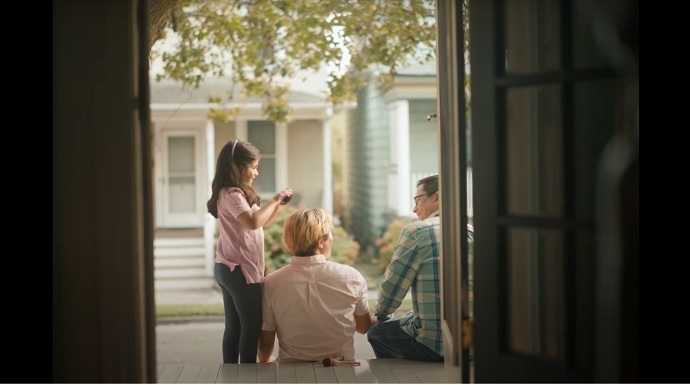 "Hair is the #1 expression of self-identity, and we know this is even more important for the LGBTQ+ community," said Bret Senior, Brand Director at Procter & Gamble. "In our ongoing partnership with Family Equality, we learned about the special moments — and struggles — LGBTQ+ couples embrace when starting a family."
Launched to mark National Adoption Month 2020, the series — which is our focus during this week's #ThrowBrandThursday — was developed with the help of agencies Grey New York and Townhouse and tells the real stories of LGBTQ+ families bonding over their adopted kids' hair care. The moving campaign kicked off with the story of Raymond and Robbi, an LGBTQ-adoptive couple who welcomed Ella in their lives, a girl whose birth parents are from India (mom) and the Caribbean (dad). Ever since she was adopted, the family has had the same nighttime ritual: Bathing Ella and washing her beautiful hair — a perfect time to talk, connect, and build stronger bonds but also a great opportunity to learn more about the girl's hair needs and heritage.
"As a hair care brand, we're proud to recognize that hair is often a part of the special moments that bring families closer. For these families, hair starts as an unfamiliar challenge that transforms into a familiar connection — whether that's learning to braid your daughter's hair so she feels her most confident, or performing a nightly hair-wrapping routine to form new traditions together," continued Bret Senior.
"We are so proud to be partnering with Pantene on this campaign to show that, while LGBTQ-adoptive families may look or seem 'different,' all families have one thing in common — the love for each other built through moments shared, both big and small. That is what makes a family," concluded Denise Brogan-Kator.
The series, which includes the stories of Joyia and Mariana and of Ashley and Ellie — represent Pantene in its mission to support, champion, and make this community feel beautiful all year round. Grey agency has worked with Pantene for other initiatives such as "Home for the Holidays" and "Don't Hate Me Because I'm #BeautifuLGBTQ," both of which were widely acclaimed.
Credits:
Client: Pantene
Agency: Grey & Townhouse
Grey Chief Creative Officer: Justine Armour
Grey Executive Creative Director: Javier Bonilla
Grey Creative Director: Amanda Brencys
Grey Associate Creative Director: Bryan Burns
Grey Senior Art Director: Emily Pracher
Grey Strategy Director: Lauren Friezo
Grey EVP, Global Account Director: Anjali Jain
Grey SVP, Account Director: Kate Bernhardt
Grey Account Supervisor: Payton Brown
Grey Account Executive: Samantha Simon
Grey Project Manager: Emily Steele Eldridge
Townhouse Executive Producer: Keira Rosenthal
Townhouse Senior Print Producer: April Gallo
Townhouse Music Producer: Leland Drake
Townhouse VP, Head of Talent: Natasha Howell
Townhouse Business Manager: Tim O'Shea
P&G Vice President Hair Care: Lela Coffey
P&G Senior Director: Maris Croswell
P&G Brand Director: Bret Senior
P&G Brand Manager: Mike Chieco
P&G Senior Communications Manager: Muhammad (Bilal) Lakhani
P&G Senior Director of Production, Renato Ibarra
P&G Design, Corey Kelly
Cut & Run Editor: Stacy Peterson
Cut & Run Producer: Hope Duhaime
Cut & Run Managing Director: Lauren Hertzberg
Unit 9 Director, Matthew Puccini
Unit 9 Executive Producer, Emily Malito
Photographer, Annie Tritt