Getting a tattoo is a serious business and it's pretty clear why: That ink is going to be on your skin for the rest of your life. This is why many of us spend a lot of time in choosing the right design, what part of our body we want to be inked, and finding the best tattoo artist we want to work with. Yet, some tattoos require more research than others — namely, the ones written in a different language than our native one.
If you own a correctly translated tattoo on your body, consider yourself lucky. There are many people — celebrities included — who were charmed by the beauty of foreign languages and, sadly, have fallen victim to mistakes. Not even Ariana Grande, Rihanna, or David Beckham were aware of the risks such a tattoo can bring. So, if the famous are not immune to badly translated tattoos, what chances do you have?
During this week's #ThrowBrandThursday, we remind you of Duolingo's #TattooDuoOver project, a service the world's no.1 language app launched to check foreign language tattoos and fix the ones which have been wrongly inked on one's body. Behind the initiative lies the insight that millions of people could be walking around with a grammatically incorrect or badly translated tattoo.
Duolingo Creative Director, James Kuczynski, commented: "Everyone makes mistakes when they're learning a new language, it's part of the process, but making a mistake with a tattoo is very different! We're taking an all-too-common language fail, and turning it into a fun, learning moment with real purpose. Be like Dua Lipa and make sure your tattoo is correct."
The campaign launched just in time for World Tattoo Day (celebrated on March 21st), keeping the brand's language experts busy for two weeks. During this time, Duolingo checked all foreign language tattoos, rewarding the worst ones with a makeover at the world-famous tattoo parlor, Abraxas, in Paris.
To get their tattoos checked, owners of failed tattoos from the UK and France were invited to post a photo of their tat on social media, using the hashtag #TattooDuoOver and tagging the brand in their post. They also had to write a short description about what they believe their tattoo means. Those who were too ashamed of their tattoo had the option to contact Duolingo via email. The unluckiest ones were actually the luckiest ones as Duolingo came up with a solution for them: It flew them to Paris and helped them fix whatever they had inked on their bodies.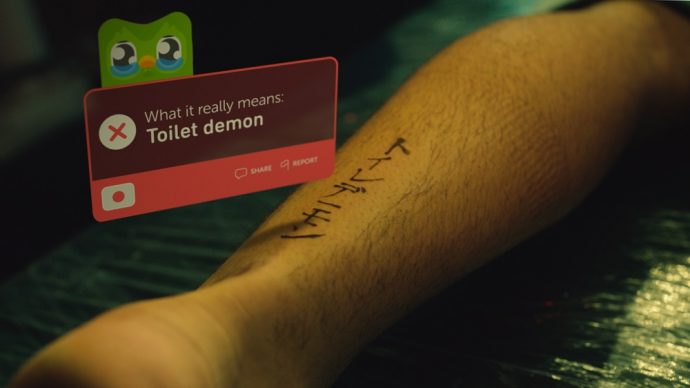 To support the creative idea, the brand joined hands with BETC Paris and launched a video — which premiered on YouTube and other social platforms. The spot showcases a group of mischievous tattoo artists inking some naive tourists. For example, in one scene, a victim believes they are being inked with the "Live, laugh, love" expression, written in Chinese characters. What they are actually getting as a forever tattoo is "Sad, soft, tuna."
"You shouldn't expect a tattoo artist to speak every language; it's your responsibility to learn the language before you ask someone to tattoo it on your body. Or at least have someone present who speaks the language fluently to oversee. We're artists, after all, not linguists!" continued Gignoud Loïc, Manager and Artist Abraxas Tattoo Parlor.
Those who decided to respond to Duolingo's invitation to have their tattoo fixed were surprised with a code, which gave them access to a one-month free trial of Duolingo Plus, encouraging them to start learning a new language and avoid the same mistakes from happening again.
Credits:
Client: Duolingo
Agency: BETC Paris