For an LGBTQ+ member, revealing their sexual orientation or gender identity can be a scary journey. Although it can be a difficult and complicated process, coming out can be liberating and can actually be rewarding. Accepting who you really are doesn't always mean coming out. This decision belongs only to the person concerned, who can make their mind by learning from others' experiences, for example.
Freestyle skier Gus Kenworthy's coming-out story can be a guide, as he shows how this process can unfold. Feelings of fear lingered in his mind, but he did it, having a story that is "indicative of change," he said. "It's absurd to have to live inside the closet," a person says while "Coming OutDoor," an FCB Lisboa initiative developed for ILGA Association. The campaign, which is the subject for this week's #ThrowBrandThursday column, invited people to literally and proudly come out of the closet.
Having in mind that each person's sexuality must be respected, the agency placed a billboard in Ribeira das Naus, right in the center of Lisbon. This wasn't an ordinary billboard, as the creatives changed it so that it borrows the looks of a closet. It revealed itself to pedestrians as a space that anyone could use to express themselves.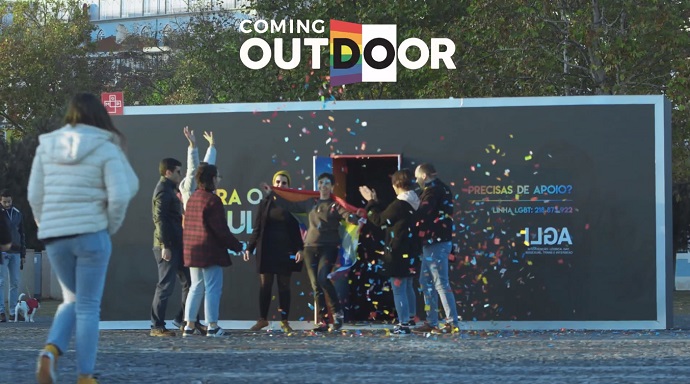 The reactions of the people were captured in a mini-documentary video. "The billboard had a real-life built-in closet from which anyone could come out and grab this opportunity to show all the pride they have in their own sexuality, taking some photos and videos to share on social media," the agency said in a press release.
"The campaign reinforces the importance of countering the fear, invisibility, and silence of LGBTI+ people and their families. With pride and without shame, we invite all people to attend so that together we can come out of the closet on the way to equality in Portugal," said Ana Aresta, President of the Board of ILGA Portugal.
The "Coming OutDoor" initiative was created in response to a challenge launched by MOP, which invited 15 agencies to use their creativity on billboards to help celebrate the OOH medium. Contacted by FCB, the oldest organization for the defense of LGBTQ+ rights in Portugal embraced the challenge of building a structure that showed the importance of visibility and inclusion of LGBTQ+ members in Portugal.
Credits:
Client: ILGA Association
Agency: FCB Lisboa