With the pool season currently at its peak, DIY store HORNBACH has found a cool way to cool people off. Because what else can one do to stylishly face a hot and sunny day other than by having some water fun in a sneaker-shaped pool? Joining forces with iconic streetwear store 43einhalb and agency Heimat Berlin, the brand showed, once again, that crazy projects run through its DNA, building a five-meter-long and two-meter-high pool with a design inspired by the looks of the iconic adidas ZX 10000.
Developed (from scratch) using materials available in any of its stores and assembled by production company Neulant van Exel, HORNBACH made a giant splash at the Berlin Fashion Weekend, surprising the attendees at an exclusive launch event with its one-of-a-kind pool. Among those to relax in the water of the Sneaker Pool were fashion influencers and sneakerheads, who confessed that HORNBACH's idea of bringing such a project to life is "sensational," "kinda bizarre," or "just amazing!"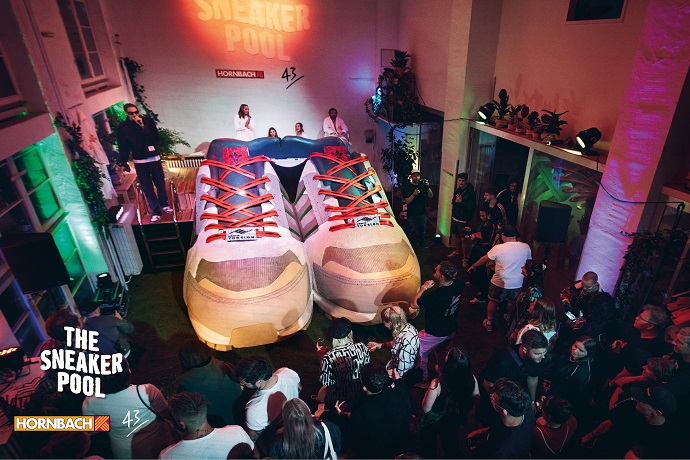 Accessing the fashion scene — particularly the streetwear one — seems like an unexpected move from a brand that sells home improvement goods, as "DIY is more synonymous with 'functional' than 'fashionable'," comments the company in a press release. Being a brand that has always embraced an out-of-the-box creative approach, HORNBACH dipped its toes in the fashion waters, showing that DIY doesn't necessarily have to express functionality.
The swimming pool resembling a giant pair of shoes is proof that when one has a DIY project in mind, the store has all the tools and equipment one absolutely needs to bring even their craziest ideas to life. Coinciding with summer and, thus, with the pool season, the brand's ingenious DIY project also works as a reminder that, with HORNBACH's pool range, "anything you can imagine is possible when it comes to creating a pool in your own backyard."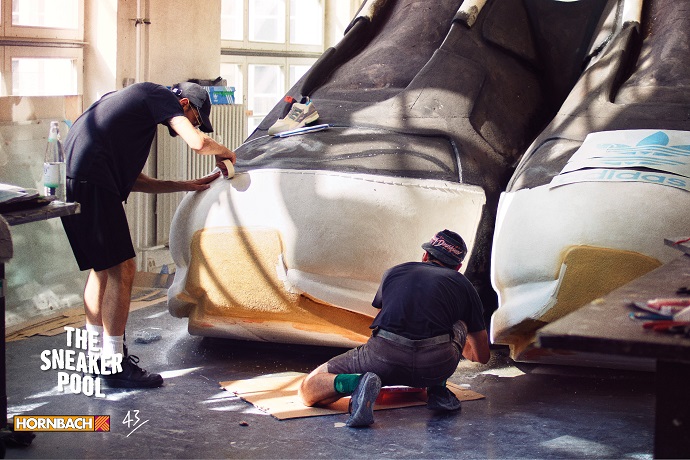 Thinking that a hardware brand doesn't have much in common with a sneaker brand isn't wrong. But this is HORNBACH we're talking about, a company that is no stranger to unexpected collaborations. Before teaming up with 43einhalb, the brand partnered with globally renowned architects Sigurd Larsen and Yo Shimada — who designed the "Lounge Chair" and the "Utsuri Table" as part of the WERKSTÜCK Edition — and Chinese artist Ai Weiwei. With this latest initiative, the brand shows that, when it comes to creativity, consistency is key.
DIY projects are fun; the ones that get all the attention and even the ones that are perfectly imperfect. You know why? Because if you're the one who worked on taking a masterpiece from idea to tangible product, then it's surely great.
Credits:
Client: HORNBACH
Agency: Heimat Berlin