Over time, we have witnessed packaging for alcoholic beverages which can be considered as "interactive." For example, one urged us to "Don't Reach the Bottom." Another one encouraged us to use the packaging to open a restaurant for our feathery friends. Such campaigns make us feel part of the brand's story, but they might feel, let's say, "classic." Given that we have the world at our fingertips, it would be a shame not to feature a packaging design with a label that responds to our commands, right?
During this week's #ThrowBrandThursday column, we are bringing into the forefront a campaign, courtesy of agency Piko, during which people could interact with wine bottles of Purcari Winery, having a chance to read some of the brand's story through the Digital Label, a tablet containing a microchip. Basically, Purcari bottles of 1827 collection allowed people to discover more about the type of wine, its description, winery history, information about grapes, and what food it matches just by sliding the finger across the label's surface.
The "device" was equipped with a touchscreen system that offered consumers an enjoyable experience. Besides, the label also contained a temperature sensor. Users had a chance to immerse themselves in the Purcari experience, find the winery's location on a map and even zoom in or out, read more about the winery's history and swipe between pages, and discover the optimal temperature at which the wine can be served.
The Digital Label was produced in limited edition for 100,000 bottles of the 1827 collection. "By working with Digital™ Packaging Solutions, a company from Denmark, we managed to create the ideal device for consuming digital content, and for sure, for consuming a good wine," the brand said.

"Incorporated elements have enabled us to overcome traditional boundaries and to personalize brand Purcari and the wines with a history of 190 years, 2017 being the year when we celebrate this beautiful anniversary. The preparation and implementation of this project took more than six months, and in this time Purcari managed very quickly to enter the new digital era," the company concluded.
Elon Musk was impressed by the initiative of "this Moldovan winery." And probably the same feelings surrounded the Starman dummy too when it saw it might have some good company in space thanks to the Jameson Irish Whiskey idea of launching the Jameson Space-Aged, a spirit designed to be matured away from Earth.
Just imagine the two changing impressions on the initiatives… Well, don't get too excited because both the limited-edition whiskey bottle and the wine label design are a hoax and were imagined to celebrate April Fool's Day.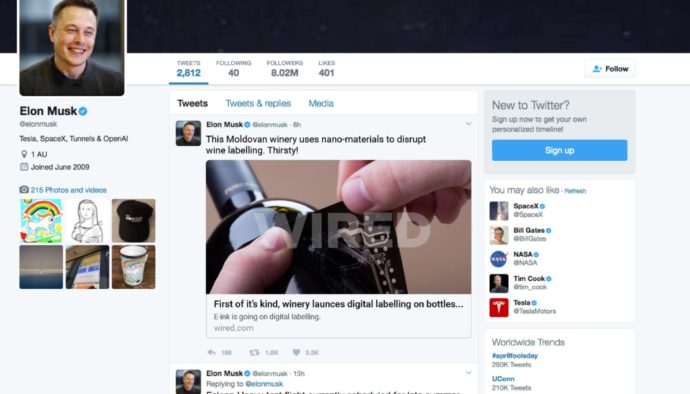 Credits:
Client: Purcari Wineries Group
Agency: Piko
Art Director: Constantin Sarcov
Graphic Designers: Constantin Sarcov, Eugen Papen
Production: MILK Films
Post-production: Andrei Cutchi